News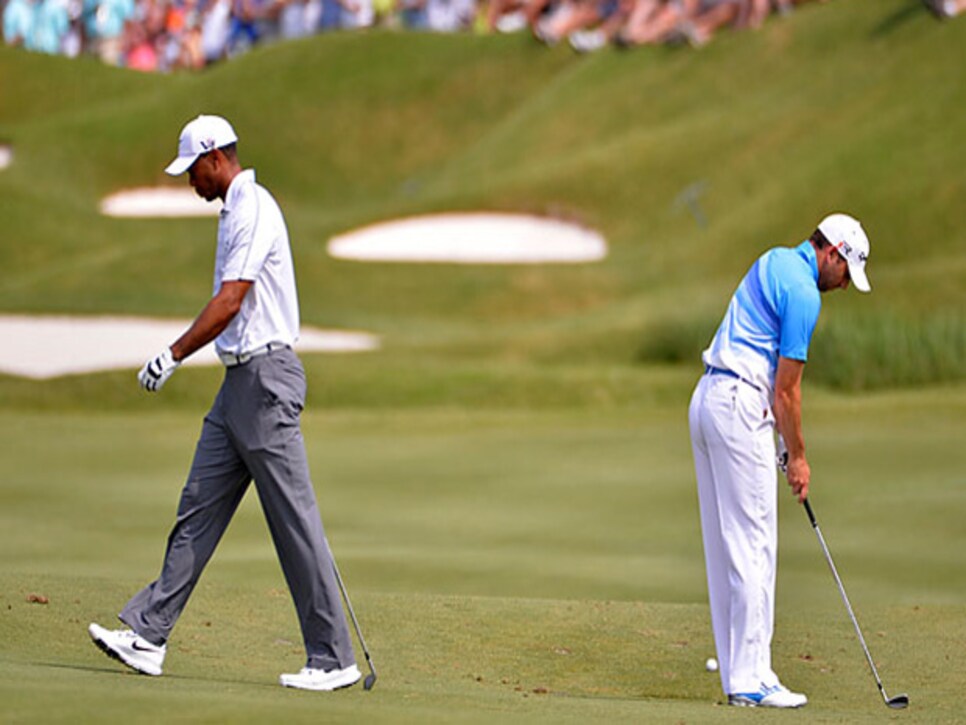 The rivalry between Tiger and Sergio was rekindled on Saturday at the Players.
Let's talk about Tiger, Sergio, marshals and what happened in the third round of the Players. I think I have something to add to the discussion. I was there, standing on the second fairway when this all took place.
for their entire professional careers, and before. I first saw Tiger play at the 1995 Masters and Sergio at the 1996 British Open, both were amateurs then and I know a bit about both of them.
Here is my conclusion: There may have been bad communication between Tiger Woods and Sergio Garcia -- and the marshals -- concerning whose turn it was to hit on No. 2 at TPC Sawgrass. But there was no bad behavior, especially on the part of Tiger.
And my bottom line on the incident is this: Championship golf tests not only your physical skill and mental ability to make decisions under pressure, it also examines your character, specifically how well you cope when life deals you a bad hand.
Sergio got a bad break. It happens. Move on. He didn't.
When it comes to mental toughness, Woods has Ben Hogan and Jack Nicklaus as his only peers. Garcia has Jean Van de Velde. That's why the major championship scorecard between Woods and Garcia reads 14-0, advantage Tiger.
A national magazine quoted a marshal on the scene as saying Woods never asked if Garcia had hit, as Woods later said he did. Now, the local newspaper -- the Florida Times Union -- has another marshal on the scene saying he erroneously told Tiger that Sergio had hit.
"The comments from the marshals in today's story definitively show that Tiger was telling the truth about being told Sergio had hit," Tiger's agent, Mark Steinberg, told GolfDigest.com. "I hope this demonstrates to some reporters the importance of accuracy and not jumping to misplaced conclusions."
As I said, poor communication, not poor behavior. But the bottom line is the inability of Garcia to be able to put the entire incident behind him. He still had 34 holes to play and plenty of time to bury the events of No. 2.
Let's flash back a few weeks to the Masters. In Friday's second round, Woods' third shot to the par-5 15th hole hit the flagstick and bounced not only away from the hole but also into the creek. He takes a penalty drop and makes a bogey. A massively bad break.
The next day, that 6 becomes an 8 when the Masters Competition Committee decides, based on Tiger's words to the media and not on the committee's own nonexistent investigation, that Woods took a bad drop. A massively bad break magnified.
There were then those who shouted Tiger should be disqualified for signing an incorrect scorecard or that he should withdraw for the good of the game. In fact, the video of his drop was inconclusive and he was penalized only because of his own honest words.
What was lost in that discussion is that while Woods took a bad drop and admitted it, he was being protected not from his own ignorance of the rules -- he merely experienced a brain cramp after his bad break and combined two options into one -- but from the incompetence of the Competition Committee, which did not do its job.
What was also lost is that Woods did not complain and certainly did not give up. He finished T-4 in the Masters, four strokes out of the playoff between Angel Cabrera and winner Adam Scott -- pretty much the number of strokes he gave away on No. 15 on Friday because of bad luck.
OK, now let's get back to the Players and the second hole on Saturday. Tiger drove into the left trees and Sergio was in the right fairway. I walked down the left side of the fairway because the hazard on the right side short of the green makes the left the side you need to be on.
I stayed on the edge of the fairway and did not go up into the trees where Tiger was. I heard the crowd roar and another writer told me Tiger had pulled a wood and was going for the green off the pine straw. It was a bold move by Tiger and a natural reaction by the gallery.
Somewhere in this period, Sergio hit his second shot and sliced it wildly, ultimately making bogey on what is a birdie hole, giving away two strokes to Woods.
Five holes later, play was stopped by scary weather and during the break Sergio hinted to NBC that he thought Tiger behaved badly on No. 2. When play resumed after the weather delay, Sergio tried to play mind games with Tiger, but in that arena of competition, Garcia is giving up several shots a side.
On No. 7, with Sergio on the green after the weather delay, Tiger hit his approach shot and with Tiger still about 100 yards from the green, Sergio froze him by putting, possibly out of turn, which is not a rules violation in stroke play but an arrogant breach of etiquette.
On the next hole, as Woods putted for birdie, Garcia stood directly across from him, leaning on his putter with legs crossed at the ankles, not in an inappropriate position but in an annoying one. Seve Ballesteros would have loved it.
But really, the bottom line is this. After Tiger hit it into the water on No. 14 -- and to those who criticize his drop, take it up with the PGA Tour and NBC, Tiger did all he could to verify his drop position -- he played the last four holes one under par and won the tournament.
Garcia, who stepped to the 17th tee tied for the lead, finished quadruple bogey, double bogey, costing his caddie, Greg Hearmon, known as "Helpful" by other caddies because he is such a nice guy, about $150,000.
Compare that to the way Woods responded after his bad break at the Masters. One's a champion and the other isn't. Sorry, but any attempt to paint Tiger as the bad guy in all this is inaccurate at best and ill-intentioned at worst.
Bottom line is this: Sergio Garcia got a bad break and couldn't handle it, proving that what he told Spanish journalists after the third round of the 2012 Masters is accurate: He does not have what it takes to win a major championship. Tiger does. Times 14.