The Loop
Tension and intrigue follow Woods and Garcia on rain-shortened Saturday
PONTE VEDRA BEACH, Fla. -- The suspended third round of the Players was a glimpse at what could have been. Just imagine if Sergio Garcia had held up his end of the bargain and become a real rival for Tiger Woods.
We could have had nearly 15 years of the kind of tension, intrigue and compelling golf we had Saturday. And hopefully, we will get more of it on Sunday. Man, this could have been a "Big Break" episode.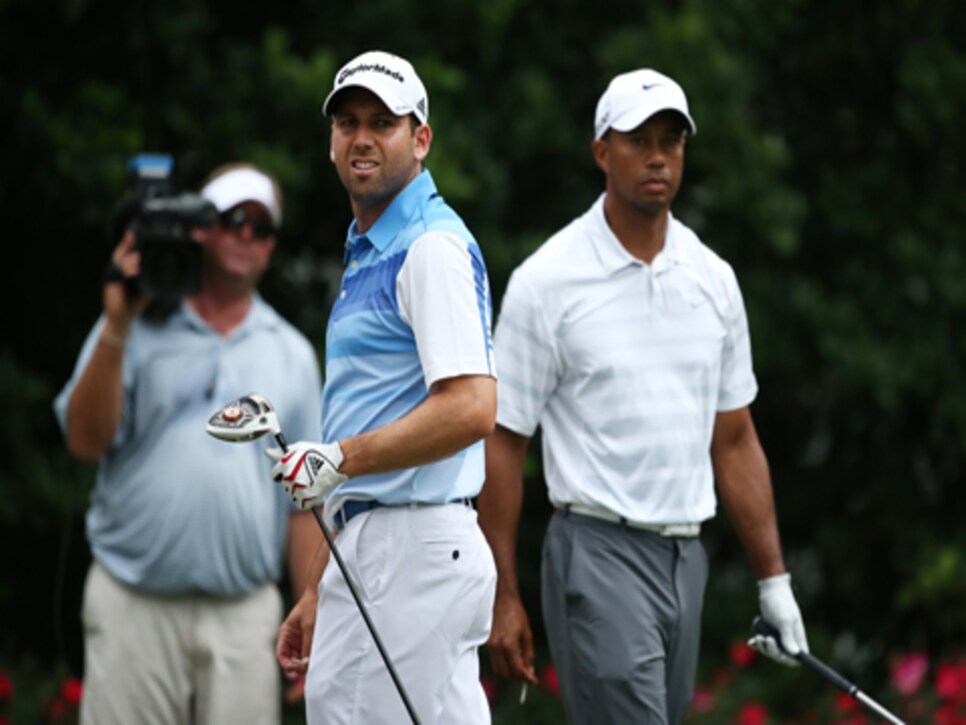 *Sergio Garcia and Tiger Woods on the 11th tee during the third round three of The Players Championship. Photo: Richard Heathcote *
The fact that Woods and Garcia are not the best of friends was clear even to those unfamiliar with the strained relationship between the two that goes back to at least 2000, when Tiger thought Sergio over-celebrated after defeating him in a made-for-TV exhibition match.
And that was part of the reason the atmosphere on the Stadium Course at TPC Sawgrass was electric Saturday, virtually vibrating with buzz from a crowd so large it was announced the night before there were no more parking passes available. Officials said 45,281 were on hand for the third round.
To say there was no chit-chat during their round would be like saying the Hatfields and the McCoys rarely played Words With Friends together. There
hadn't been this much tension at the home course of the PGA Tour since, well Wednesday, when Vijay Singh sued the tour.
While frosty from the beginning, the chemistry between Woods and Garcia took a quick turn toward absolute zero on No. 2 when Garcia hit his second shot just as the crowd erupted in cheers as Woods pulled out a wood to go for the green on the par 5 from off the pine straw.
Sergio missed wide right, looked in Woods' direction in disgust, made bogey on the very birdie-able hole and complained about it later.
"It was my shot to hit," Garcia said on NBC during the weather delay that halted play with the two on the seventh hole. "He moved all the crowd that he needed to move, and I waited for that. I want to say that he didn't see that I was ready. But you do have a feel when the other guy is going to hit. Right as I was on top of the backswing . . . everybody started screaming, so that didn't help very much. It was unfortunate."
After the round was halted a second time, this for darkness, with Woods and Garcia playing the 15th hole, Tiger was asked if he had heard about Sergio's comments and for his version of events.
"Well, the marshals, they told me he already hit, so I pulled a club and was getting ready to play my shot, and then I hear his comments afterwards and [it's] not real surprising that he's complaining about something," Woods said. Asked if they discussed the matter, Woods said: "We didn't do a lot of talking."
And when Garcia heard Woods' reaction he said: "It's fine. At least I'm true to myself."
Holy Snedekers, Bat Man, can't wait until the boys to get back at it at 7:10 a.m. for the completion of round three. What a weird day it was.
On No. 4, Woods asked for -- and received -- a free drop in the rough near a fairway bunker -- perhaps from a sprinkler head -- conjuring up memories of Drop-Gate at the Masters last month. Quick, anyone, get me David Eger's phone number.
On No. 7, after Garcia put his second shot on the green and Woods was preparing to play, the horn sounded at 4:09, driving the players from the course because of dangerous weather conditions.
When played resumed at 5:57, Sergio didn't wait for Tiger to get to the seventh green before he putted, most likely playing his stroke out of turn, which in
stroke play is a courtesy and not a rule. There was little courtesy in this twosome. When they walked off the eighth tee, the two were 20 yards apart.
On No. 8 green, when it was time for Woods to putt, Garcia stood an appropriate distance away, but straight across from Woods where he was likely in Tiger's vision before he looked down to focus on the ball. Seve Ballesteros would have been proud -- and then uncrossed his legs.
When play was finally halted for the day by darkness after the horn sounded at 7:47, David Lingmerth had the lead at 12 under par through 17 holes with Woods and Garcia both at 10 under, tied for second with Henrik Stenson, who had finished 16 holes.
This is the match-up we thought we'd get a lot back in 1999 when the 19-year-old El Nino gave all Tiger could handle on Medinah in the PGA Championship. Who thought then that 14 year later, Garcia would yet to have won a major championship?
For the most part, it has been the putter that has hampered Garcia, who has used the long putter and now employs the modified claw, although some would say the five inches between his ears needs to be anchored better.
Remember, this is the guy who said after the third round of last year's Masters that he didn't have what it takes to win a major, then said that wasn't what he meant.
I think I speak for all of us when I say I'm rooting for the scoreboard to end the third round exactly as it was when play was stopped Saturday night, which would put Woods and Garcia in the same group again for the final round. The rivalry never developed, but at least we can enjoy what might have been for one more day. Bring it on, Tiger and El Nino! Talk to us!