The Loop
Tiger Woods says only swing thought is to "play away from pain"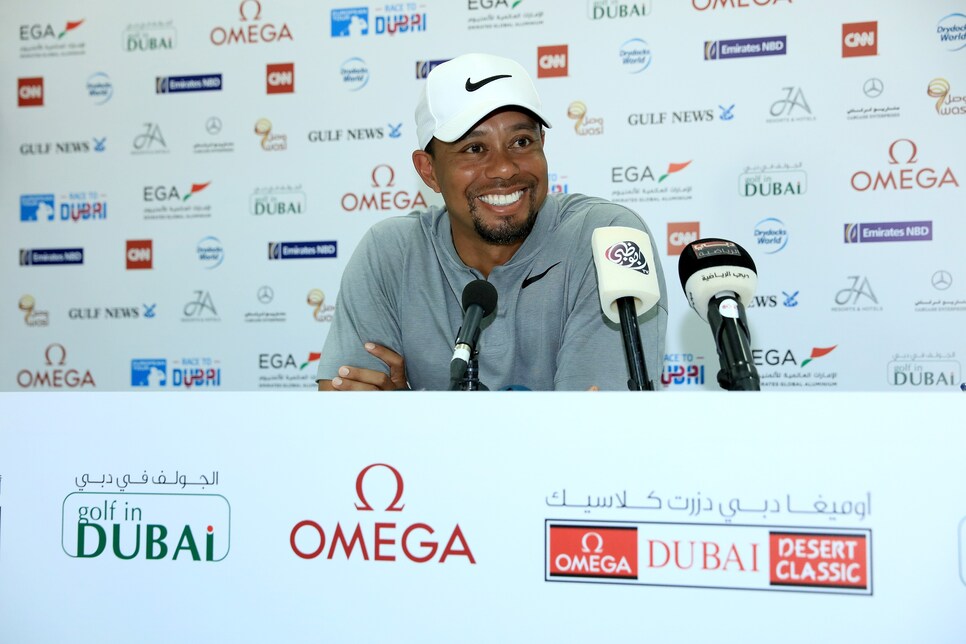 While he didn't play competitive golf for over a year, it's easy to forget that Tiger Woods' return is still in its infancy. That doesn't mean the 41 year old has lowered his expectations. As Woods said on Wednesday at the Omega Dubai Desert Classic, his primary ambition remains the same.
"Over the course of my career, I have been less successful at winning golf tournaments than winning tournaments, but the goal is to win, and that doesn't change," Woods said at Emirates Golf Club. "Whether I'm injured, coming off an injury or I'm playing well or I'm playing poorly, if I'm in the event, it's to win the event."
But Woods -- who as always been one to play things close to the vest -- revealed his thoughts regarding his latest round of swing changes. At Torrey Pines, his new movement garnered some raised eyebrows. While driver accuracy has never been the 14-time major winner's forte, he struggled mightily on the tougher South Course, finding just four fairways on his Thursday round. Some posited it appeared he was swinging not to get hurt. A theory that Woods somewhat confirmed in Dubai.
"The simplest thing is I just play away from pain," Woods said. "Whether my swing looks classic, rhythmical or it may look unorthodox, I don't care. As long as I don't feel that nerve pain.
"Anyone in here who has ever had nerve pain in their back or anywhere in their spine, it's like hitting your funny bone a thousand times a day. It's just not fun. I would much rather not have to go through that again."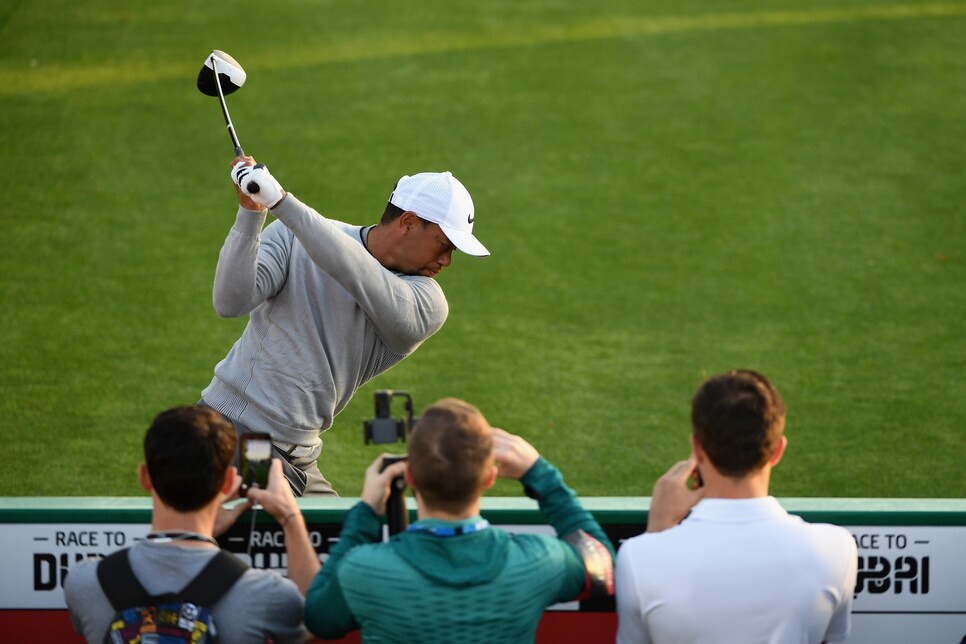 However, don't take that as waving the white flag. Using Roger Federer's recent major winner as inspiration, Woods noted there are different routes to the podium.
"As you get older, you change your game and you do things slightly differently and he did that," Woods remarked. "I'm not going to be hitting balls like some of these guys, 340 out there. I watched Dustin (Johnson) carry a ball last week when it was cold, wet and damp and he carried it 335.
"So you do it differently. If you look at the list of guys who have shot below 60, you realize Jim Furyk's on there twice. He averages 270 off the tee, shoots two rounds under 60. It can be done different ways."
Woods, who has won the Dubai Desert Classic twice in his career, tees off Thursday morning with Danny Willett and fledgling star Matthew Fitzpatrick at 8:15 AM local time (11:15 PM EST).