The Loop
Tiger Woods' sad mug shot, a PGA Tour WAG shows off her arm, and the weirdest side bet ever
Welcome to another edition of The Grind, where we learned long ago that holidays and Tiger Woods do NOT mix. Remember it was Thanksgiving weekend in 2009 when Woods hit that fire hydrant, and this time it was early in the morning on Memorial Day when he added the latest sad chapter to his saga. Speaking of which, how will we explain what happened to Woods to future generations? It's a complicated answer. So in the meantime, let's talk about everything else that happened this past week.
Kevin Kisner: Once considered the best player without a PGA Tour win, Kisner was getting tired of waiting for win No. 2 until he came though at the Dean & DeLuca Invitational. The Kiz held off a collection of big names, including Jordan Spieth and John Rahm, to claim Colonial's coveted plaid jacket.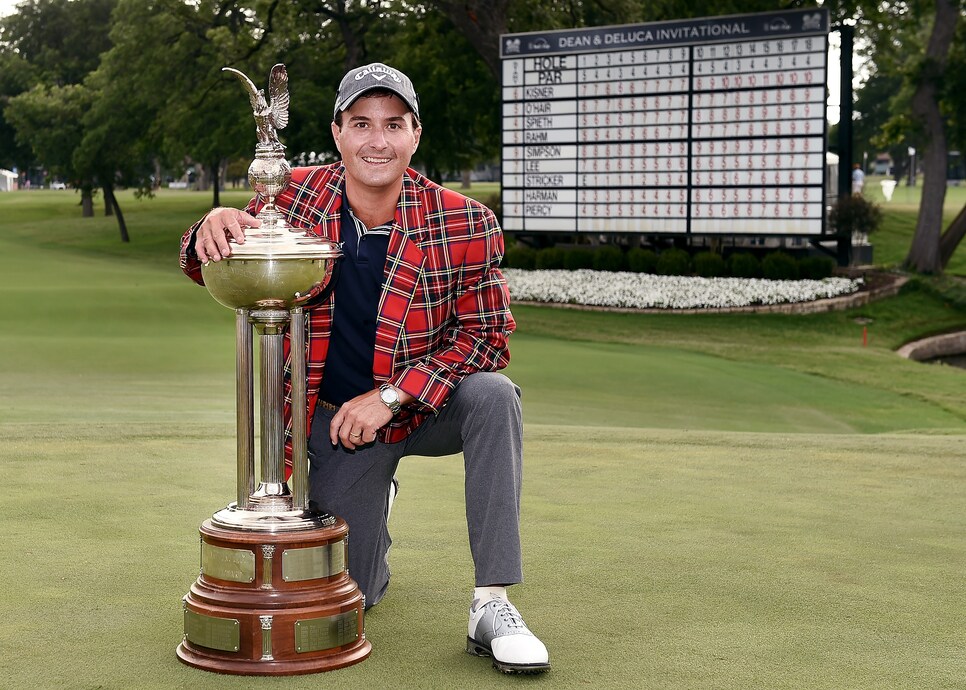 With the win, Kisner moved into the top 25 in the Official World Golf Ranking and the top 10 of the FedEx Cup. He's also a virtual lock to represent the U.S. at this year's Presidents Cup so get used to seeing a lot more of The Kiz (Yes, we love saying that).
Alex Noren: If you haven't realized the Swede is the real deal by now, it's time. With a final-round 62 at the BMW PGA Championship, Noren captured the European Tour's flagship event in spectacular fashion and moved up to No. 8 in the Official World Golf Rankings. Noren has yet to win on the PGA Tour, but only Hideki Matsuyama matches his five worldwide wins since last July. Plus, he's got a great first name. Just saying.
Bernhard Langer: We said last week that Langer would break Jack Nicklaus' record for most senior tour majors before his 60th birthday. It took the German a week. Langer completed the career Senior Slam (Made tougher by the fact the PGA Tour Champions recognizes five majors) by winning the Senior PGA Championship to give him nine overall major titles. The scariest part? Langer is showing no signs of slowing down.
Tiger Woods: Maybe it was only prescription medications like Woods claims. Maybe it was one really (really) dumb mistake. Still, Woods, who had become a sympathetic figure in recent years due to all his injuries, gave everyone a reason to root against his comeback with this reckless arrest. We hope his problems don't go deeper, but at the very least, his legacy will be tarnished. With an awful mug shot that quickly became an Internet meme, my childhood hero is once again a sad punch line.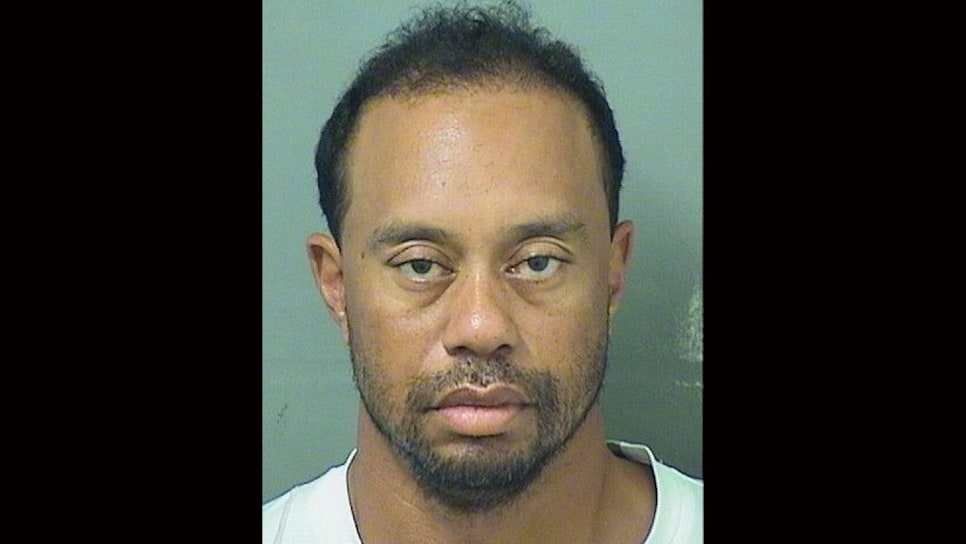 Let's move on to something more uplifting. . .
Goose murderers: OK, so this is definitely NOT more uplifting. A horrifying video emerged out of Arkansas last week involving two men who kicked and shot a goose on a golf course. Here it is (if you can stomach it):
Arkansas wildlife authorities are still trying to identify these monsters so if you have any info, call to contact the Arkansas Gaming and Fisching Commission tip line at 1-800-482-9262. The day after seeing this video, I happened across a tensome of geese myself: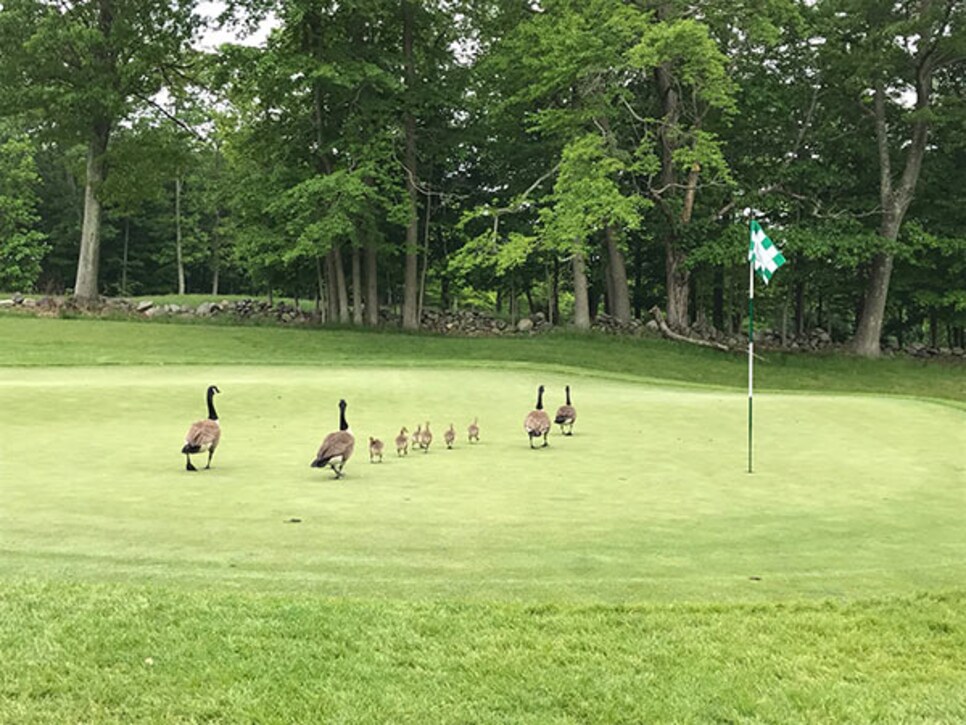 As you can see, they were very courteous, allowing us to play through. Although, geese poop isn't a particularly fun loose impediment to move. . .
Early retirements: Former phenom and Japanese superstar Ai Miyazato will call it quits at the end of the season. She's 31. Miyazato burst onto the scene when she won LPGA Q School by 12 shots and was No. 1 in the world for 12 weeks in 2010. Although she hasn't won since 2012, it will be sad to see her go. She probably won't miss hordes of cameramen following her every move, though.
The PGA Tour heads to Muirfield Village for the Memorial, aka Jack's event, aka that tournament where tour pros share photos of the club's delicious milkshakes, which are presumably made with Jack's own ice cream now.
RANDOM PROP BETS OF THE WEEK
-- Bernhard Langer drinks ice cream milkshakes: 1 MILION-to-1 odds
-- Jack Nicklaus will NOT be asked about Tiger Woods: 1 MILLION-to-1 odds
-- Jack will still say he thinks Tiger can break his record of 18 majors: LOCK
Alex Noren slugging victory champagne in front of a huge photo of himself: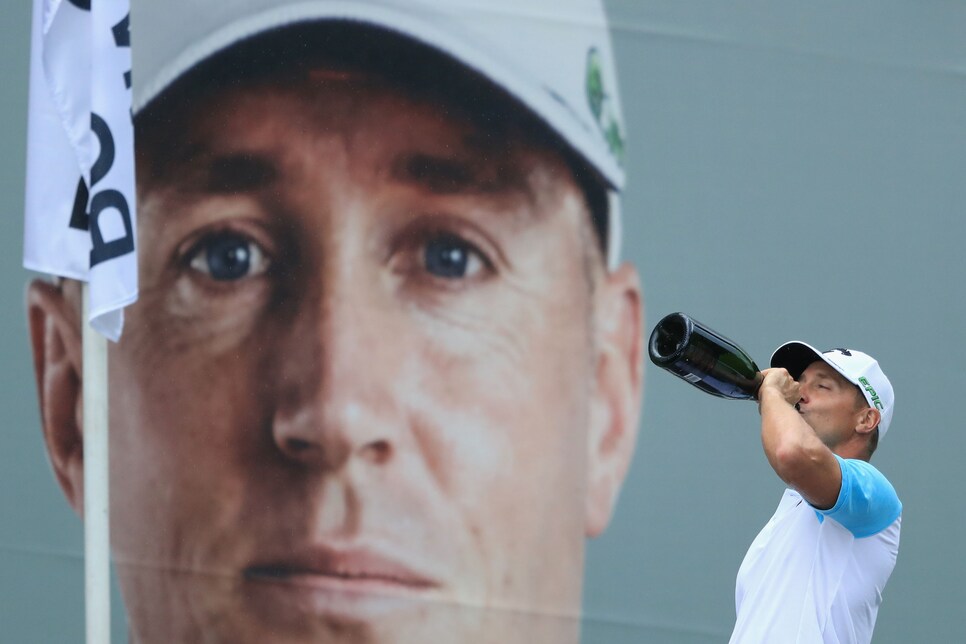 Now that's a cool mug shot.
VIRAL VIDEO OF THE WEEK (KIDS DIVISION)
The European Tour gave some kid named Aaron the greatest 9th birthday present ever when he got a surprise car ride from Andrew "Beef" Johnston. It got better as Beef also picked up Aaron's three other favorite players – Justin Rose (with a gold medal), Henrik Stenson (with a claret jug), and Martin Kaymer. Check out the cute video that will bring a smile to even the saddest of Tiger Woods fans (me):
VIRAL VIDEO OF THE WEEK (BIG KIDS DIVISION)
Before their final round at the BMW PGA, Pablo Larrazabal and Haotong Li came up with the most interesting side bet of the season: Loser buys bows.
Considering the two players shot 66-67, it might be time to implement this into your regular foursome.
"I haven't felt this good in years." – Tiger Woods, five days before taking one of the saddest mug shots ever.
THIS WEEK IN BELEN MOZO MAKING US FEEL BAD WITH HER TRAINING
OK, so maybe that was more of a post-training pic.
THIS WEEK IN DUSTIN JOHNSON-PAULINA GRETZKY KEEGAN BRADLEY-JILLIAN BRADLEY PUBLIC DISPLAYS OF AFFECTION
The Bradleys announced they're having their first child:
And then took a page out of DJ and Paulina's playbook with an elaborate gender reveal:
THIS WEEK IN OTHER PGA TOUR PROS PUBLIC DISPLAYS OF AFFECTION ATHLETICISM
Jon Rahm and his girlfriend Kelley Cahill went to TCU's practice facility, and Kelley showed off quite an arm:
THIS WEEK IN RANDOM GOLF RECORDS BEING BROKEN
Another week, another random golf record broken by Matty du Plessis:
And here's proof that this was a real (random) record:
Jeff Overton's (remember him?) wife disclosed the former Ryder Cupper has been battling a life-threatening infection following what was supposed to be a routine surgery, but that he's "finally seeing the light at the end of the tunnel." We wish the Overtons the best -- and hope to hear "Boom Baby!" on a course again. . . . Andrew "Beef" Johnston made three eagles, including a hole-in-one, in a 36-hole qualifier to earn a spot in the U.S. Open at Erin Hills. The "BEEEEF" chants in Wisconsin should be epic. . . . Ole Miss's Braden Thornberry claimed the NCAA individual title by four shots. Great game, great name. . . . Fred Funk's "I should be on the Ladies' Tour" joke was part of a much-debated column from USA Today's Christine Brennan. Funk meant no harm, but guys, let's just stick to avoiding this type of "humor" going forward, OK? . . . And finally, I used a $100 Christmas gift card to Under Armour (Thanks, mom and dad!) to near perfection when buying some golf clothes over the weekend: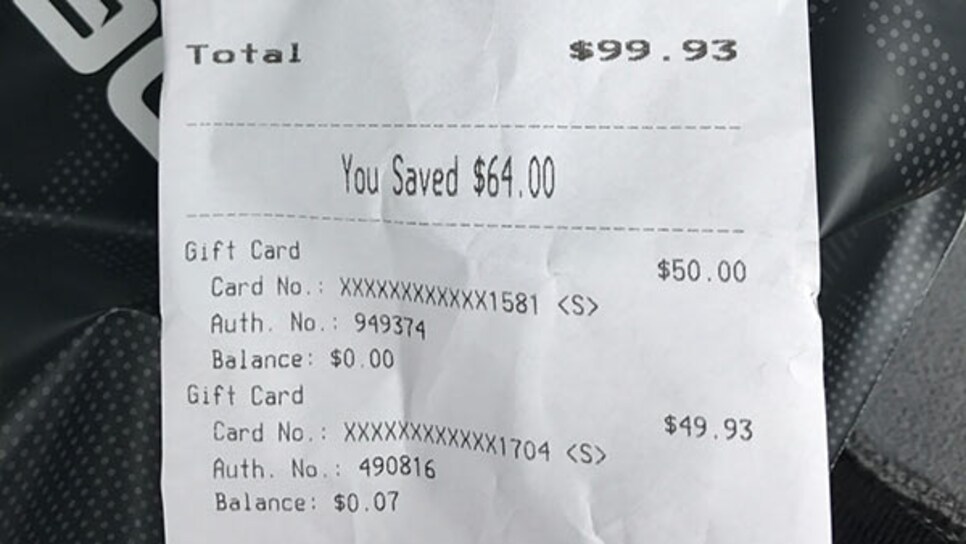 That's SEVEN cents UNDER. When it comes to spending gift cards, I'm not one of those suckers who winds up having to reach into his own pockets. Dare I say, I'm the gift-card-spending GOAT.
RANDOM QUESTIONS TO PONDER
Why did Netflix wait until AFTER Memorial Day to release Season 5 of House of Cards?
Why is the Memorial played the week AFTER Memorial Day?
Do I have any more old gift cards lying around?