THE TIGER-RORY PROJECT
Report: Tiger Woods, Rory McIlroy to partner in one-day, non-green grass event series for top golfers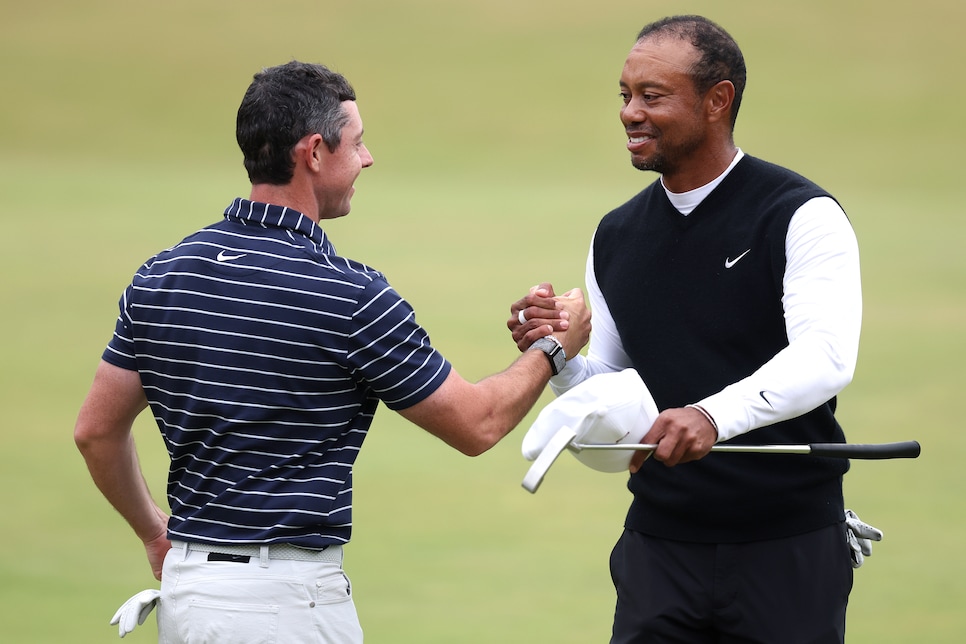 Tiger Woods and Rory McIlroy have spent a lot of time together over the years, and even more so lately. That's no huge secret.
Aside from both living in South Florida, they were paired for the first two rounds of the PGA Championship in May. Both were having a grand time together at the Celebration of Champions prior to the Open Championship this year at St. Andrews. And several days later it was McIlroy who tipped his hat to Woods as Woods was walking up the 18th hole at the Old Course to complete his second round, knowing it may have been Woods' last competitive round on the historic grounds.
Both men also have been two of the loudest, most influential voices who have spoken on behalf of the PGA Tour in its fight against LIV Golf.
Now, it appears, Woods and McIlroy will be business associates.
According to a report from Golfweek, the star-studded duo is in the final stages of creating a new business venture that will see some of top players in the world compete against each other in what the report called, "a non-green grass, stadium environment."
The events have the blessing of the PGA Tour and commissioner Jay Monahan, and will be held in partnership with the tour, according to the report. More details are expected to be announced this week at the Tour Championship at East Lake, but the report said the events are on track to be launched in 2024 and are designed to complement the PGA Tour schedule and potentially run from January through March. They're also expected to be staged in front of a live audience.
The report said that when information is finally released it'll likely will include specifics about format, participants and potential locations.
Details about the Woods-McIlroy series were given to those who attended the players-only meeting last Tuesday during the BMW Championship, which was designed to discuss ways for the tour to improve its product. The plan was said to have been received positively. Woods and Rickie Fowler flew up from Florida just to attend the meeting.
"I think the one thing that came out of it, which I think was the purpose, is all the top players on this tour are in agreement and alignment of where we should go going forward, and that was awesome," McIlroy said last week at the BMW Championship, speaking in generalities and with no specifics of what was discussed during the session. "We need to get the top guys together more often than we do."
McIlroy went on to speak about what it meant to the group of top PGA Tour players to have Woods make the effort to fly Wilmington, Del.
"He is the hero that we've all looked up to," McIlroy said. "His voice carries further than anyone else's in the game of golf. His role is navigating us to a place where we all think we should be.
"I think it's pretty apparent that whenever we all get in the room there's an alpha in there, and it's not me."