News
Tiger Woods 'played beautifully,' briefly tied the lead, but his putting again let him down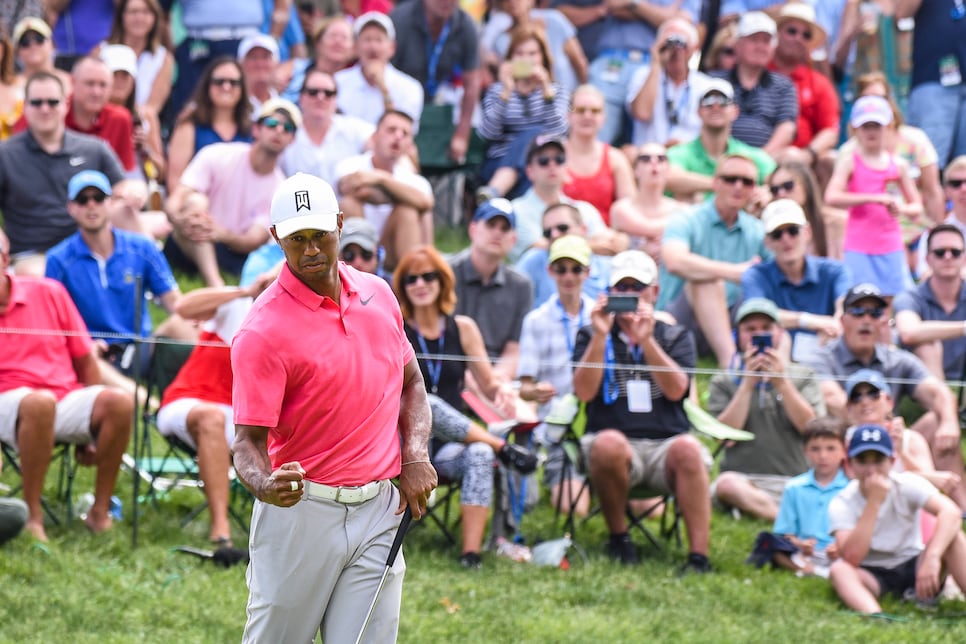 DUBLIN, Ohio – After a birdie on the 15th hole Saturday at Muirfield Village Golf Club, Tiger Woods briefly held a share of the third-round lead in the Memorial Tournament. He reacted as if he'd been there before, which, of course, he has more than once or twice in his career.
His game, still congealing after a year off for back surgery, didn't come along for the ride.
Thousands of fans did, however. That part looked like old times.
Woods had Muirfield Village jumping for much of the day with a vintage assault on Jack Nicklaus' well-manicured but defenseless layout. But just as the excitement was ratcheting up, the putter let him down again. Three-putt greens at 16 and 18 resulted in aggravating bogeys, and Woods had to settle for a 4-under 68.
"I know I shot 68 today but, again, that's probably the highest score I could have possibly shot," a visibly perturbed Tiger said. "I played really, really well. I played beautifully, actually. Had total control of what I was doing out there and just didn't finish it off.
"I am definitely not taking advantage of how well I'm hitting it. As I said earlier, this is probably the highest scores I could have shot. I've shot, what could have easily [been] 62 or 63 yesterday and could have easily shot 63 or 64 without doing much today. I hit the ball well enough to, shooting in the low 60s could have been pretty easy if I had just had putted normally."
That observation is as accurate as his iron game. Woods entered the week ranked 32nd in strokes gained-putting, but after two rounds here he was 119th in the 120-player field. Eighty-one players made the cut; Woods is 80th in putting.
"Yeah, I was releasing the putter beautifully early. Just getting the putts to turn over. My toe was moving nicely. And just didn't do it at the end."
Which is a replay of Friday when Woods missed a handful of putts inside seven feet down the stretch. On Saturday, Woods got his round kick-started with a 14-foot eagle putt at the par-5 fifth hole. He followed with birdies at Nos. 6, 7 and 9 to turn in 31.
Then the spigot dried up.
"He is playing scary good. He is hitting his irons beautifully, not just controlling the spin and trajectory but also moving it in the direction he wants," said Masters champion Patrick Reed, who was Woods' playing partner on Saturday. "Both of us are hitting it really well, but we're just not making the putts we should be making."
Asked if Woods looks ready to win, Reed replied, "Absolutely, he looks ready. He's close."
Asked if his game is good enough to win, Woods, 42, and five years removed from his last victory, replied tersely, "Well, I was at 11-under par, and I had wasted a bunch of shots the last two days and I was 4-over par in the first round, so you do the math."
There's been no math needed. Anyone can see with their own eyes how well Woods is playing tee to green – and the math just happens to back it up; he leads the field in strokes gained-tee to green.
Woods also might lead the field in teeth gnashing.
But maybe a little frustration is a good thing this far along in his comeback from back surgery.
"Yeah, I feel like it. I've got a good feel for what I'm doing," he said. "Even when I wasn't feeling my best on the first day, I was able to make some tweaks to get it around and be able to turn a pretty substantially high number into a round that kept me in the tournament. And that's what I was saying earlier, is that that round, turning that score around, shooting even par kept me in the tournament. It's not going to certainly win me the tournament, but it kept me in it. I could have easily shot myself out of it, but I gave myself a chance and then lo and behold I do what I did yesterday and today for most of the day it was pretty darn good."