The Loop
Tiger Woods' NSFW motivational message, Tony Romo's biggest win, and a golf legend returns to the spotlight
Welcome to another edition of The Grind, where France's World Cup win couldn't have come at a better time. While the French light celebratory croissants on fire in the streets, the rest of the world will be reliving that time one of their countrymen let another iconic trophy slip through his hands. The British Open is back at Carnoustie, and that means anyone paying attention will be peppered with photos like this: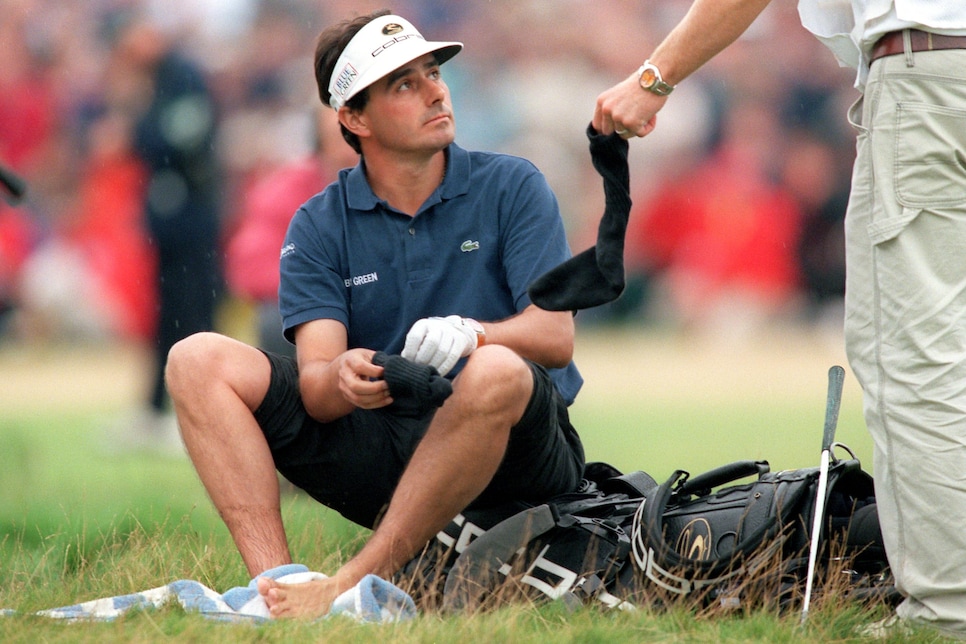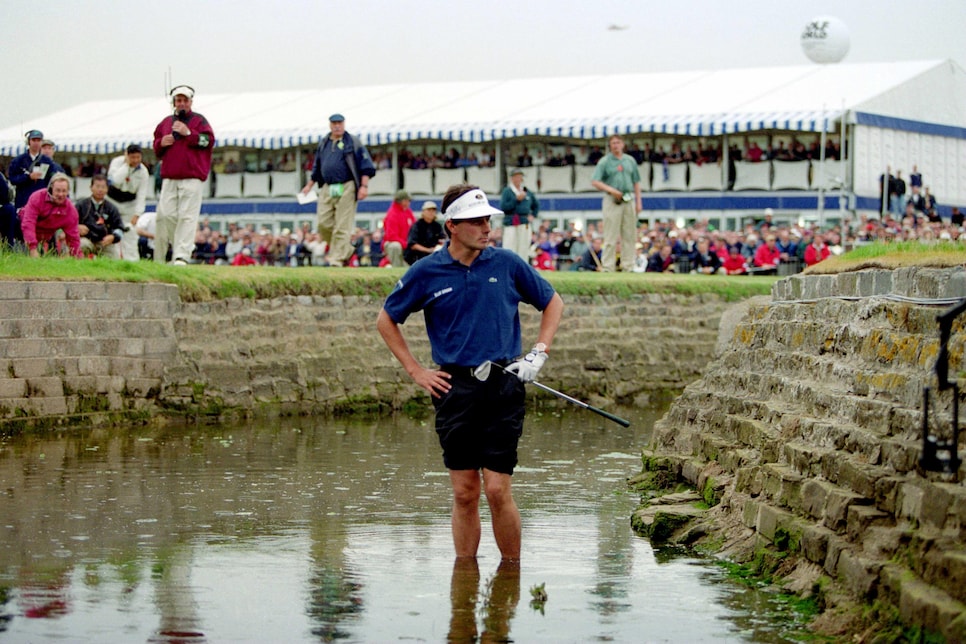 Poor guy. As a rising high school senior in 1999, I unfortunately missed watching live Jean van de Velde's final-hole debacle while attending a basketball camp. Sadly, I also missed David Cone's perfect game that week and had to settle for (gasp!) reading about both historic events in a newspaper. On the bright side, I remember going to town on the frozen yogurt machine in the Manhattan College cafeteria... Anyway, while the French remain scarred by this claret jug memory, having that gold ball back will certainly ease the pain. And while we wait to see what craziness Carnoustie has in store this year, here's what else has us talking.
Michael Kim: This former Haskins Award winner at Cal came to the John Deere Classic with one career top 10 and having missed five of his past six cuts. So obviously he won. By EIGHT shots. Good playing, Michael, and just as importantly, nice swagger:
Phew. I was starting to worry about that vaunted Class of 2011. . .
Tony Romo: Now here's a golfer riding some real momentum. Some people scoffed at Romo's NINE-shot win at the Racine Tri-Course Amateur Championship, but the former Dallas Cowboys quarterback backed it up with his first American Celebrity Championship after three previous runner-ups. You can just picture his buddy and colleague Jim Nantz watching and home and blurting out, "Is it his time? Yes! At long last!"
Anyway, congrats to Romo. He was never a Super Bowl champ, but now he can claim the title of world's best celebrity golfer.
BIG MAMA: My grandpa (RIP) used to love JoAnne Carner, AKA Big Momma, and talked about her long before I seriously got into golf. And years later, I finally get it. Carner stole the show at the inaugural U.S. Women's Senior Open when she fired an opening-round 79 to shoot her age while firing through a pack of cigs.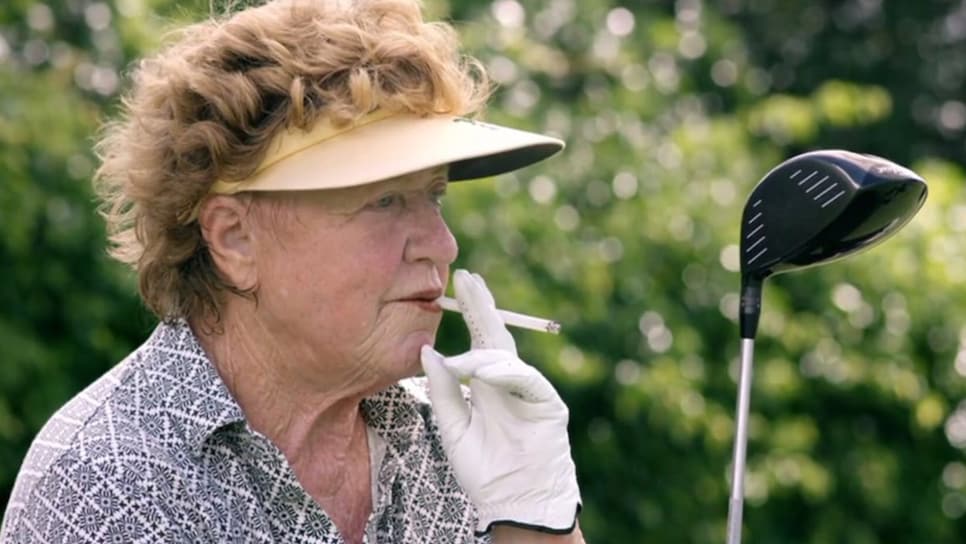 And she vows to play next year when she's 80. What a legend.
LPGA Hall of Fame system: Laura Davies' TEN-shot win (Apparently, it was Blowout Week in golf) at the U.S. Senior Women's Open was mighty impressive. However, it also shined a light on one of the grave injustices in the sport: Davies, despite 85 worldwide wins, including four majors, is NOT in the LPGA Hall of Fame. This has nothing to do with voting, but rather a strict points system that has her two points shy of meeting the 27-point threshold. While I appreciate the LPGA not being as loose with this honor as other sports, Davies' situation should be fixed immediately. I mean, this is how she tees up her golf ball!
Would anyone really protest if the U.S. Senior Women's Open counted for those missing two points? I don't think so.
John Daly's knee: The sophomore season on the senior circuit hasn't gone as planned for Daly, especially since that freak accident in the Augusta Hooters parking lot during Masters week. And after Daly withdrew from the U.S. Senior Open a couple weeks ago when he was denied the use of a cart by the USGA, he withdrew from this week's Open Championship with "unbearable" osteoarthritis. We're guessing the R&A wasn't into JD cruising around Carnoustie in a cart.
Abusing marshals: This is a he-said/he-said situation, but the marshal accusing Ian Poulter of verbally abusing him — and asking him to step on his ball so he'd get a better lie — during the Scottish Open is a British crime writer named Quintin Jardine. Poulter, of course, has a different version of the story. Since there's no video of the incident it's tough to know what really happened, but it goes without saying you should be nice to anyone who volunteers to stand around all day helping you look for your golf ball.
It's Open Championship week! The one time American golf fans are OK seeing a brown golf course. Well, some of them at least. And golf's oldest major is back at Carnoustie for the first time since 2007, when Sergio Garcia didn't "miss a shot" in a playoff and still lost to Padraig Harrington.
Random tournament fact: Sergio Garcia hit his approach shot into a bunker on the first playoff hole. So, he actually did miss a shot.
RANDOM PROP BETS OF THE WEEK
— Padraig will beat Sergio in a playoff this year: 1 million-to-1 odds
— Tiger Woods will win the 2018 British Open: 25-to-1 odds
— I will buy my own claret jug to drink from if that happens: LOCK
Again, how can you not love BIG MAMA?!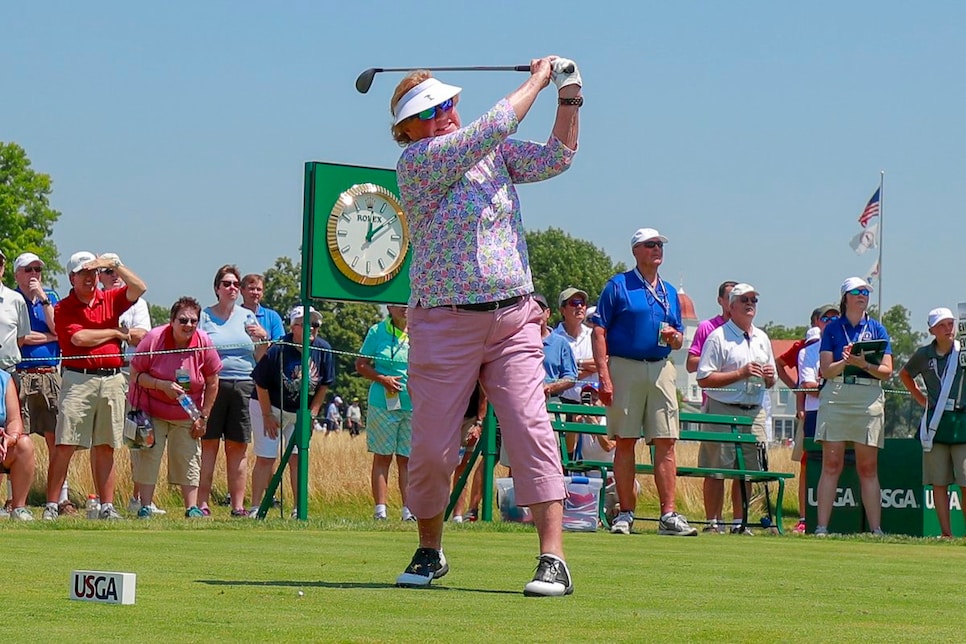 Comedian Conor Moore returned with an even better batch of tour pro impressions. Enjoy:
VIRAL VIDEO OF THE WEEK (TIGER WOODS DIVISION)
Tiger taught Ahmad Rashad a lesson on club twirling:
The right thumb?! Genius! And this clip from a couple months back also shows Woods would make for one heckuva motivational speaker:
Should we just give him the claret jug now?
VIRAL VIDEO OF THE WEEK (TRICK SHOT DIVISION)
While we love the trust and love exhibited by this brother and sister, we're advising parents to NOT let their children try this at home:
THIS WEEK IN PHIL BEING PHIL
Last week it was an impromptu chipping lesson he gave to Larry Fitzgerald. This week he taught the world how to hit a stinger:
He's just taunting Tiger into that $10 million match at this point, right? Then he whipped out his classic flop shot trick at Carnoustie:
I might need to start doing a special Phil Mickelson Grind every week.
THIS WEEK IN PGA TOUR PROS-WAGS DISPLAYS OF AFFECTION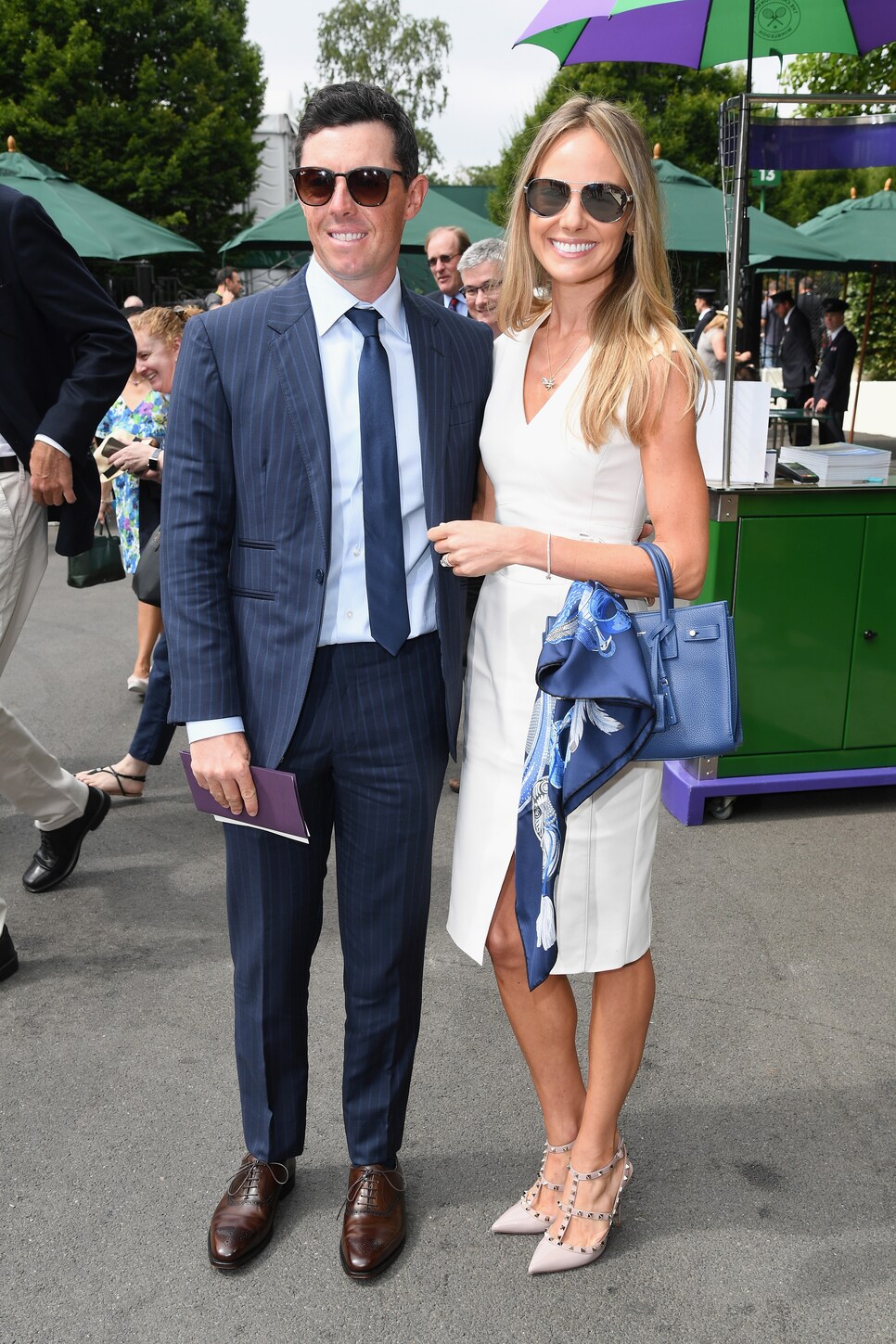 THIS WEEK IN PGA TOUR PROS-WAGS MODELING
"This is the most burnt I've seen a course since, maybe 1989 Open. Royal Troon." — David Feherty. Get ready to hear the phrase "Firm and fast" a LOT this week. Rumor has it the USGA is looking to move the U.S. Open to the UK next year.
Vijay Singh won his first senior major at the Senior Players. Congrats, Vijay, but seriously, what took you so long? . . . Cameron Champ picked up a maiden win as well with his first pro victory of any kind at the Web.com Tour's Utah Championship. If you remember, this is the guy from the 2017 U.S. Open who has a 192-mph ball speed. Yeah, we'll be hearing more from him. . . . 16-year-old Yealimi Noh shot 24 under(!) to win the PGA Junior by four shots. The PGA's website went with a "Say Noh More" headline, but I prefer "Noh Contest." Sorry, moving on. . . Kevin Na told some great stories on last week's Golf Digest Podcast including how even with a five-shot lead on the final hole at the Greenbrier, he started worrying about a stream 100 yards away. What an honest, fun dude. Please have a listen:
And finally, a big congrats to Golf Digest Art Director Ken DeLago on making his first hole-in-one!
I'm pretty sure everyone I work with has at least one ace now. Well, other than my boss, Sam Weinman. Obviously.
RANDOM QUESTIONS TO PONDER
Will I ever make a hole-in-one?
Who is the best celebrity golfer of all time?
What the heck was Jean van de Velde thinking?