The Loop
Tiger Woods fortunate to still be playing in the Masters
AUGUSTA, Ga. -- It's just about 9.30am on Saturday morning here at Augusta National and Tiger Woods is still in the field for the last two rounds of the 77th Masters Tournament.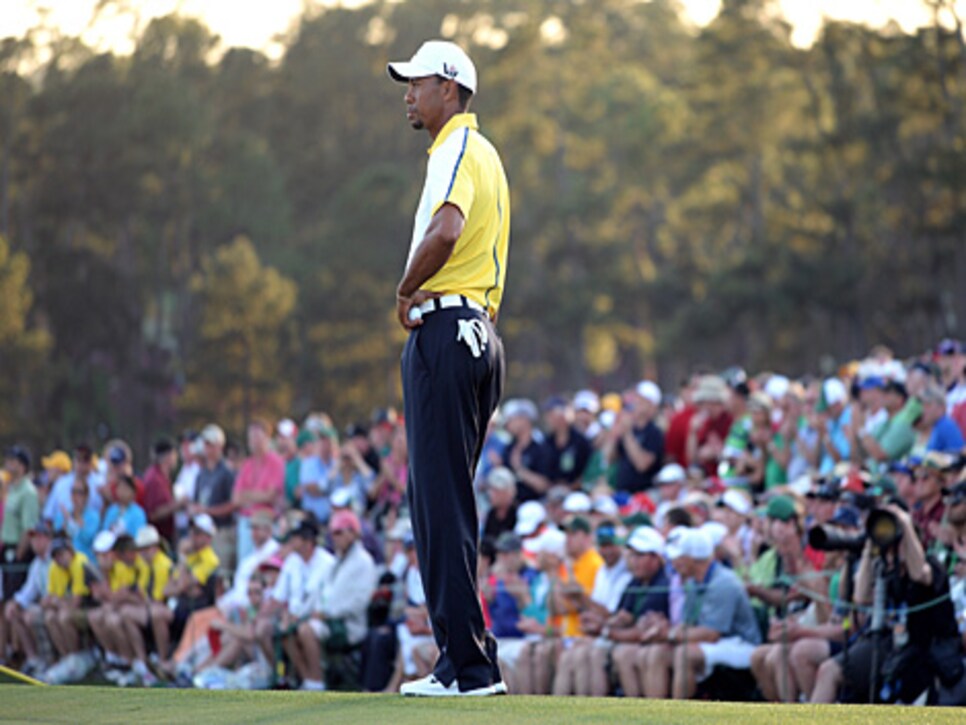 Following the clearly illegal drop Woods took on the 15th fairway yesterday, the world No. 1  should have been disqualified, not docked a retrospective two-shot penalty. While there was no intent to break any rule, Woods clearly did so. It was obvious, clear and apparent and should have led to him losing his chance to win a fifth green jacket, never mind that Rule 33-7 allows the committee to waive disqualification at their discretion.
When Tiger's third shot struck the pin and ricocheted back into the water in front of the green, Woods had various options under the rules. He could have proceeded to the designated drop area and played from there. He could have dropped a ball behind the water hazard, keeping the point at which the original ball last crossed the margin of the water hazard directly between the hole and the spot on which the ball was dropped, with no limit to how far back he could go. Or he could have returned to where he hit the original shot and played another ball as close as possible to that spot.
Woods chose the last of those options, but clearly misunderstood - or was unaware of - his obligation to drop "as near as possible" to the original divot hole. In fact, he later explained to the world how he had actually dropped his second ball "two yards" behind the place he had just hit from. He did that to give himself what he felt would be a better yardage for the subsequent pitch.
A couple of things come immediately to mind:
a) Two yards away is not "as near as possible" b) The rules do not allow the player, at least in this instance, to choose a yardage he feels is most advantageous.
So the authorities should have had no alternative, given the amount of information Woods volunteered after his round. He, in effect, gave them no wiggle room in their deliberations. Which is key. Had Woods said nothing about his drop, the rules officials could have argued - maybe - that he had made enough of an effort to recreate his original shot. But he denied them that option.
So Woods should have been thrown out. Or, given that this is supposed to be a game of honor, he should have preempted the eventual decision and pulled out voluntarily. That would have been the right thing to do. As Tiger himself said yesterday, "Rules are rules."