Tiger Watch
Tiger Woods' golf game gets glowing review from Mike Thomas: 'It's crazy how good he's hitting it'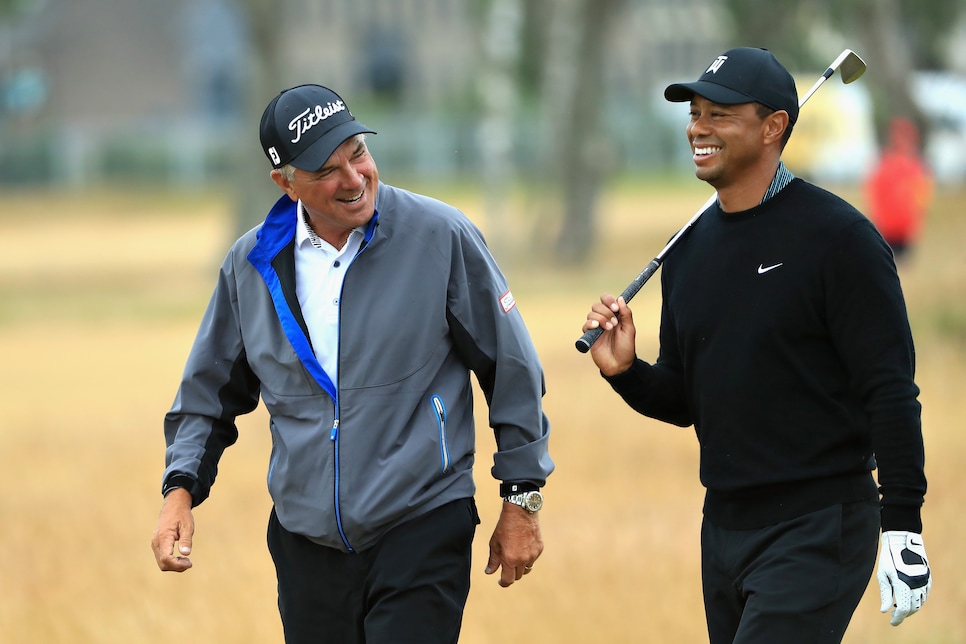 Tiger Woods has done his best to lower expectations for his return to competition at this week's PNC Championship, but apparently, Mike Thomas wasn't looped in on that PR strategy.
The PGA of America pro and father of 14-time PGA Tour winner Justin Thomas spoke at a pre-tournament press conference with his son on Thursday as the father and son prepare to defend their team title. And he gave a glowing report of Tiger's golf game.
First, he volunteered that he'd played with the 15-time major champ twice last week. Then, when asked how he looked, here was his response:
"Good. Yeah, good," said Thomas, who won the team event with Justin last year. "It's crazy how good he's hitting it and far he's hitting for what he's been through."
Well, that sounds pretty promising, huh?
But while Mike may have let the (big) cat out of the bag, golf fans will get to see Tiger in action in less than 24 hours. Although the 36-hole scramble event, in which Woods will team with his 12-year-old son Charlie, doesn't begin until Saturday, Tiger is scheduled to play in Friday's pro-am, of which Golf Channel will air two hours of coverage beginning at 12:30 p.m. ET.
Airing part of a pro-am, especially one for a December exhibition, is pretty unusual. But Woods' extraordinary return to competition just 10 months after a car crash nearly caused him to lose a leg, has many golf fans eager to see him play again. No matter what the state of his game is these days.
"I mean, we all know him well enough to know that he's never going to admit to be close to being where he'd like to be," Mike Thomas said. "I mean, more importantly, where he normally would be compared to now, I think more importantly is his shot, that whatever he has right now is, I mean, he's still—he's got some speed. He's got some length. Hits a lot of really, really flush shots. I mean, I was surprised."
And now, we'll get to judge for ourselves over the next three days. Happy viewing, everyone.