The Loop
Tiger Woods looks at big picture, concludes 'it feels good,' notwithstanding final-round 76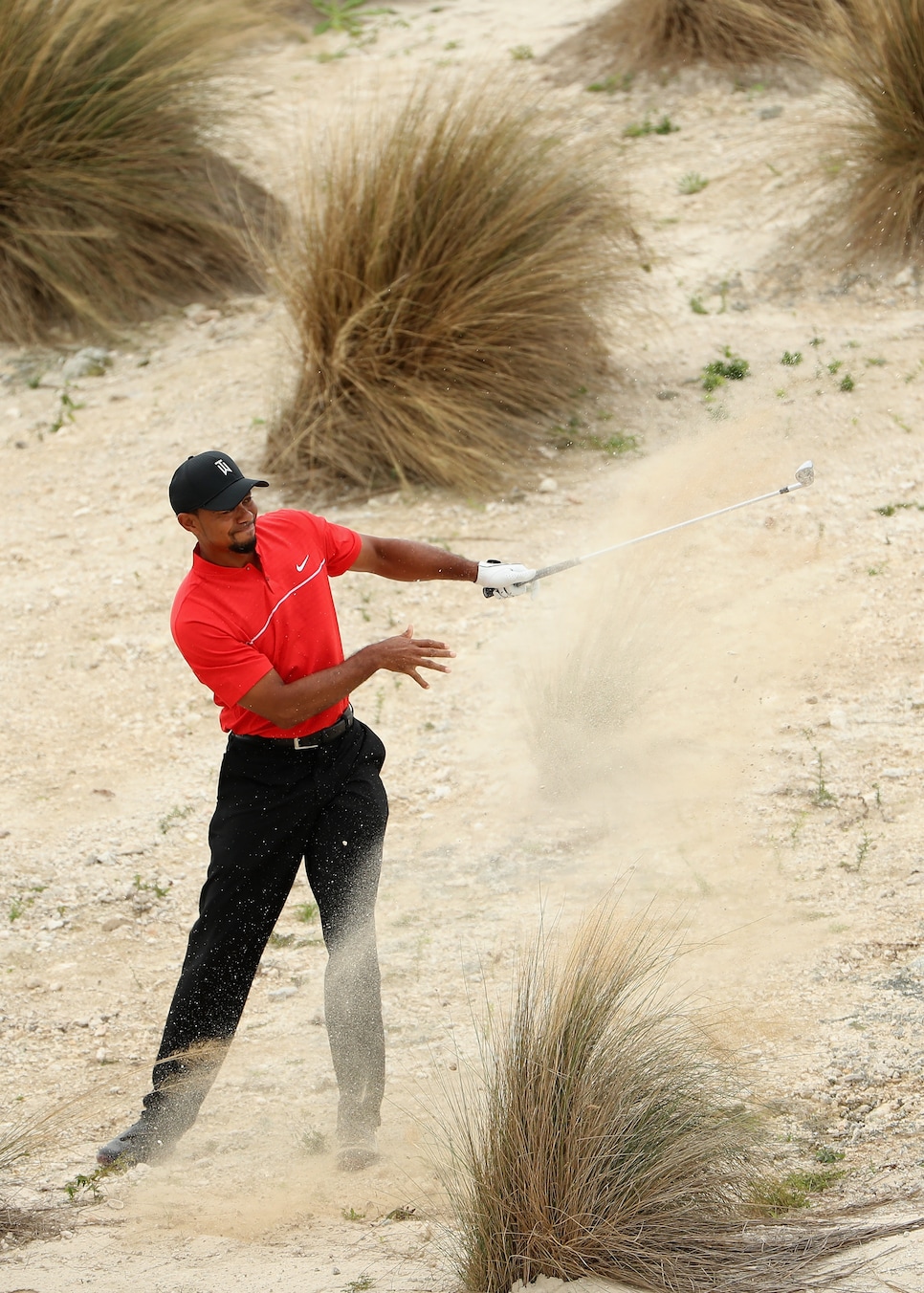 NEW PROVIDENCE, Bahamas  -- Big picture. That's what this week's Hero World Challenge was about for its host Tiger Woods.
It didn't matter so much that Woods ran out of gas on Sunday, shooting a four-over 76 in what was his worst round of the week, or that he tied for 15th in a 17-man field at Albany.
This was Woods' first tournament in 15 months. There were bound to be hiccups.
But there were also plenty of positives sprinkled throughout the week -- the fact that he was able to finish it one of them.
"He's upright, number one," Woods' caddie Joe LaCava said. "Seriously, that's good.
"I love the fact that he was hitting a lot of shots that he was picturing in his mind. A lot of low semi-stinger, cut shots, bombing his driver. Plenty of good things to take away from it. Just get rid of a few of the loose drives and we'll be on our way. Honestly, my goal was to get him through five rounds on his feet. The fact that he feels good afterwards, I think that's great. You never know what's going to happen but he looks good walking, he looks good over the ball and he looks good when he's done playing, so those are all positives."
There was more than that to be happy about, too.
Woods' swing with the driver looked fluid, his posture more upright and in balance. There was less violence in his motion and in turn less stress on his surgically repaired back, but still plenty of speed and distance.
His short game looked mostly solid as well. The tightly mown areas around Albany's greens can be difficult, particularly when chipping into the grain. At times, Woods was downright impressive, on occasion average or worse, but there were no alarm bells in anything coach Chris Como saw. He has seen significant improvement over the last few months from his pupil.
Then there was this: Woods finished the week with 24 birdies, the same number as winner Hideki Matsuyama. Seven double bogeys is what kept the 14-time major champion from having a chance to win his own event for a sixth time.
"Big picture? It feels good," Woods said. "It feels good to be back out here playing again, competing and trying to beat these, the best players in the world. I missed it. I love it.
"I've been doing it for a very long time and this stretch where I've been off for almost a year and a half has been rough and the last few years have been rough. I've had some very, very difficult times and have some great friends that have helped me over the times to get me to this point and I'm just so thankful to be back here playing again."
As for when Woods will play again, he isn't sure. It's likely he will next tee it up at Torrey Pines, where he has won eight times, in late January, though playing the week before in Abu Dhabi hasn't been ruled out, either.
It's also possible he could play at Torrey Pines and then Dubai the following week before getting a week off leading into the Genesis Open at Riviera, an event that is tied to his foundation.
"I'll consider a lot of things, but I would like in my heart of hearts to play a full schedule next year," Woods said. "I'll have a couple weeks here off, work with my physios, get a little bit stronger, put the weight back on that I lost when I got sick [during Thanksgiving] and then really assess, okay, what's the plan, what's the smart plan here, how much we can play on the West Coast, how much we can play in Florida leading to the Masters, what is the plan leading to Augusta.
"But this one's going to be a little bit different because, quite frankly, I haven't done it in a while, so we're going to be smart about it."