The Loop
Tiger Woods keeps 'the card clean,' shoots 65 and is in contention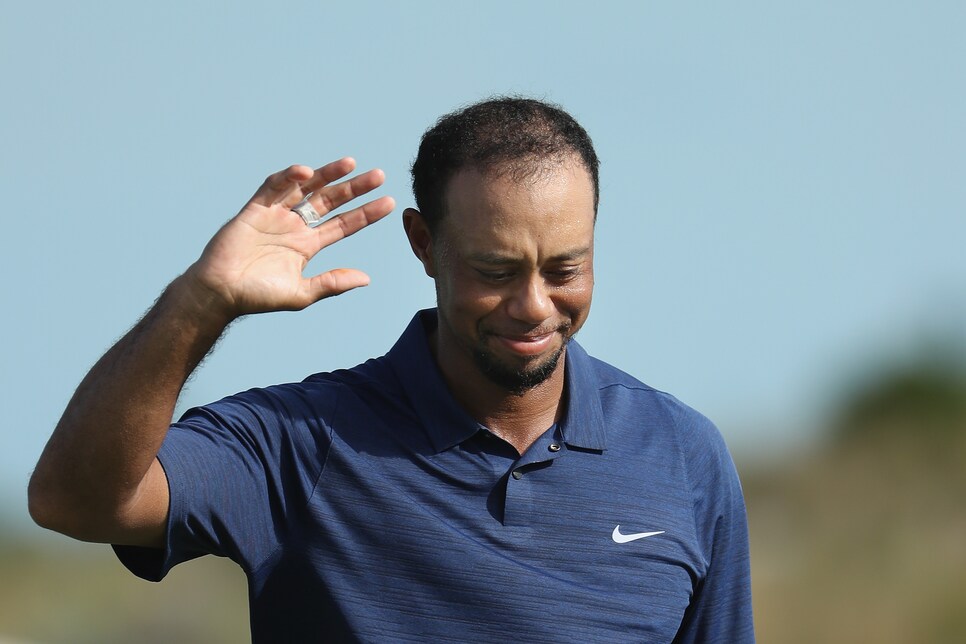 NEW PROVIDENCE, Bahamas -- When Tiger Woods arrived at Albany this week, he said his goal was to win. He couched the remark by adding that doing so would be a tall order.
In other words, there are mini victories to achieve within the bigger picture when returning from 15 months off, three back surgeries in two years and at one point early last season a case of the yips.
Hit quality shots. Play pain-free. Execute good chips on tight, grainy Bermuda grass under the pressure of tournament play.
In Friday's second round of the Hero World Challenge, Woods had another goal in mind. As he walked to the fifth tee, he told his caddie, Joe LaCava, "Let's keep the card clean."
"[Thursday] was a lot to build on -- through eight holes I had it, I lost it, but I made some silly mistakes there and bogeyed two par 5s," said Woods, who went off solo in the first tee time of the day Friday because playing partner Justin Rose withdrew prior to the round with a back injury. "Today I did not do that. I turned those holes around. Consequently, the momentum, the feel of the entire round, changes and I was able to do that."
In the opening round, Woods, full of adrenaline from playing in front of an audience for the first time in 466 days, got off to a torrid start, with four birdies through his first eight holes. It was an impossible pace to sustain and, according to his mom Tida, who was out following him on Friday, he ran out of energy late.
Friday, his performance was more measured -- Woods was just two-under through his first seven holes.
Then he badly missed the green left at the par-3 eighth, dinged his clubhead on the tee marker in disgust and watched as his ball tumbled into a waste area left of the green.
No problem. Woods got up-and-down for par and walking off the green he said he told LaCava, "I'm not dropping a shot today."
When Woods was at the height of his dominance, it was as much about moments like this as it was all those spectacular shots he has hit in his career.
Still, there was enough of the latter to provide confidence to Woods and give hope to those who were screaming that he is back.
After striping his opening tee shot down the first hole -- his first of three cub twirls on the day -- Woods stiffed his wedge to five feet and made birdie.
At the par-5 sixth, he hit a mediocre pitch from a waste area to 15 feet but made the putt for birdie anyway.
On the par-5 ninth, a hole he bogeyed the day before, Woods split the fairway with a 3-wood off the tee, laid up with his second and barked for his wedge to "be good." It was, landing a few feet from the hole to set up another easy birdie.
A hole later, he lipped out a 25-foot birdie putt. It was one of the few things that didn't go his way.
Then he hit the gas: A birdie on the par-5 11th, another on the par-3 12th after sticking his tee shot to two feet, and two more on Nos. 14 and 15, the latter coming after Woods reached the green in two on the par 5 and nearly holed his 70-footer for eagle before tapping in.
But Woods saved perhaps his best for near last, however.
After knocking his tee shot into a bush on 16, all he could do was hack out back into the waste bunker. His third shot settled 20 feet from the hole.
Instead of his first bogey of the round, Woods did what he had done so often throughout the prime of his career. He made the putt for par and let out his biggest fist pump of the week.
Woods ended the day hitting eight of 13 fairways, 14 greens and took 25 putts. His body felt good. He had reason to smile. And he's in contention.
"When you play better you always have fun," LaCava said. "But because he's a little bit healthier he's getting around. That's a relief in itself."
Even Hank Haney, Woods' former coach and at times critical during his recent struggles, liked what he saw while watching from home.
"It's all short game and health dependent now," he said. "I just don't think these top guys are so good that [Tiger] can't play with them.
"I think he wins more tournaments and at least one more major. The 15 months off appear to have energized him."