The Loop
Tiger Woods indicates it could take him "over a year" to return to golf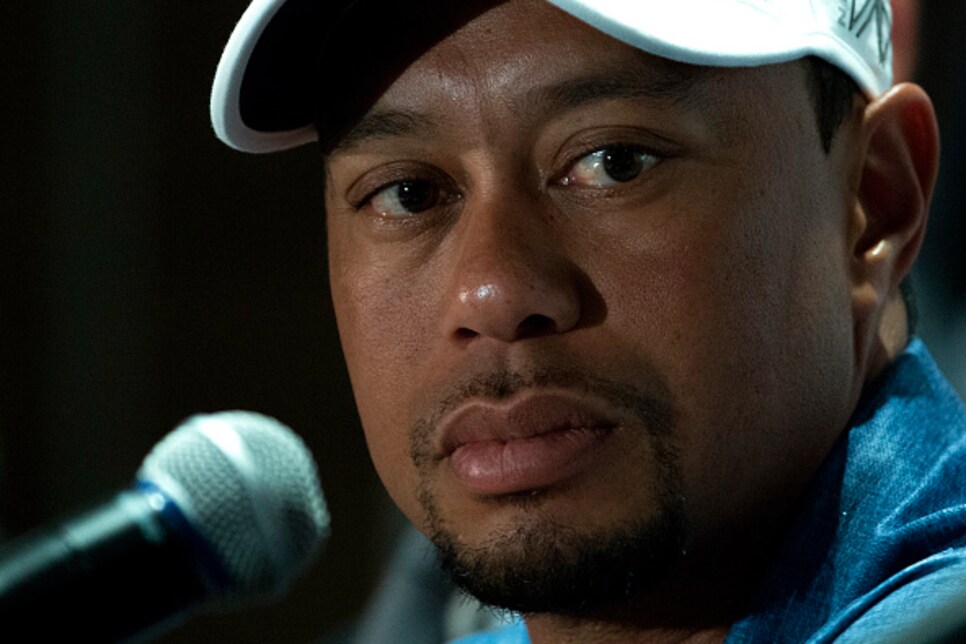 On Tuesday, Tiger Woods gave the world an update on his back. And if you're a big fan of Woods, it wasn't exactly the news you wanted to hear.
Woods was in Mexico for the Bridgestone America's Golf Cup, an event he was scheduled to play with Matt Kuchar until he underwent a second microdiscectomy on Sept. 16. Five weeks later, Woods didn't give the most optimistic status report on his recovery.
"Rehab will be soon, and it will be tedious and long," said Woods, who attended a kids clinic in Mexico City, but only went as far as high-fiving participants. "The last one, it took me awhile to get back. Some players on tour have done the same procedure and to be back pain-free it took them over a year."
"The last one," of course, came right before the 2014 Masters and caused the 14-time major champ to miss both that year's Masters and U.S. Open. He returned to play in the British Open and PGA Championship, but then shut it down for the year, including taking himself out of consideration for a Ryder Cup spot. Woods indicated he came back too early in 2014 so he's going to be more careful about his next return -- whenever that comes.
"This year I tried to play after the back surgery and it wasn't fun because of all of the pain," Woods said. "Also after my last surgery, I was changing my swing and to be able to do that successfully you have to practice a lot, and I could not practice because I was doing the rehab."
"It was a very complicated situation because of that."
If you put all those statements together, you get the following: Woods feels he came back too early last time and that the pain made it impossible for him to properly recover -- and that being pain free from this procedure might take "over a year." Is Woods, who will turn 40 in December, setting us up for the possibility that he might not return until 2017? It certainly sounds that way.
It wasn't all gloom and doom, though. When asked about pursuing Jack Nicklaus' record of 18 majors, this was his response:
"It's important for me to have more than 18 majors when all is said and done. It took Jack his whole career to achieve it and mine is not done yet. I believe that I have a very good record for 20 years on the tour. The main thing is to get fit and to reach my 40s with good health to be as successful as Vijay, who won most of his tournaments at that age."
And he also seems motivated to compete against the young crop of players who have become the PGA Tour's new headliners in his absence.
"I want to play at an elite level with the new kids for a long, long time," Woods said.
Sounds like a fun plan, but sadly, Woods seems like he has no clue when he can start.