The Loop
Tiger Woods: 'I had to get my game into a spot where I could compete to win...and it's finally there'
AUGUSTA, Ga. - He had a short putt for birdie that went all the way off the green. He took numerous chip shots from around the famously slick putting surfaces at Augusta National Golf Club.
From that description you might think Tiger Woods is still struggling with his golf game despite taking off the last two months.
Woods, in fact, looked and sounded pleased Monday evening as he stepped off the 18th green after playing 11 seemingly satisfying practice holes in preparation for the 79th Masters Tournament.
The putt off the green? That was after he stiffed his approach to two feet on the par-4 seventh hole. He purposely sent it blazing past the cup, drawing laughs and shrieks from a sizable gallery.
And all the chipping from around the greens? Those were not a replay of the yip-induced chunks and blades that he suffered through earlier this year that drove him to the sidelines after just 47 holes of competition. No, it was because he was testing new wedges to get the right bounce.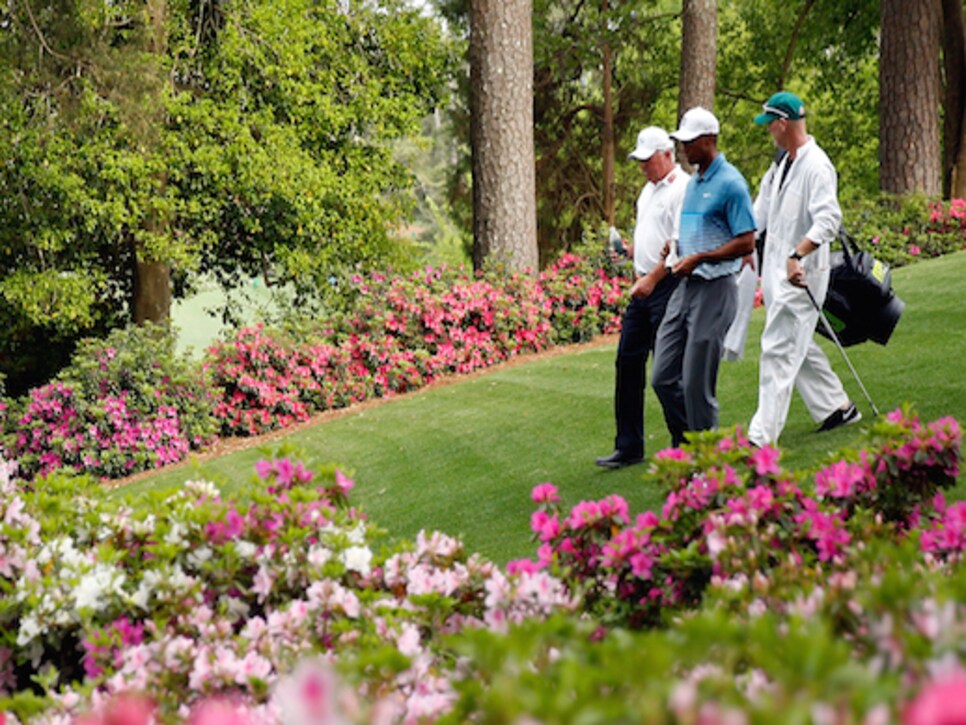 "I felt good. It was nice to get out here and play," the four-time Masters champion said with a smile, something that also had been noticeably absent when he last was seen at a tournament.
Joining Woods for nine holes was 1998 winner Mark O'Meara, who was Woods' closest friend for his first 10 years as a professional when they were neighbors at Isleworth in Orlando. Woods initiated the pairing via text. When they saw each other on the practice range they exchanged a palpably emotional embrace.
"I miss being out here playing practice rounds with him," said Woods, 39, who sat out last year's Masters and U.S. Open after undergoing back surgery. "You forget, I must have played a decade of practice rounds at every major with him."
"It was a good to be out there with him today," said O'Meara, who indicated that the two might reconnect Tuesday. "I miss him. I think he feels the same way.
"I saw some good signs. I like what he's doing," O'Meara added. "His pitching looks a lot better. Look, there's a lot of pressure on him. But there always has been his whole life. I think he's glad to be back and healthy and certainly at Augusta. He's worked hard on his pitching. I think it looks better. Never underestimate Tiger Woods."
O'Meara said he still marvels at Woods' competitiveness. On the 247-yard par-3 fourth hole he hit a high cut with a rescue club to about nine feet only to watch Woods grab a 3-iron and hit his tee shot inside that.
There was yet another feel-good highlight at the ninth. Woods faced a 50-foot putt from above the hole. It fed nearly off the green, about 40 feet below. Woods proceeded to knock that one in. Then he hugged O'Meara again before playing the 10th and 18th holes alone.
"It's only Monday," O'Meara pointed out. "But he seems to be in a good place."
Woods all but confirmed that. Until Friday, the 14-time major winner had not committed to playing in his 20th Masters. But after a second practice round in four days - he played with Jeff Knox, the marker and Augusta National member who scored better than Rory McIlroy in the third round of last year's Masters - he felt he was ready to return for his first tournament since he withdrew from the Farmers Insurance Open in late January with back stiffness.
"It's been a process but I'm on the good side now," he said of the work he has done away from the klieg lights of public scrutiny. "It's just progression. I had to get my game into a spot where I could compete to win the golf tournament, and it's finally there."