The Loop
'Tiger Woods can't seem to let anyone else enjoy the golfing spotlight'
Stories of interest you might have missed...
Tiger Woods seems eager to remain the center of attention, even while his golf doesn't warrant it, Martin Dempster of the Scotsman argues. "As Rory McIlroy continues to let his clubs do the talking…Tiger Woods just can't seem to let anyone else enjoy the golfing spotlight without trying to get his oar in." He cited Woods choosing the opening day of the WGC-Cadillac Match Play to announce his "busy summer" schedule, "an announcement obviously timed to grab the headlines," Dempster writes. Then on Sunday, with McIlory chasing victory, he announced that he and Lindsey Vonn were no longer a couple, proving "once and for all that Woods is one of those horrible look-at-me' individuals."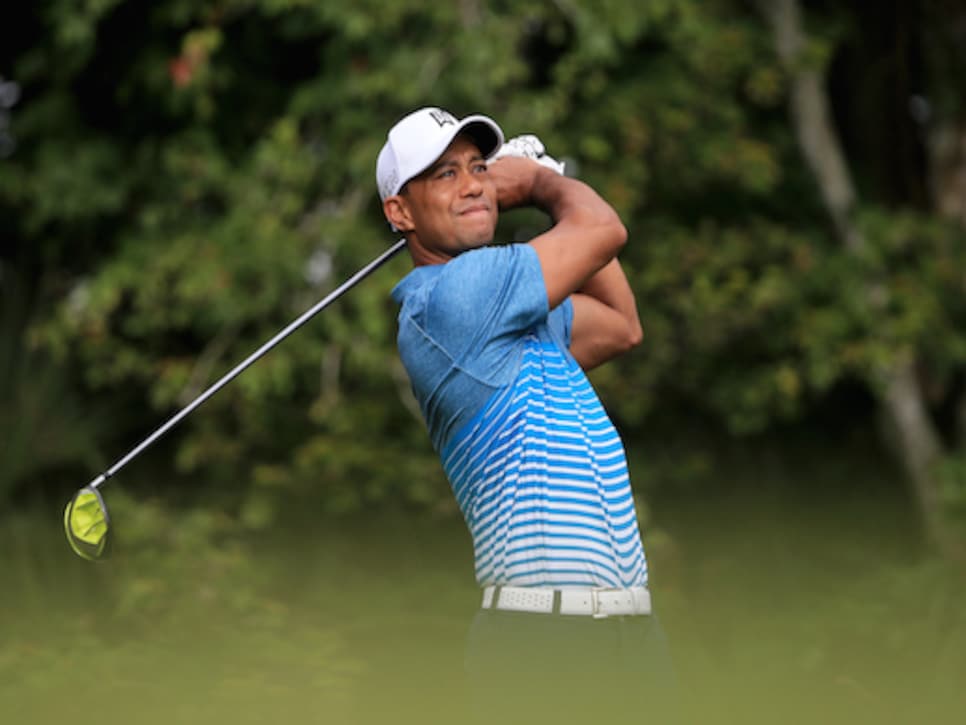 Tiger Woods at the Players Championship on Tuesday (Getty Images)
Billy Casper caddied at San Diego Country Club, a course on which he honed his renowned touch by putting in the dark. He later became a member there. On Sunday, the club held a memorial service for Casper, who died in February, and Gene Littler and Lee Elder were among those honoring his memory, Tod Leonard writes in the UT-San Diego.
Jacksonville, Fla., is a Navy town, and a Naval Academy graduate, Billy Hurley III, will be competing in the Players Championship in nearby Ponte Vedra Beach for the first time. "It would be phenomenal," Nick Biesecker, Hurley's longtime friend and agent, said in this story by Garry Smits of the Florida Times-Union. "He gets a lot of support to begin with when he plays in Navy towns like San Diego and Honolulu. There's an amazing network of Academy graduates, and they're a strong presence in support for Billy. I can only imagine what it would be like at the Players."
Canadian Brooke Henderson is 17 and just earned $153,000 in two weeks for third and 13th-place finishes on the LPGA. "Oh, it's pretty cool," she said. "This is a pretty good way to make a living." Peter Robinson for CBC Sports profiles Henderson and her bid to join the LPGA.
Should Calvin Peete, who died last week, be in the World Golf Hall of Fame? Gene Frenette of the Florida Times-Union makes the case. "When you consider Peete's back story - not taking up golf until age 23, being unable to straighten his left arm due to a childhood accident, being a bridge for African-American golf in-between pioneer Charlie Sifford and Tiger - then his case for Hall immortality becomes a lot more compelling."