The Loop
Tiger Woods at Chambers Bay: 'Every hole seems like it is uphill'
Stories of interest you might have missed…
Tiger Woods played nine holes at Chambers Bay on Sunday and Steve DiMeglio of USA Today has the report: "Woods…played the front nine Sunday and will play nine more each day leading into Thursday's first round. He said the course's challenging elevation changes — Every hole seems like it is uphill,' he joked — is one of the demands the players will face this week as endurance will play a factor. Feels like we played 18 today,'" Woods said with a smile.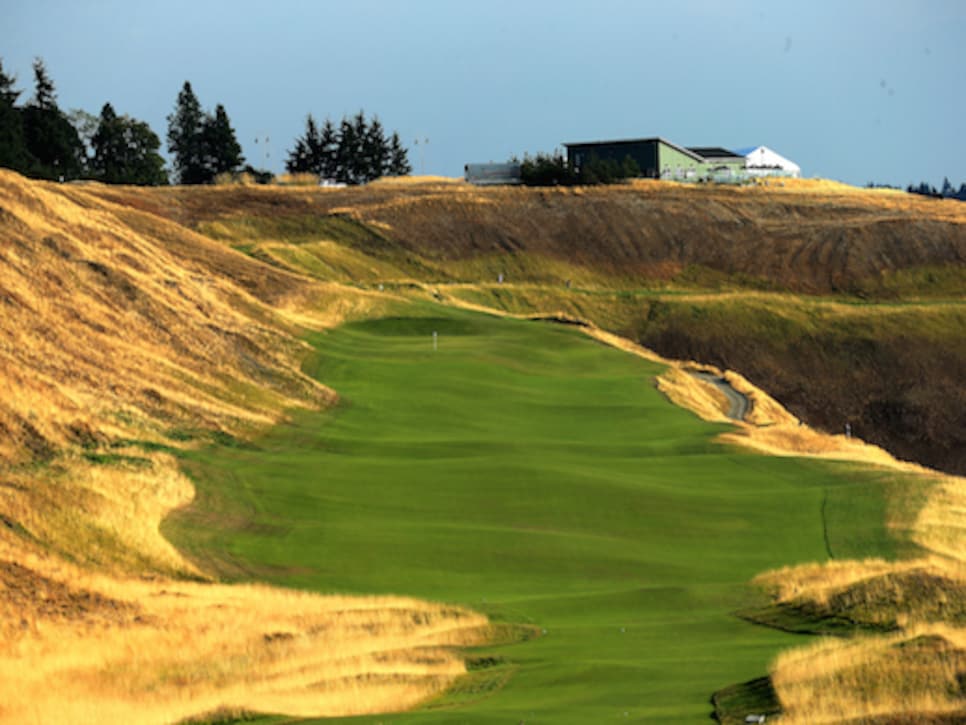 Eighth hole at Chambers Bay (Getty Images)
"For the students at the nearby high school, it was simply known as the Sand Pit,' the landmark two miles down the road where they would run as part of gym class," Doug Ferguson of the Associated Press writes. "A decade ago, that was the property now known as Chambers Bay. It was sand, and gravel and old concrete pilings. An eyesore…Now the close-up for Chambers Bay has arrived: The 2015 U.S. Open, a rare occasion where the golf course is getting more attention than the players.
Michael Putnam, who grew up in the vicinity of Chambers Bay, was the first to ever play the course and will tee off first in the U.S. Open there on Thursday morning. "Putnam once held the course record at Chambers Bay. That's his story and he's sticking to it. Technically, he's right," Jason Sobel of ESPN.com writes. "I shot 70 and owned the course record for a day,' he recalled with a laugh. "Since that day, he has played the course an estimated 30 times, but none will mean more than Thursday's opening round."
Chambers Bay as a U.S. Open site is a risk, John Huggan writes in the Scotsman: "For the first time in its history, the US Open is traveling to Washington State, to a course that is but eight summers old. And, if some advance scouting reports prove accurate, to the first US Open that will be more British' than American…If nothing else, the second-biggest championship in golf deserves to be much more than an unseemly descent into slapstick. Better get it right Mr [Mike] Davis [USGA Executive Director]."
"[S]ince his scintillating ball-striking between the Carolina pines, [Martin] Kaymer has all but vanished," Tacoma News-Tribune columnist John McGrath writes. "Kaymer ranks among the most inconspicuous defending Open champions in memory, and not just because of the desultory results of his recent performances. Kaymer's eight-stroke victory at Pinehurst was obscured in his homeland by two major stories that broke at the same time: Germany's 4-0 victory over Portugal in its World Cup opener, and Michael Schumacher's awakening from a coma."