The Loop
Tiger Woods still adamant his ball only 'oscillated'
LAKE FOREST, Ill. -- PGA Tour official Slugger White on Friday said Tiger Woods "was a little disbelieving" at being penalized two strokes for an infraction after video appeared to show his ball moving ever so slightly downward as he touched a loose impediment near it during the second round of the BMW Championship.
On Saturday, Woods hadn't changed his mind.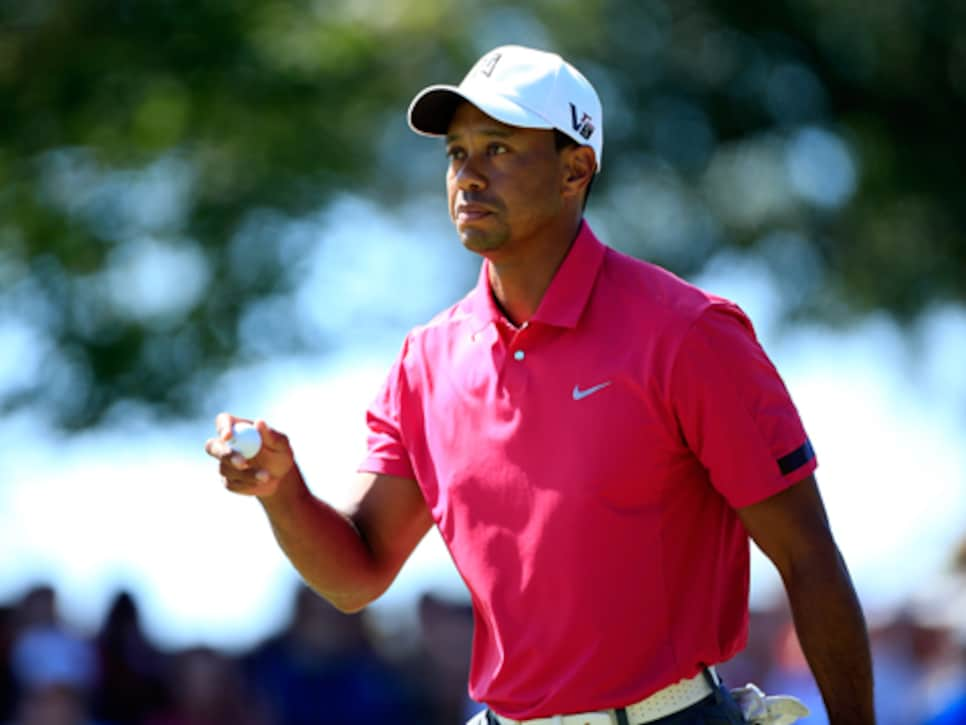 Tiger Woods walking off the second green during the third round of the BMW Championship. Photo: Michael Cohen/Getty Images
He said after a third-round 66 that he thought his ball behind the first green had only oscillated despite reviewing the footage multiple times.
"After seeing the video, I thought the ball just oscillated, and I thought that was it," Woods said Saturday after his round. "I thought that was the end of the story. But they saw otherwise. They replayed it again and again and again, and I felt the same way."
White, vice president of rules and competitions for the PGA Tour, said Friday that the footage shot by a PGA Tour Entertainment unit showed, "it's pretty clear that the ball did move." Woods maintained Saturday he still felt it did not change position.
"We all have been in the trees before, and things can move and do move," Woods said. "And I felt like I tested it and felt like it just oscillated and stayed in the same position but evidently it didn't."
Seven shots behind leaders Jim Furyk and Brandt Snedeker starting the third round, Woods rallied into fifth place, four behind Furyk's 13-under 200 total after 54 holes.
"I fought back today, which was not easy to do," said Woods, for whom this was his third rules issue of the year, following an infraction in Abu Dhabi and an illegal drop during the second round of the Masters. "Today was a tough round, but I fought and got myself back within striking distance. There were a lot of thoughts going on last night, but the sun comes up in the east, and we start a new day.
"Today was going to be hard, just like Saturday at Augusta was hard," Woods continued. "When situations like that happen, I had to fight, and I fought my tail off today. And I'm very proud of that, and I got myself back in the tournament."
Steve Stricker, after a 64, is in second place at 201, followed by Snedeker at 202 and Zach Johnson at 203 in the third of four FedEx Cup playoff events.