The Loop
Tiger Woods' all-time dagger, Tom Brady's embarrassing wardrobe malfunction and a TV star is born
Welcome to another edition of The Grind where we are happy to report that some sequels can in fact be better than the original. The Match, Part II was about 9 million times better than the first go-round between Tiger Woods and Phil Mickelson. Actually, make that 20 million.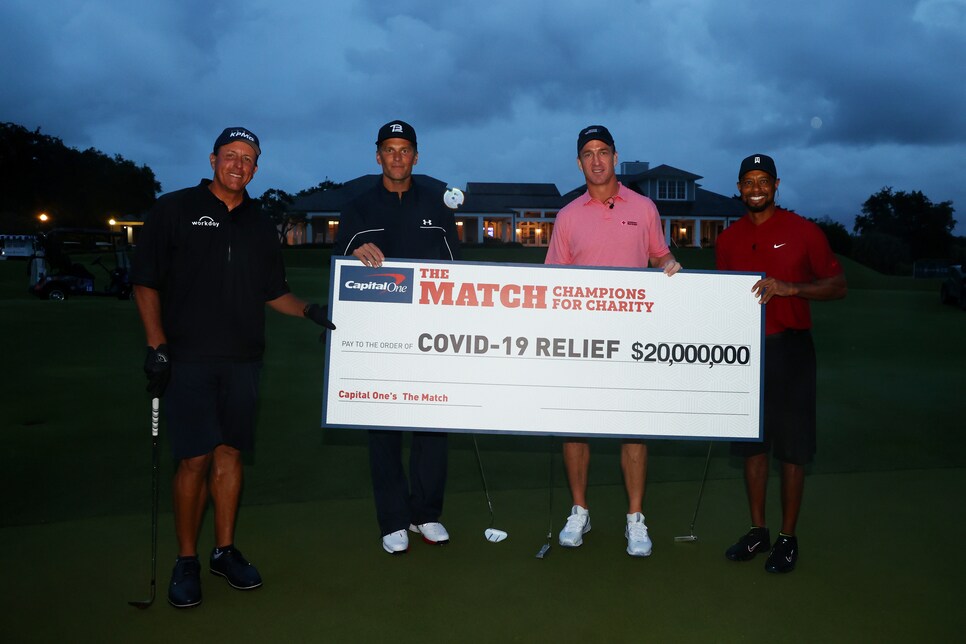 It also made the day week month for golf fans everywhere. Not since Tiger Woods winning the freaking Masters last year has Golf Twitter been so together, so positive and so downright giddy. Same time, same place next week, guys? Seriously, this Sunday is going to be a real letdown. Anyway, let's talk about The Match and everything else (still) going on in golf.
Tiger Woods: It had been nearly 100 days since we saw Tiger playing golf and boy, was it worth the wait. The 15-time major champ looked healthy and locked in, especially off the tee. Check out this absolute stripe show of Woods working it both ways on command:
This guy wasn't going to lose on his home turf. And he certainly wasn't going to lose to Phil again. The majors can't get here soon enough.
Peyton Manning: Why was this so much better than other recent made-for-TV golf events? Because it was so much different than them. Obviously, having two NFL legends compete was the main reason for this, but it was Peyton's presence that seemed to lighten the mood and continually keep the conversation going. I didn't think this guy could be any more popular, but then he nearly made a hole-in-one to win the entire country a six-pack of beer. That would have definitely done it. Thanks for the effort, Peyton.
Charles Barkley: We knew he'd be awesome in the booth, because the guy is tougher on players than Johnny Miller ever was. We also knew Barkley would never make bogey on that charity challenge hole. That being said, it was a good effort, and the dramatic/hideous hitch in his swing looked like it was gone, so we're happy for the Round Mound of Rebound. But if the NBA isn't coming back for a while, we'd love to hear this guy in the 18th tower more.
Justin Thomas: The former World No. 1 drew rave reviews for his TV debut as an on-course reporter and rightly so. Thomas was at ease on camera and never overdid it. Of course, it helps when you're friends with everyone, but his insight and his humor (especially when he called Barkley a "fat ass") were a refreshing addition to Turner Sports' coverage. Obviously, JT shouldn't quit his day job, but when he finally does quit his day job—or just goes into a huge slump—it's good to know he's got a gig waiting for him.
Tom Brady's raingear: As a Giants fan, there's a lot I could get on Tom about. His brutal play to start (Was that the worst six holes ever televised? Is Tom a SYSTEM QUARTERBACK?!), him not knowing the rules for taking a drop (He's never been much of a "rules" guy), and his audio magically going out when he was struggling (Kinda like it does for opposing teams in Foxboro). But I won't, because I'm a good guy and I appreciate Tom putting his pride on the line to do this for charity, especially with Shot Tracer. I will knock his raingear, though, because it didn't seem to do him much good. From the rain gloves—don't wear them if you're not used to wearing them!—to his pants that split after he finally hit a great shot. Although he may have saved Under Armour's stock from tanking with this tweet:
Smooth. Funny, Tom was playing in the Super Bowl the last time a wardrobe malfunction this bad happened.
Concerned tour pros: Add Adam Scott to the list of tour pros worried about playing so soon on the PGA Tour and about the protocols being put in place during these unprecedented times. Scott is a former winner at Colonial, where the season is scheduled to restart next month, but he told the AAP's Evin Priest he might not return for the first two months. Listen, you can't blame him. This is a very personal issue for every golfer, and it shows that this won't be a simple flip-the-switch-back-on situation for the PGA Tour. What we're really selling here is the angst that every player is going to be facing in the next few weeks.
Kevin Na keeping secrets: I've been a huge Kevin Na fan since he came on the Golf Digest Podcast a couple years ago and candidly spilled his guts about everything I asked him. But I'd be worried about him spilling his guts if I were to ever tell him a secret. In an interview with Sky Sports, Na revealed a rumor he'd heard that Tiger Woods will captain Team USA at the 2022 Ryder Cup, and then revealed his source was one of Woods' friends, just digging his hole even deeper. Kevin is like Elaine opening the vault in Seinfeld—except he doesn't need any peach Schnapps.
Sadly, not much. I'll have to find something else to watch on Sunday while I enjoy my chips and salsa. At least for the next couple weeks before the PGA Tour (fingers crossed) returns June 11 for the Charles Schwab Challenge at Colonial.
Random tournament fact: Kevin Na is the defending champ of the Charles Schwab Challenge. And he reminded everyone of that with the most adorable TikTok of quarantine:
RANDOM PROP BETS OF THE WEEK
—Charles Barkley will ever play in The Match: 1 MILLION-to-1 odds
—Tiger Woods will ever tell Kevin Na a secret: 10 MILLION-to-1 odds
—Justin Thomas has a future in golf broadcasting: LOCK
Love this look at Tiger grinding away in the rain:
What a legend. Maybe I should practice in the rain? Nah …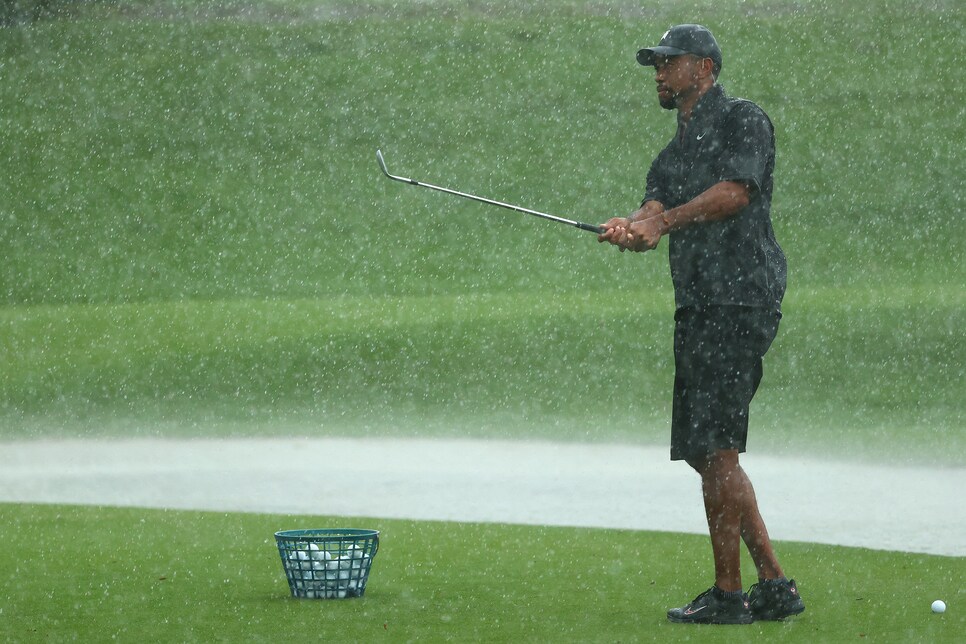 Playing golf with this dude: Tiger, Phil, Peyton and Tom did a lot this weekend to improve golf's street cred. This guy did not:
THIS WEEK IN TOUR PRO PUBLIC DISPLAYS OF AFFECTION
Brooks Koepka and Jena Sims celebrated a big anniversary! Yay!
Brooks didn't post anything commemorating the big occasion. He must still be ticked off about that haircut Jena gave him.
THIS WEEK IN CELEBRITY GOLFERS (NOT NAMED PEYTON OR TOM)
"Do you want me to use one of my U.S. Open medals?" —Tiger Woods after Phil Mickelson asked him to mark his golf ball. Poor Phil.
The Match was the most viewed golf telecast in cable TV history. No big deal. . . . A signed scorecard from a round at Seminole in which Ben Hogan shot 61 sold at auction for $33,715. Imagine what Hogan's set of golf clubs from that day would fetch? … Speaking of golf clubs, Justin Rose officially split from Honma. Let's just say his clubs during that partnership would fetch less than Hogan's clubs. … Rory McIlroy, Justin Thomas, Bubba Watson and Morgan Pressel will participate in ESPN's Pro-Athlete All-Star Ride on Peloton this Saturday. Time for all of Rory's quarantine training to really pay off. … And finally, with a postponed Masters, I needed my personal Amen Corner more than ever this year: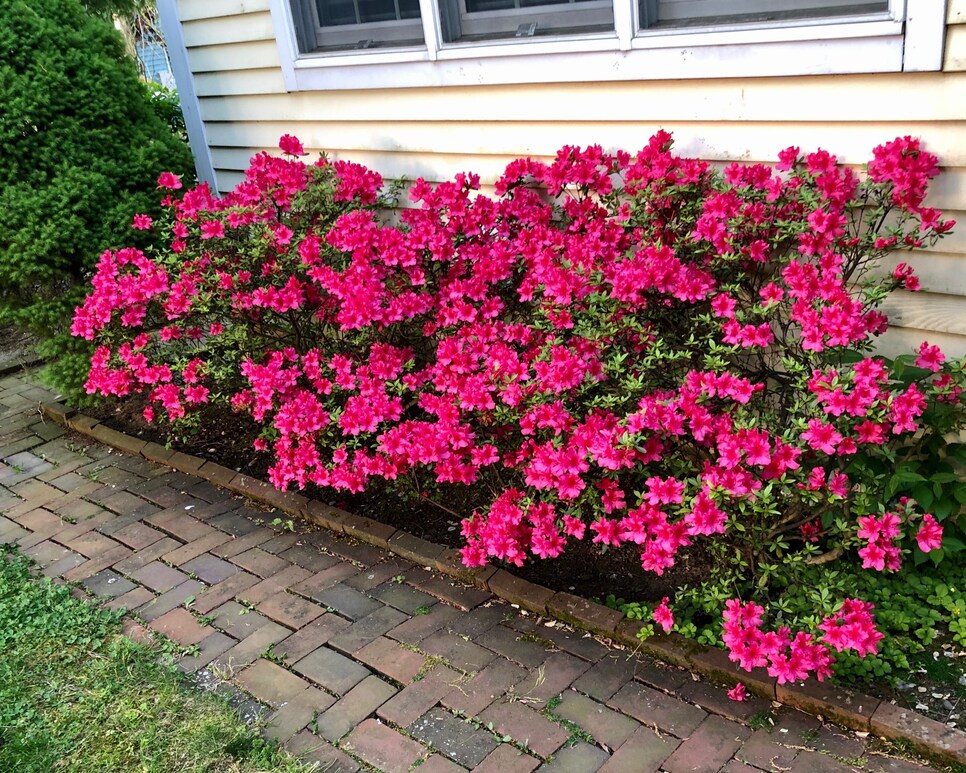 Eat your heart out, Augusta National.
RANDOM QUESTIONS TO PONDER
Who will be in the next The Match?
When is the next The Match?
Why didn't I bet my house on Tiger winning?