The Loop
Tiger outplayed by friend, playing partner Couples
DUBLIN, Ohio -- Tiger Woods has never won the Memorial Tournament without breaking par in the opening round. So to shoot a 1-under-par 71 Thursday at Muirfield Village GC would perhaps be the silver lining in a relatively frustrating day.
That he needed 30 putts spoiled a decent ball-striking round and got beat by playing partner Fred Couples, the 52-year-old Champions Tour player and U.S. Presidents Cup captain, certainly didn't make him happy, though he was able to joke about it at the end of a long, hot, windy afternoon.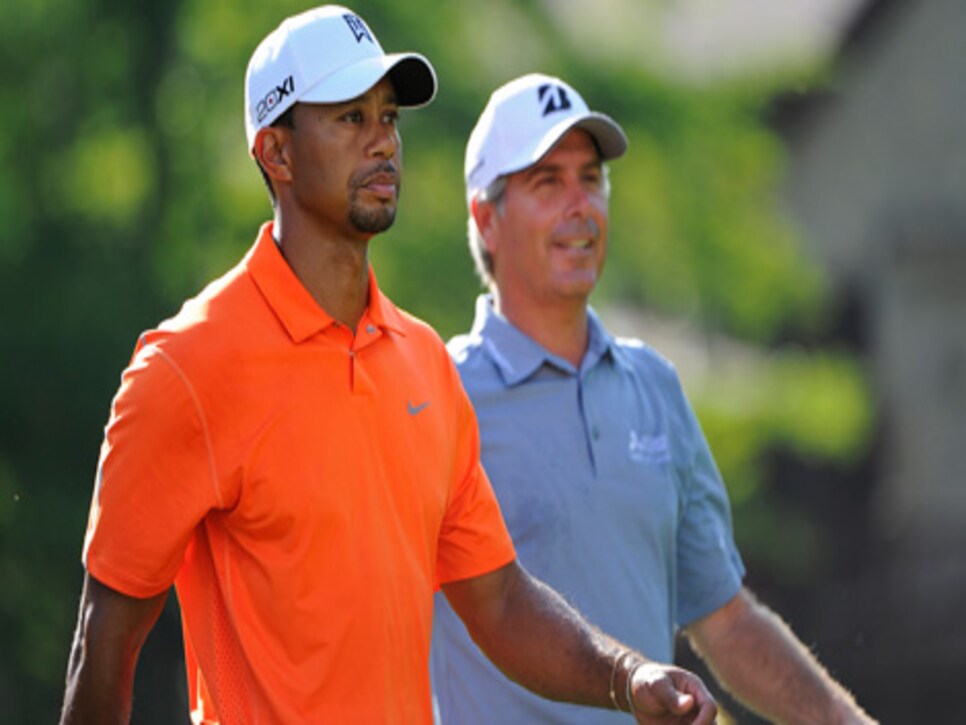 "Yeah, he kicked my ass," Woods said of Couples, grinning.
"Can we say that word?" Couples said when the comment was relayed.
Couples, who won the Memorial in 1998, snuck in a 15-foot par putt on the last to salvage a 2-under 70, while Woods bogeyed the final hole. A five-time winner of the Memorial, including last year, Woods seemed stuck in neutral throughout the day, mostly because the putter that has helped him to four PGA Tour wins already this year wasn't cooperating.
"I didn't score very well to how I hit it," Woods said, figuring he should have been at least a few strokes better. "I just didn't make anything today. I thought I hit good putts. I misread a couple pretty badly. The one on 18, I thought it was going to go left and the end and ended up going right. That was not very good."
But playing alongside Couples, who has become a good friend, and Keegan Bradley was a bright spot. "We had a good time. It had its moments."
Perhaps most of those moments belonged to Couples, who had wanted to play with the No. 1 player in the world.
"I won't lie to you, I asked to see if I could get paired [with Woods]; it probably might be my last time playing with Tiger," said Couples, who withdrew from last week's Senior PGA Championship because his bad back flared up. "Maybe at Augusta I might get paired with him. If he can be leading after two rounds again, maybe I'll get a shot at him. So I was blessed to play with him. And my goal when I play with him always is to try to hit it solid and stay out of his way. And today was a good one. I did beat him."
Couples also played with Woods in the first two rounds last year. Woods went on to win the tournament.
Woods, who begins the second round on the 10th tee at 8:26 a.m. Friday, trails Masters champion Charl Schwartzel by six strokes after Schwartzel converted nine birdies in a 65. Scott Piercy was next at 66.
Fourteen-year-old amateur Guan Tianlang bogeyed two of his final three holes for a 72, but that was far better than No. 2 Rory McIlroy, who struggled to a 78.