The Loop
Tiger in solid shape at Muirfield, but pressure of major drought remains
GULLANE, Scotland -- Tiger Woods, the one-time mortal lock in major championships with the lead on the weekend, will try once again to right one of the most puzzling reversals of form in the history of sports. For the fifth time in his last six majors, Woods heads to the final 36 holes with a chance to win, this time over a rugged Muirfield Golf Links as he looks to add a fourth claret jug to his collection.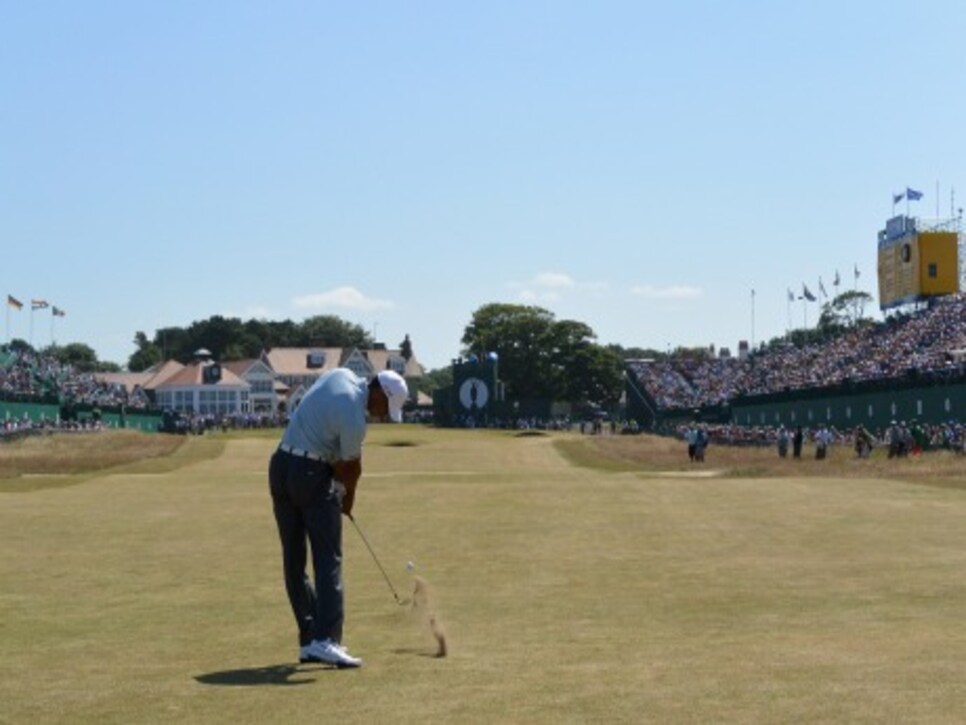 But despite all the opportunities Woods, who shot an even-par 71 on Friday to complete 36 holes at two-under 140, remains stuck at 14 majors, more than five years -- and 16 tries -- removed from his last victory.
Related: The clock is ticking for Tiger In his last four majors in which he has contended on the weekend, Woods has averaged 69.5 the first two rounds and 73.4 in the final two rounds.  Despite that -- or maybe because of that -- he remains one of the most compelling figures not just in golf but in all of sports. Tiger is the kind of guy that when you write about him, half the readers ask why bother and the other half accuse you of picking on the poor guy when he is down.
But he is, without question, the best golfer of his generation, still the best player currently in the game and in the discussion with Jack Nicklaus, Bobby Jones and Ben Hogan about the best to ever play the game. Tiger will be part of the story -- if not THE story -- in golf until he tells us he has given up on his pursuit of perfection in the game, and even then he will be talked about as long as the game is played. His struggles only make him more compelling. There was a time -- back when Tiger was 14-for-14 with at least a share of the third-round lead in a major -- when the outcome was a forgone conclusion. As the late great Hunter S. Thompson once said about Richard Nixon: "He never let me down." For more than a decade, Tiger never let his fans down. But that was before Y.E. Yang shattered the aura of invincibility around Woods with a stunning upset in the 2009 PGA Championship. Sine then, he has had his chances and squandered them. During his winless run in the majors, Woods has finished in the top-six eight times. If half the job of winning a major is giving yourself an opportunity to win, then Woods has been getting half the job done since taking home the 2008 U.S. Open title at Torrey Pines. Of late, Tiger's weekend failures have been puzzling and painful. Last month, at the U.S. Open at Merion, Woods was T-13 and four strokes behind going to the weekend and finished T-32. And last year the letdowns were even more dramatic. In the 2012 PGA Championship at Kiawah Island, Woods was tied for first place after 36 holes and finished T-6. At the British Open at Royal Lytham, he was third going into the weekend, four strokes back, and finished third, four strokes back. In the U.S. Open at Olympic Club, Tiger was tied for first after two rounds and managed to end up in a disappointing tie for 21st. "You continue playing, continue putting myself there," Woods said about his drought. "I'm not going to win every major I play in, but certainly I can try and put myself there. If I give myself enough opportunities, I'll get my share, and I think I have so far in my career."
Related: Azinger's loss at Muirfield: "As though night had descended" Yes, he has given himself enough opportunities to take home 14 professional major titles, four short of tying the record held by Nicklaus. But as puzzling as it is that Woods has had multiple chances to win a major over the last five years, most curious is how he has never won a major when trailing going into the final round. Perhaps the greatest closer in the history of the game has never been a great come-from-behind player. "And this is going to be a difficult one, if the wind continues to come out of the east," Woods said about the challenge ahead of him. "We'll see what they do overnight on the golf course, see if they put just a little water on or they just let it go," he said. Woods has been doing the little things here it takes to win a major. He has been putting the ball in play off the tee -- mostly by leaving the driver in the bag -- and making a ton of the kind of par putts that keep the momentum of a round alive. But he has also hit just enough loose shots that, combined with a couple of three-putts, make you think the full-belief system -- once unshakeable -- has not been restored. That belief system will be tested this weekend. A British Open golf course picks you apart, opens you up, looks inside and sees what you are made of. The links style of play demands a wider variety of shots than any other kind of golf course and a more focused -- and resilient -- mental approach. The bad bounces and bad breaks will simply drive you crazy. Good shots end up in bad places while bad shots by your opponent end up good -- conspiring to test your patience, persistence and passion. Those are not tests Woods has passed recently, at least not in major championships. His confidence, once a foot thick, is now more suspect.
Related: Tiger's performance anxiety But sports provide a complicated mix of ability and belief. If Woods ends up hoisting the claret jug Sunday evening it may very well propel him to another burst of brilliance -- and dominance -- like we've seen at other times in his career. But another failure will only lead to more questions, more pressure and one less opportunity to catch Nicklaus. Whatever the case, Woods goes into the weekend at Muirfield with a chance to win. And in large part because the conclusion is no longer foregone, he plays the final 36 holes of this British Open as one of the most fascinating athletes playing any sport. He's like that painting of Kramer in Seinfeld: You just can't take your eyes off him. One way or the other, it will be worth watching. Trust me on that.