The Loop
Sixty years ago, Arnold Palmer won back-to-back tournaments in exotic locales
The PGA Tour tees it up for a second straight week in beautiful Hawaii with the Sony Open starting this afternoon. Of course it's not the first time golfers have traveled to an exotic locales to play in tournaments, a tradition that goes back to the days of Harry Vardon and the Golden Age of Jones, Sarazen and Hagen.
A notable example of globetrotting golfers from yesteryear occurred 60 years ago this week at the 1956 Panama Open at Panama Golf Club, which played 6,600 yards, par 72. A group of American pros was on a five-event tour of the Caribbean; as reported by Golf World, several Caribbean countries were "planning bigger things in the future for circuit golf. Realizing that prize money is not as luring at the West Coast meets, their plan is to increase with the years." Caribbean tournament sponsors wanted to bring top players to their events to build notoriety and attract future vacationers. Golf World noted, "All players had to do to make the trip was apply beforehand to PGA officials. Apparently all who applied were allowed to make the trip."
Among those standout players was established superstar Sam Snead, along with emerging star Arnold Palmer. Also competing in Panama were Antonio Cerda, 1954 U.S. Open champion Ed Furgol, Chick Harbert, Art Wall (future 1959 Masters winner), Roberto De Vicenzo, Bob Toski, 1947 U.S. Open winner Lew Worsham, two-time Masters winner Horton Smith, bombers Jimmy Thomson and George Bayer, and Jim Ferree. During the event, a buffet dinner was held at the presidential palace, and several players gathered for a group photo (below). Palmer is seen kneeling in front of President Ricardo Arias and behind the president's daughter Tessie.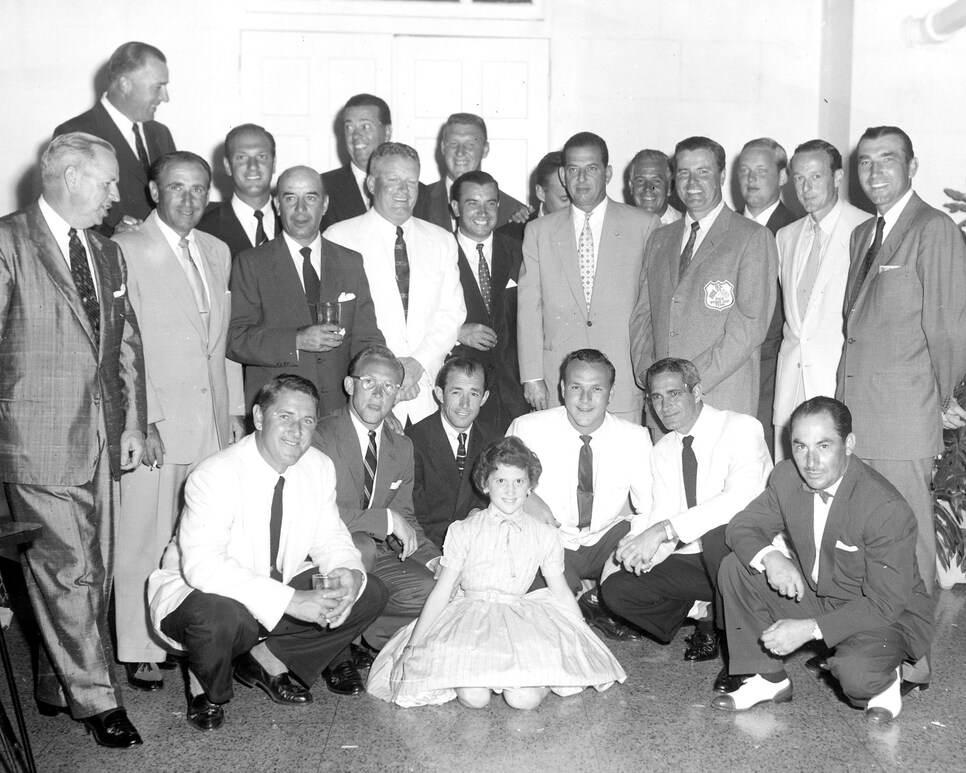 On the day of the final round, Jan. 15, 1956, Snead and Palmer overcame 54-hole leader Furgol and tied at five-under 283. In a scintillating six-hole playoff, the 43-year-old Snead and 26-year-old Palmer went six holes, each going par-par-birdie-par-par before Palmer made a 10-foot birdie putt on six to win the $2,000 top prize.
Palmer also won the following week at the Colombia Open, coming from seven shots back in the final round with a 65 to win by two, proving that globetrotting cannot only be socially stimulating but profitable.