The Loop
This week's syllabus: April 17-23
My look at the top five teams in the country right now

The Crimson Tide have won eight tournaments dating back to September 2006. None of those victories, however, have come in the postseason. An SEC title this weekend in Georgia would be only the second the school has won (the first in 29 years) and would validate the progress this squad has made.
Next event: SEC Championship, Frederica GC, St. Simons Island, Ga., April 18-20

Next event: U.S. Intercollegiate, Stanford GC, Palo Alto, Calif., April 19-20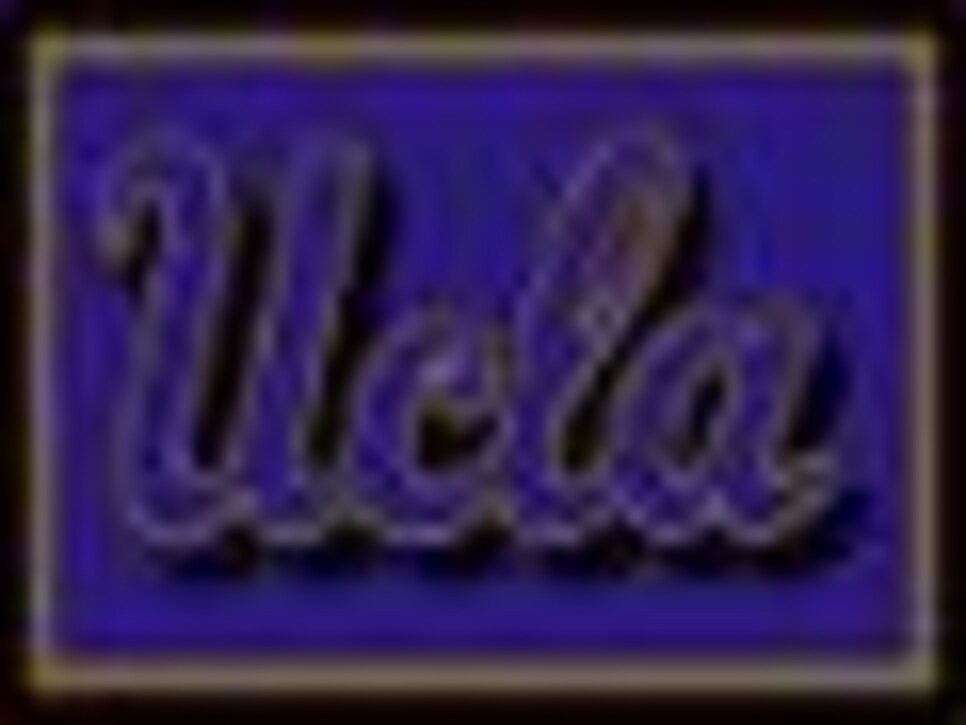 Bruin senior Kevin Chappell is also among the 10 semifinalists for the Ben Hogan Award and can be found on the watch list for the Jack Nicklaus Award.
Next event: U.S. Intercollegiate, Stanford GC, Palo Alto, Calif., April 19-20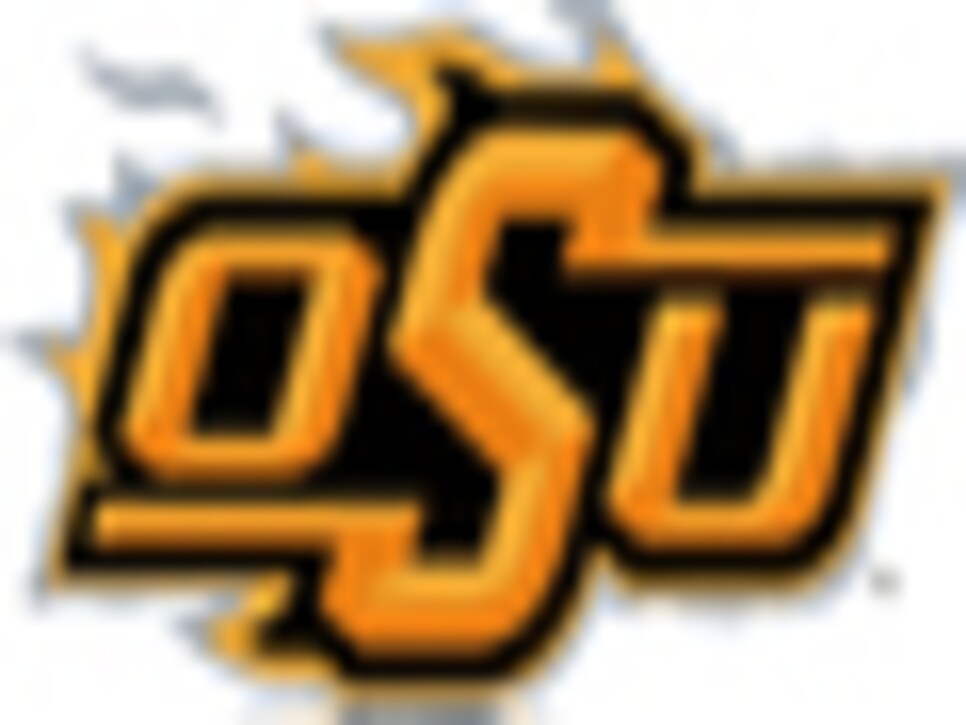 The Cowboys are looking for their 51st conference title when then compete at Big 12s in a few weeks.
Next event: Big 12 Championship, Whispering Pines GC, Trinity, Texas, April 25-27

Because it's 2008, you have to call the Bulldogs the favorites for the SEC title, right? You see since 1998, Georgia has won the tournament in every even-numbered year (except 2002).
Next event: SEC Championship, Frederica GC, St. Simons Island, Ga., April 18-20

Junior Amanda Blumenherst is trying for a historic third straight ACC individual title. Meanwhile, her 59 rounds of par or better is already a school record despite playing just three seasons.
Next event: ACC Championship, LPGA International, Daytona Beach, Fla., April 18-20

The Gators have won eight SEC titles but not since 1995 has the school claimed the conference crown.
Next event: SEC Championship, Tennessee National, Loudon, Tenn., April 18-20
Take a stab at the following trivia question: When the last time the Trojans won the Pac-10 title?
Amazingly the answer is D. It's the one significant title coach Andrea Gaston hasn't won ... yet.
Next event: Pac-10 Championship, Palos Verdes GC, Palos Verdes, Calif., April 21-23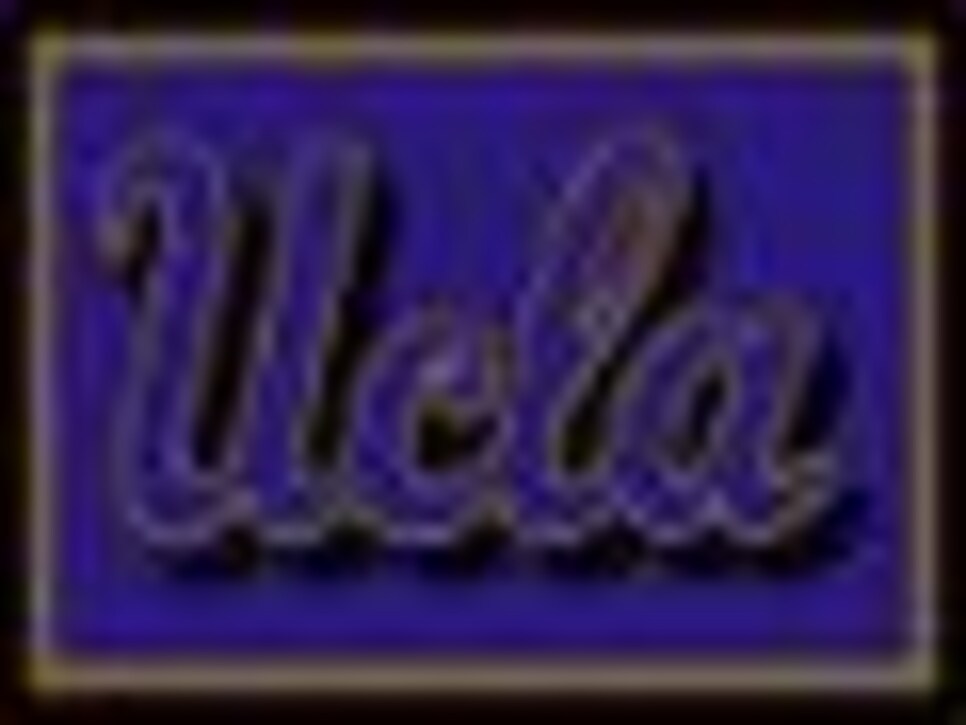 The Bruins short game has excelled in 2007-08, which is something that bodes in their favor considering how tricky the greens are at Palos Verdes.
Next event: Pac-10 Championship, Palos Verdes GC, Palos Verdes, Calif., April 21-23

I gave you all a full week to tell me why I was wrong to put the Crimson Tide in the five spot here and nobody could do it. The Crimson Tide are a confident bunch heading to the SEC Championship.
Next event: SEC Championship, Tennessee National, Loudon, Tenn., April 18-20
Average margin of victory by the Duke women's team during their current streak of 12 consecutive ACC Championship victories. The closest win was by three strokes over Wake Forest in 2001; the biggest runaway was by 47 strokes over Wake Forest in 2005. Only twice in the 12-year run have the Blue Devils won by less than 10 strokes.
1.) From some conversations I had with folks in the know at the Masters last week, I get the sense that having just three amateur participants at the tournament was a disappointment for members at Augusta National GC. It's not that they were upset with Colt Knost, who decided to forgo his invitation when he turned pro last September. Rather, it's the impression that having the fewest number of amateurs competing in the event since 1942 left on an event that has prided itself on giving them a prominent place in the field from its inception (It is Bobby Jones' tournament, after all.)
So it is, given chairman Billy Payne's comments at his annual press conference, I think the addition of qualification criteria to include another amateur participant is likely on the horizon. When it will be implemented is still uncertain--Augusta National prefers to take its time on matters such as this. My guess is it could still be five years away even.
My guess, too, is that the added amateur would be somebody who won another significant amateur tournament, specifically the NCAA Championship. The possibly hitch here is that with the individual champion being determined after 54 holes rather than 72 starting next year, the lure of the NCAA medalist might not be as great.
2.) Perhaps this is better classified on something NOT to watch for: an individual making two holes-in-one in a tournament. After all, since it happened TWICE this past week, it can't really happen again any time soon, can it?!?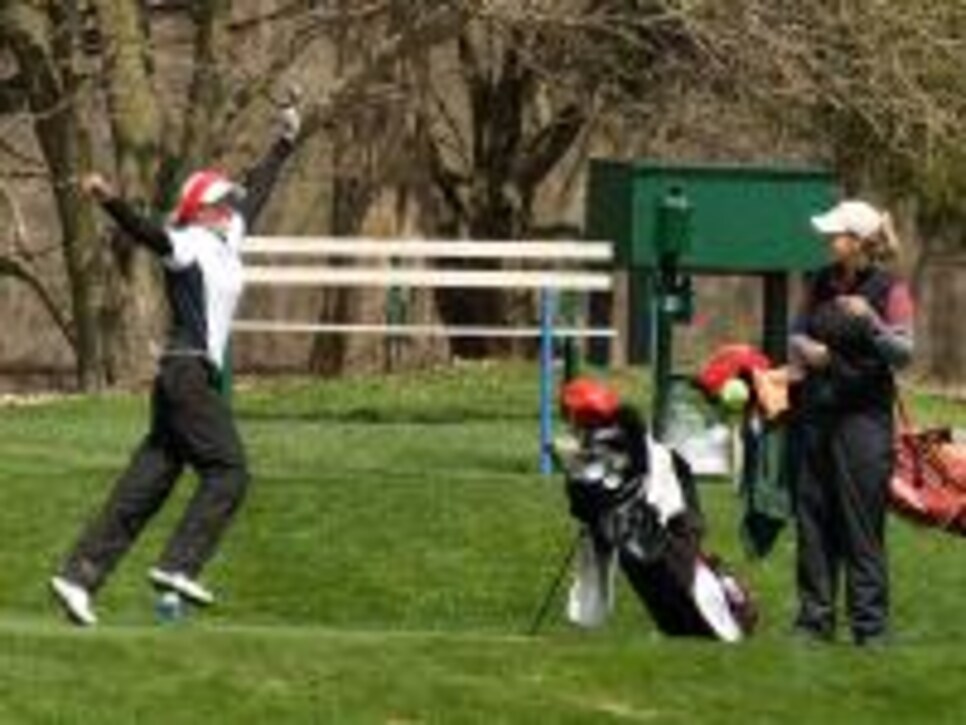 Amazingly, Ball State's Paige Esford duplicated the two aces in one tournament on Sunday and Monday at the Cardinal Classic. The sophomore from Ontario, Canada used a 9-iron on the 113 yard 14th holes at Delaware CC in Muncie, Ind., April 13, her first career hole-in-one. On April 14, she hit a 7-iron in the hole on the 156-yard 16th. Esford finished T-17 with a 17-over 159 in the event. (Photo here of the second ace courtesy of Ball State Photo Services.)
3.) I've written a lot about the ".500 rule" lately as it has weaved its way into storylines for several Division I men's programs, but the rule's residual benefit is about to surface at various conference championships in the coming weeks. With several schools needing to win their league titles in order to get a bid to NCAA regionals, you're going to see even more excitement at the conference level than in years past.
More "Cinderella stories" like that are going to come alive in the next few weeks and we're all, as college golf fans, going to benefit from them.
Field: Air Force, Boise State, BYU, Idaho State, New Mexico, New Mexico State, Sacramento State, St. Mary's (Calif.), Utah, Utah State, Utah Valley State, Washington State, Weber State, Wyoming
Defending champion: BYU (32-under 832) 15 strokes over Nevada; Daniel Summerhays, BYU (11-under 205) by one stroke over BYU's Jake Ellison__
Skinny:__ It's been a tough year for the host Cougars, who lost seniors Clay Ogden,Nick Becker and Ellison and then had Summerhays leave school a year early after winning a Nationwide Tour event as an amateur last summer. Still, if they're looking to salvage something this year, this could be the right place. BYU has won its home event 33 times in 45 starts.
(For live scoring, click here to link to Golfstat)
Field: Arizona State, California, Minnesota, Nevada, Northern Colorado, Oregon, Oregon State, San Diego State, San Jose State, Southern California, Stanford, TCU, Toledo, UC Davis, UC Irvine, UCLA, Washington
Defending champion: Stanford and Minnesota (two-under 838) with the Cardinal winning a tiebreaker; Rob Grube, Stanford (eight-under 202) by two strokes over Minnesota's Bronson LaCassie
Skinny: Call it the pre-Pac 10 Championship, as the only conference schools not in attendance are Arizona and Washington State. If the Cardinal is hoping to defend their NCAA title, this would be a good place to start to build some momentum.
Rutherford Intercollegiate
Penn State University GC (Blue Course, Par 71, 7,202 yards)
__Field:__Akron, Ball State, Binghamton, Bowling Green, Hartford, Francis Marion, Miami (Ohio), Ohio, Penn State, Richmond, St. Bonaventure, Wright State
Defending champion: Penn State (30-over 894) by 12 strokes over Austin Peay State; Robert Rohanna, Penn State (one-over 217) by two strokes over Wright State's Brandon Knutson__
Skinny: __The Nittany Lions are having an impressive season (two wins, eight top-fives in nine starts) and there's no reason to think they won't have success at home this weekend ... did I mention they've won the tournament 14 of the last 16 years?
Kampen Course (Par 72, 7.467 yards)
Field: Charlotte, Eastern Michigan, Illinois, Indiana, Iowa, Iowa State, Kent State, Loyola (Ill.,) Michigan State, Northern Illinois, Northwestern, Purdue, Wisconsin, Xavier
Defending champion: Michigan State (17-over 593) by nine strokes over Northwestern and Purdue; Ryan Brehm, Michigan State (two-under 142) by four strokes over Wisconsin's Jeff Kaiser
Skinny: While the NCAA preview was officially played last fall, this event serves as another warm-up before the Kampen Course hosts the NCAA Championship. Interestingly, the school that won the fall preview, Charlotte, is the highest ranked team in the field and could claim another title this weekend.
Check back later for a look at this weekend's conference championships.