The Loop
This U.S. Open amateur has as good a shot of winning as Bryson DeChambeau had at the Masters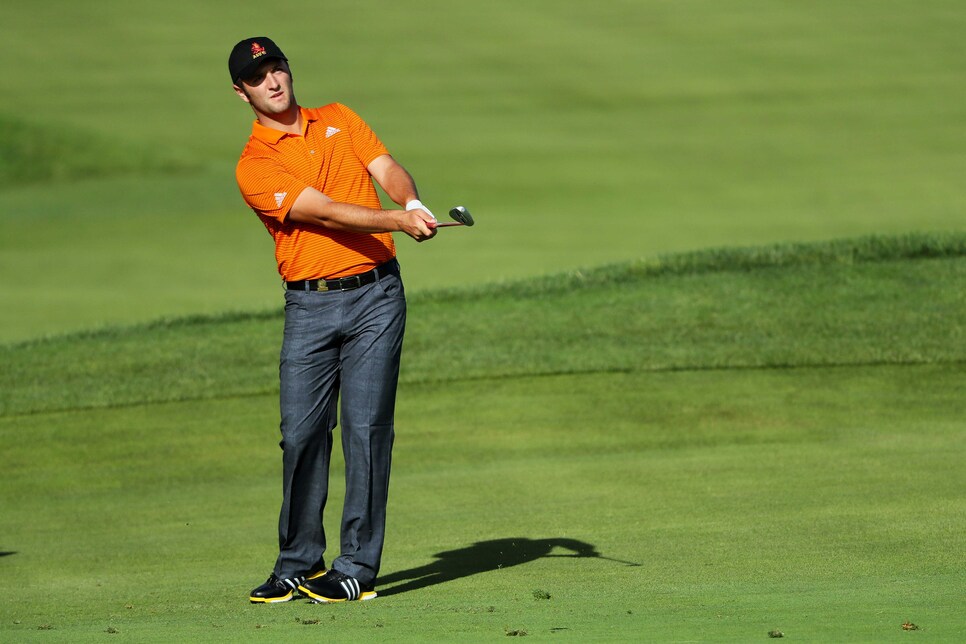 OAKMONT, Pa. — Just two months ago the golf world was abuzz over the possibility that Bryson DeChambeau, playing his last event as an amateur, could contend if not actually (cough) win the Masters. Entering this week at Oakmont and the U.S. Open, none of the 11 amateurs in the field have that kind of hype surrounding them, but you could make the argument at least one should.
Spain's Jon Rahm, like DeChambeau, has an ultra-polished game that makes him appear to be a can't-miss pro. And also like DeChambeau, the athletic 6-foor-2 Rahm has shown he can hang with the big boys, finishing T-5 at the Waste Management Phoenix Open and T-10 at the OHL Classic at Mayakoba in 2015. He also made the cut and shot three sub-70 rounds at last year's Travelers Championship.
In wrapping up his senior year at Arizona State this spring, Rahm had a 69.41 stroke average with his worst finish in 12 starts during the 2015-'16 season being a T-10. He won the Pac-12 individual title and became the first two-time winner of the Ben Hogan Award for college golf's top player, after finishing last summer as the top-ranked amateur in the world. Long story short, his credentials are pretty impressive.
So, why hasn't Rahm, who'll make his pro debut in next week's Quicken Loans National, gotten anywhere near the attention that DeChambeau received?
In part it comes from the modesty that the 21-year-old possesses. He doesn't wear a Ben Hogan-style cap and hasn't professed an interest in trying to revolutionize the game with his unorthodox swing (which Rahm does actually have) or his unusually named golf clubs.
In trying to manage expectations for this week at Oakmont, Rahm has also played down his chances—contrary to DeChambeau who did little to discourage the debate about whether he could win at Augusta National. Rahm played the course for the first time a month ago and found it more difficult than his college coach, Tim Mickelson (brother of Phil "Oakmont can be dangerous" Mickelson) had led him to believe.
"It probably seemed worse because my driving was awful," he told a Pittsburgh paper. "I couldn't hit a fairway."
Of course, expecting Rahm to win the U.S. Open—just like DeChambeau at the Masters—is asking a bit much. But there's no doubt Rahm should be able to make the cut at an event where at least one amateur has done so in 17 of the last 20 U.S. Opens. Ten times in that span, and seven times in the last eight years, two or more have gone on to play four rounds in the national championship.
Who else might join Rahm in the race for low amateur? Here's my break down of the players (and school names) into categories of confidence, 5 being most likely to make the cut, 1 being least likely.
Confidence level: 5
Charlie Danielson, 22, Osceola, Wis. (Just finished at Illinois)
Jon Rahm, 21, Spain (Just finished at Arizona State)
Scottie Scheffler, 19, Dallas (Texas)
Like Rahm, Danielson was a first-team All-American in college who just graduated and is making his amateur swansong this week. He also has experience in a pro event, finishing T-72 in February's Northern Trust Open. Don't let his shy demeanor fool you; Danielson has an extremely competitive streak, says his Illinois coach, Mike Small. He also is playing with no pressure after advancing through Sectional Qualifying two weeks ago.
"I'm going in there just to enjoy it, looking forward to every round, no expecting much," Danielson said.
Scheffler also has few expectations, which makes the week more manageable. The former U.S. Junior champion has dealt with back issues while at Texas, but saw his game come around this spring as he wrapped up his sophomore year with the Longhorns. In 2012, a pair of Texas players—Jordan Spieth and Beau Hossler—had Open success as amateurs that Scheffler will try to emulate.
Confidence level: 4
Sam Burns, 19, Shreveport, La. (LSU)
Nick Hardy, 20, Northrbook, Ill. (Illinois)
Sam Horsfield, 19, England (Florida)
If the names Hardy and Horsfield sound familiar to those who follow golf only at the majors, it's because they qualified for the Open in 2015. The benefit for each is they don't have to worry about the intimidation of playing in their first major championship. Hardy even made the cut at Chambers Bay, finishing T-52, so he should have plenty of confidence. Horsfield is coming from a college season in which he won the national freshman of the year award. Among his rivals for the honor was Burns, a former AJGA player of the year, who had 10 top-25 finishes for the Tigers during his rookie season. Burns has a helpful mentor at Oakmont in David Toms, who also qualified for Oakmont and was T-5 here in 2007.
Confidence level: 3
Derek Bard, 20, New Harford, N.Y. (Virginia)
Justin Suh, 19, San Jose, Calif. (USC)
Bard, the U.S. Amateur runner-up, gets to enjoy one last spoil by playing in his second major of the year after being unable to make the cut at the Masters. He's missing playing at the state's other big golf event this week, the Sunnehanna Amateur, where he is the defending champion. However, something tells me he's OK with that. Suh just finished a solid freshman season in Los Angeles, playing in 12 events and posting six top-20 finishes, including a T-10 at the NCAA Championship.
Confidence level: 2
Chris Crawford, 22, Bensalem, Pa. (Drexel)
Kyle Mueller, 20, Watkinsville, Ga. (Michigan)
Crawford, a Pennsylvania native, already has a U.S. Open memory to carry with him for the rest of his life, having made a 40-foot birdie putt on his last hole in Sectional Qualifying to earn his spot at Oakmont. Anything he does this week is a bonus, although his Open week did get off to a weird start when his caddie broke his ankle on the course during Tuesday's practice round. Mueller, who just finished his sophomore year in Ann Arbor, is another long-shot qualifier who is basking in the glow of just getting into the field.
Confidence level: 1
Ryan Stachler, 19, Alpharetta, Ga. (South Carolina)
Stachler might be the biggest surprise among the amateur qualifiers after playing just four events as a freshman with the Gamecocks and only two as a member of the starting five. Give him credit, though, as he did earn a 4.0 GPA during his first year of college.