The Loop
This Presidents Cup is ready for prime time
MELBOURNE - Are you ready for some golf?
When the International Team picked up its only Presidents Cup victory here at Royal Melbourne in 1998, golf fans in the United States saw much of the action on delayed tape, including the final-day singles matches.
Not this year, not this time. Lay in the snacks and put some beverages on ice: Prime time golf is coming -- lots of it.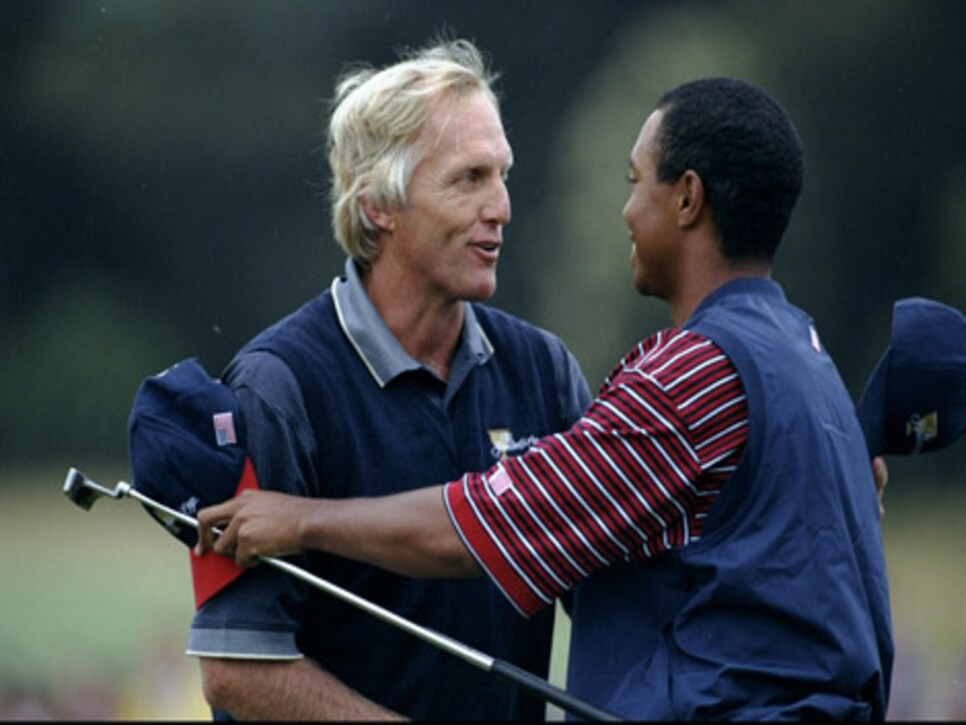 *This year's Presidents Cup, unlike the 1998 matches that pitted Greg Norman against Tiger Woods, will allow for U.S. fans to watch the action live. Photo by Getty Images
Much has changed in the 13 years since this competition between the Yanks and players from countries not eligible for the Ryder Cup was first played outside the United States. A wireless world has made sitting on news for broadcast later an unworkable idea.
True fans not only know who won before a replay is shown; they can also figure out ways to watch it. They want their sports now. The beauty of sports is that it is live, improvisational theater - a celebration of pure spontaneity.  Don't take that away from me by showing me tape.
And now that NBC and Golf Channel both have Comcast as their parent company, they are able to work together to provide live coverage on cable with the weekend competition replayed on the broadcast network without stepping on each other's toes. That was not the case in 1998 when ESPN had the cable coverage and CBS was the broadcast partner.
Asked if the synergy on display this week in Melbourne would have been possible if NBC and Golf Channel were not under the same umbrella, Golf Channel president Mike McCarley said, "Not really. The powers that be that have to come together in so many way to make that happen would have had just too many variables."
This week, the six foursomes matches on Day One, which is Thursday in Australia, will be shown live on the East Coast of the United States from 9 p.m. Wednesday to 2 a.m. Thursday, which is 6 p.m. to 11 p.m. Wednesday on the West Coast. The six Day-Two four-ball matches will be shown at the same times Thursday.
The double session on Day Three of five foursomes matches and five four-ball matches will be broadcast from 3 p.m. Friday (EST) until 2 a.m Saturday. And the 12 singles matches on the final day will be on Golf Channel live from 6:30 p.m. Saturday until 12:30 a.m. Sunday.
NBC will show replays of the action from 8 a.m. to 4 p.m. on Saturday and Noon to 6 p.m. on Sunday. In all, Golf Channel will have 27 hours of live coverage over four days and NBC will provide 14 hours of replayed action.
"Look at it as the evolution of sports coverage," McCarley said. "As more and more platforms become available, what you want to do is give the viewer more options to watch in whatever way they can.  Then, for the casual fan and to build a broader audience, you replay the action to satisfy those viewers."
In 1998, when the Presidents Cup was three days instead of four, ESPN aired 15 hours live and CBS showed 7 3/4 of replay, including all of the weekend play on tape, which featured only 2 3/4 hours of the final-day singles matches. Of course, there weren't a lot of places to find scores back then, let alone video.
Certainly, media delivery has changed as much as golf equipment over the last 13 years and the viability of tape-delayed coverage of sporting events has gone the way of the wound golf ball. This Presidents Cup will be broadcast in 225 countries and territories, nearly 600 million homes, and in 30 different languages.
NBC has learned a lot of lessons from being the network of the Olympic Games, and they have brought that expertise to Golf Channel since its acquisition by Comcast was approved by the government. One lesson is that fans prefer to see their sports live. With multiple cable platforms at its disposal, NBC was able to make that transition and show more live Olympic coverage.
In many ways, the broadcast of this Presidents Cup will be a glimpse into the future. The new nine-year PGA Tour television contract with CBS and NBC that goes into effect in 2013 has a lot of flexibility built into it to allow for expected innovations in digital delivery of video.
"More and more of this will be the norm rather than the exception," McCarley said about moving golf into time slots that reach larger audiences. We will see some of that in the first PGA Tour event of 2012 when the Hyundai Tournament of Champions in Hawaii ends in East Coast prime time on Monday night.
The priority in golf TV coverage will be getting the product exposed to the public as it is happening, even with simulcasts, followed by replays for those fans not able to watch the event live. It's all about growing the audience.
This is a good thing for fans; In fact, this is a great thing. And the future starts Wednesday night in the U.S. when play begins Thursday at Royal Melbourne. Kick back and enjoy.