The Loop
This Lesson Wasn't on a Driving Range . . .
Jack Johnson knocked me out.
Not the former heavyweight champ, which would make sense (although he passed away in 1946). I was dropped by Jack Johnson, the singer-songwriter. The ridiculously-kind North Shore native who also happens to be humble, soft-spoken, environment-conscious and maintains a sharp focus on his family. He taught me a valuable lesson one night. As "Dirty Harry" in "Magnum Force" once said, "A man's gotta know his limitations."
I've blogged about the North Shore of Oahu. I told you that this is the home of my oldest brother and his family. I wrote the Away Game on the North Shore and the Turtle Bay Resort for the April issue, which is now online or in your mailbox. The story I haven't told you about are my efforts as a DJ at a party the night after I arrived.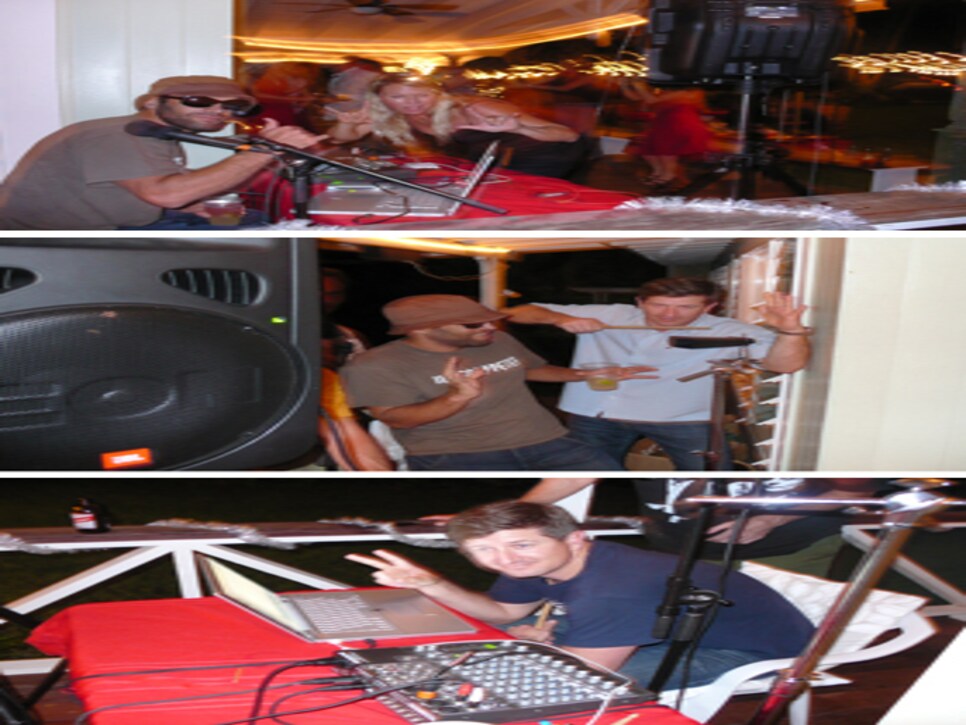 About 12 couples and I had gathered in my brother's backyard for what has now become an annual jamboree to drink a little, listen to some good music and dance a lot. I'm certainly the outsider. I arrive from New York City with pasty-white skin, a big black golf bag, five pairs of shoes and very rarely wear anything but swim trunks and walk around in bare feet. My golfer's tan and packing habits could use some work.
On the North Shore Jack Johnson is just "Jack." He's the sound master to all big neighborhood events, whether it's a wedding on the beach or a back-yard bash. He rolls in a few hours before with a portable sound system, often setting up without anyone knowing he's been there.
The most amazing thing about Johnson is that being a musician may be third on his list of talents. He was a teenage surf stud who qualified for the Pipeline Masters at the age of 17. And some argue his greatest gift is filmmaking.
I'm here to tell you he's quite a DJ.
My brother mentioned that Jack would be mixing the music for this party. And sure enough, Johnson showed up a few hours early to set up his portable sound system. I tried to help but had no clue what I was doing. He asked me if I had my computer and my iTunes available.
He explained that he and his wife, Kim (his college sweetheart), would be needing to leave a little early because they had some sick kids at home. He could get the party going, but then he'd turn it over to me and my mix.
"Umm--sure." What a story I could tell my buddies (and girls, of course) back home. I followed Jack Johnson as a DJ at a private party by the beach.
He was stationed at the corner of the small deck wearing shades and a hat.  He picked 'em up and put 'em down, song after song. He brought a cowbell. Even that worked. He tapped that thing like a keg and and we all loved it. Every so often he'd come out from behind the wobbly plastic table to dance a slow song with his wife, who's clearly his biggest fan.
And then, a little after 10:30, a la John Elway, Jack Johnson was going out on top.
"Hey, Matt, are you ready?" he asked.
Of course I was ready. I had a plan. I would start with "Stronger," by Kanye West, followed by "Girls in Their Summer Clothes," by Bruce Springsteen. I could come back with some White Stripes__ __and slip in some Ray LaMontagne. I really believed I could follow Jack Johnson at a backyard party with some of his closest friends and find success.
This man did NOT know his limitations. By the time I played some Ray, most of the partygoers had gone home, and the ones who stayed behind were helping my sister-in-law clean up. The party was over and so was my career as a DJ. I'll stick to golf and trying to pack a better bag.
I once asked Jack if he played golf. As you might imagine, he doesn't have time. He did tell me he has lost a lot of friends to the game, one of whom might be Kelly Slater, but that's as close as this blog entry gets to connecting this story to what I usually write about. It is, however, a trial and a tribulation of my travels, and I figured I'd share a life's lesson.
The story I tell my buddies back home (and the girls, of course) ends with me trying to tap the cowbell for Jack Johnson on the deck of my brother's house. Do me a favor--keep the part about Johnson leaving his small carbon footprint on my back between us.
I'm learning my limitations.
Captions (from the top): Jack Johnson warms up the crowd for my DJ debut; I try my hand at the cowbell first; Killing the party softly.