The Loop
This is how it went for Tiger: He 'shot his age...on the front nine'
SCOTTSDALE, Ariz. — The best that can be said of Tiger Woods' inaugural competitive round of 2015 is, what, that it's over? That no one was hurt?
Really, no one knew what to expect from Woods, but no one expected this, even in his first PGA Tour start since August. His score of two-over par 73 in his first appearance in the Waste Management Phoenix Open since 2001 doesn't reflect how unattractive it was at times.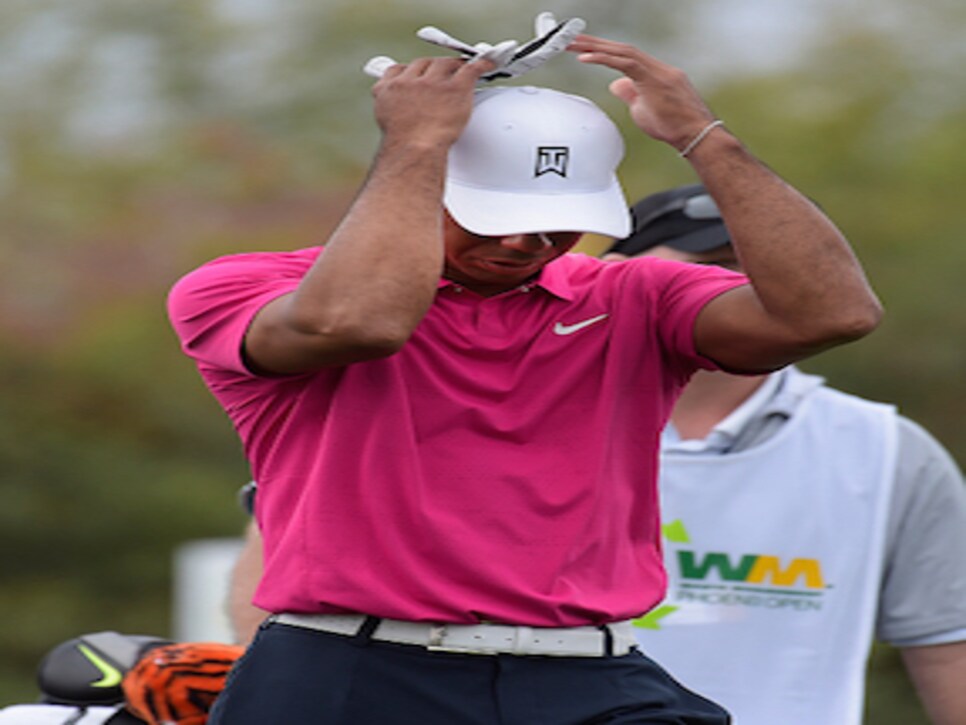 Two days earlier, Woods, plagued by chipping woes at the Hero World Challenge he hosted in December, said "he hit thousands upon thousands upon thousands of chip," to get his short-game move synced with his full swing.
He muffed several chips, including one he bladed over the green at the ninth hole. On two occasions, he chose to use putter from well off the green — a concession that a man who once had as good a short game as anyone in golf was not trusting it.
"I'm just having a hard time finding the bottom," he said. "Because of my old pattern, I was so steep on it, that I have a new grind on my wedge and sometimes it's hard to trust."
Woods went out in four-over par 39, prompting one media wag to Tweet that he "shot his age…on the front nine." Another bogey at 11 put him at five-over par.
By the numbers, Tiger hit five of 14 fairways and 10 of 18 greens in regulation.
On the up side, he seems to have recovered some of the speed he had lost in recent years, as he said he had. At the 13th hole, his swing speed was clocked at 121.465 miles per hour. Last year, Bubba Watson led the tour with a swing speed of 123.7 mph. On the par-4 17th hole, Woods drove the green, 341 yards.
"I'm ahead of schedule on my speed," he said. "Look how far I'm hitting it now. I've just got to get committed to hitting the club less sometimes. That's the hard part. I bailed out on a couple of shots because I just don't believe I have that much speed on my body yet. But I do."
As for the raucous 16th hole, Woods was cheered wildly when he emerged from the tunnel and into the stadium, but he was booed as he addressed the ball and was forced to back off. When a fan yelled "tooth" as he re-addressed the ball, he backed off again. He made par there, hit his best tee shot of the day at 17 and closed with a routine par at 18.
"Mentally, I'm a little tired from the grind of trying to piece together a round when I was five-over par," Woods said, "but I fought back to give myself a decent look going into the weekend."