The Loop
This disjointed U.S. Open has found a unifying figure in Jason Day
UNIVERSITY PLACE, Wash. -- This has been a silent U.S. Open. No more. Now this is Jason Day's Open. For three days, with galleries spread thin over Chambers Bay's massive layout, the world's best golfers have worked in library quiet. Not now. Not after Jason Day made a 6-foot putt at the 18th Saturday.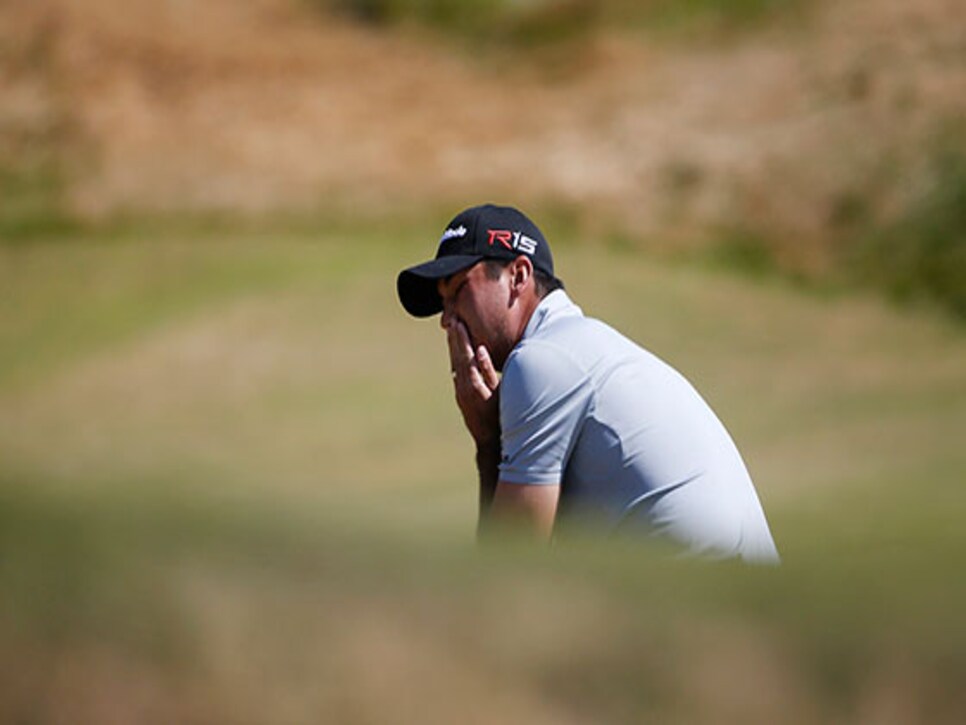 From the thousands in the bleachers, there came a waterfall's roar, thunderous and rolling and promising to never end. Those fans knew what they had seen. They had seen a wonder. Jason Day may win this Open tomorrow.
The day before, Day collapsed along the 18th fairway, rose and finished the round before being helped from the course, all but carried to the players' locker room before leaving the grounds for medical treatment. For years he has dealt with episodes of disorienting vertigo that leave him weak and ill. The question Saturday was not so much how well he would play but whether he would play at all. Yet there he was, on the 18th green Saturday, with that little putt for his third birdie in four holes.
At four-under par for the tournament, Day goes to the Father's Day round sharing the Open lead with Jordan Spieth, Dustin Johnson, and Brendan Grace.
Did I call it a wonder? Yes, and his mentor/caddie, Colin Swatton, said it better: "It was up there with Tiger Woods playing with a broken leg at the U.S. Open," which, you may remember, happened in 2008, the last time Woods won a major championship
So, please, pardon me if I confess to bias, for tomorrow I will root that Jason Day, alone, survives the inevitable train wrecks that turn Open Sundays into such guilty pleasures. We do so love to see the gods brought low with the shaking horrors that strike us every time out. And this Open certainly was on its way to becoming an Open to love. Men four-putted. Gravity allowed balls to roll into deep, dark abysses. There was weeping, gnashing of teeth, and discombobulation. Good heavens, as if to portend a hellish Sunday, smoke rose Saturday from beyond the Lone Fir, suggesting either 1) a Tacoma factory fire, or 2) Ben Martin, a morning contender, setting fire to his worldly goods after committing both a triple bogey and a quadruple on his soul-killing way to an afternoon 86.
But then came Jason Day. He had walked Chambers Bay's hills. He had walked in the heat of a cloudless day. He was three shots out of the lead at the first tee, and if you watched him there, you wondered if he could perform even the simplest act of professional golf -- tee it up. Because vertigo is associated with inner ear problems, Day moved his head slowly and carefully, as if a normal descent to put a peg in the ground would set off the waves of dizziness and nausea that have struck him before.
After 14 holes, he was one-over-par for the day and no longer a name mentioned with the leaders Dustin Johnson, Jordan Spieth, and Brendan Grace.
At the par-3 15th, with a tee in one hand and a club in the other, he bent from the waist -- and paused, leaning on the club. He seemed to shake his head that time, as if to re-direct whatever demons danced in his head.
"He didn't talk much all day," his playing partner, Kevin Kisner, said, "and that's not like him at all. I told him if he needed help, let me know. After the seventh hole, he said he was sorry about not talking but he felt terrible. He never said anything more after that."
At the 15th, playing at 246 yards, he put his tee shot 15 feet away. Made the putt. Made another for birdie at the par-3 17th before coming to the 18th. As Day came off the 18th, he stopped briefly to talk to a reporter. "I didn't feel that great coming out early," he said, "and then I felt like -- I felt pretty groggy on the front nine just from the drugs that I had in my system, then kind of flushed that out on the back nine."
For only a moment, though: "But then it kind of came back -- the vertigo came back a little bit on the 13th tee box, and then I felt nauseous all day. I started shaking on the 16th tee box and then just tried to get it in, really. Just wanted to get it in."
He had been there before, only the vertigo wasn't as bad: "Last year I didn't play the round after I had vertigo and this one was worse. I think the goal was just go through today and see how it goes."
"Three birdies in the last four holes," Kinser said. "He played unbelievable. Leading the tournament. Great. Now he can win it."