Amateurs
Teens Thienna Huynh and Sara Im pull off 'upset' win at the U.S. Women's Amateur Four-Ball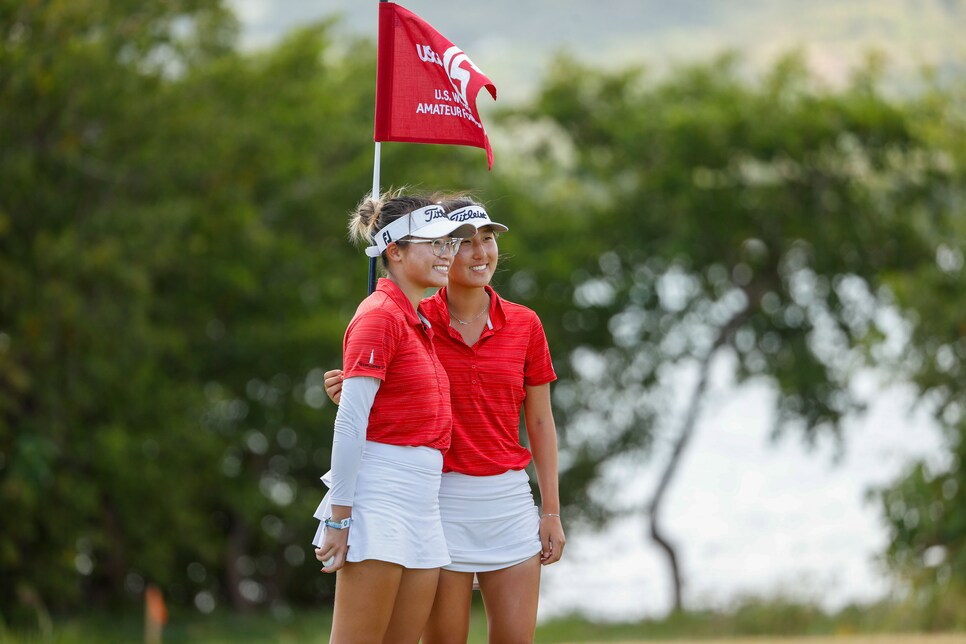 Thienna Huynh and Sara Im pulled out the victory at the 2022 U.S. Women's Amateur Four-Ball, the first USGA championship played in Puerto Rico.
Chris Keane
For the fifth time in the U.S. Women's Amateur Four-Ball Championship's seven-year history, a pair of juniors walked off with the title. But it wasn't the two teenagers most expected.
Kaitlyn Schroeder and Bailey Shoemaker, a pair of 17-year-olds high school juniors, had cruised through their first four matches at Grand Reserve Golf Club in Puerto Rico, shooting the equivalent of 31 under par with the usual match-play concessions. They needed just 65 holes to waltz into the finals and averaged more than seven birdies in each clash along the way.
But in the 18-hole championship round on Sunday, Schroeder and Shoemaker met their match in the likes of Georgia residents Thienna Huynh and Sara Im. The duo jumped to a 3-up lead through nine holes and then held off a late rally from their opponents, winning the finals 1 up.
"It obviously means a lot," said Huynh, 18, who will be playing college golf at UNLV in the fall. "It's so surreal. [My mom] said on 18 green, 'Can you believe that we're USGA champions?'"
Huynh and Im, 17, the 2020 Georgia Women's Amateur champ and a former winner at the Drive, Chip and Putt National Finals at Augusta National, had been used to tight matches all week. Three of their five matches ended on the 18th hole, and a fourth on the 17th.
Consistency, according to Huynh, was critical to their championship run. "It's been the same scores, minus 3, minus 4 the entire way," Huynh said. "I think that's something that we have over our competitors is that we don't have a round where everything is going in or everything is not going in."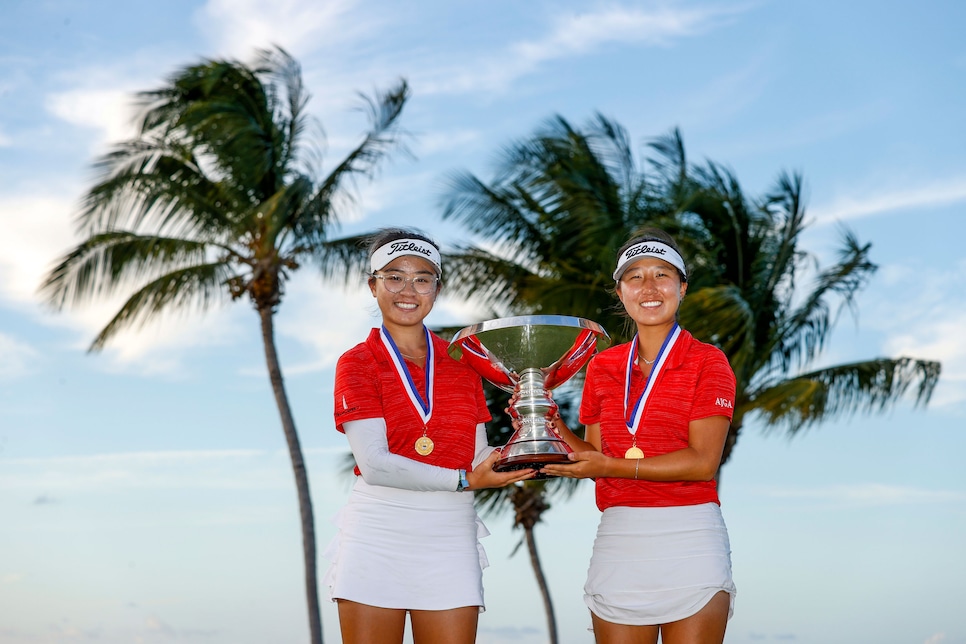 Huynh and Im are the fifth juniors to win the U.S. Women's Amateur Four-Ball in the seven years of the event.
Chris Keane
The finals were also a more relaxed atmosphere thanks to the four players being familiar with one another. Im and Shoemaker were paired together in last year's Junior Solheim Cup, a team Schroeder also played on.
The victory makes Huynh and Im exempt into all remaining USGA amateur events for which they're eligible. For Im, that means finally qualifying to play in the U.S. Girls' Junior Amateur. "Guess what I have not qualified for yet and I'm 17? U.S. Girls. I want to play that [championship] so bad."