These three tips from Rickie Fowler will make you a faster, better putter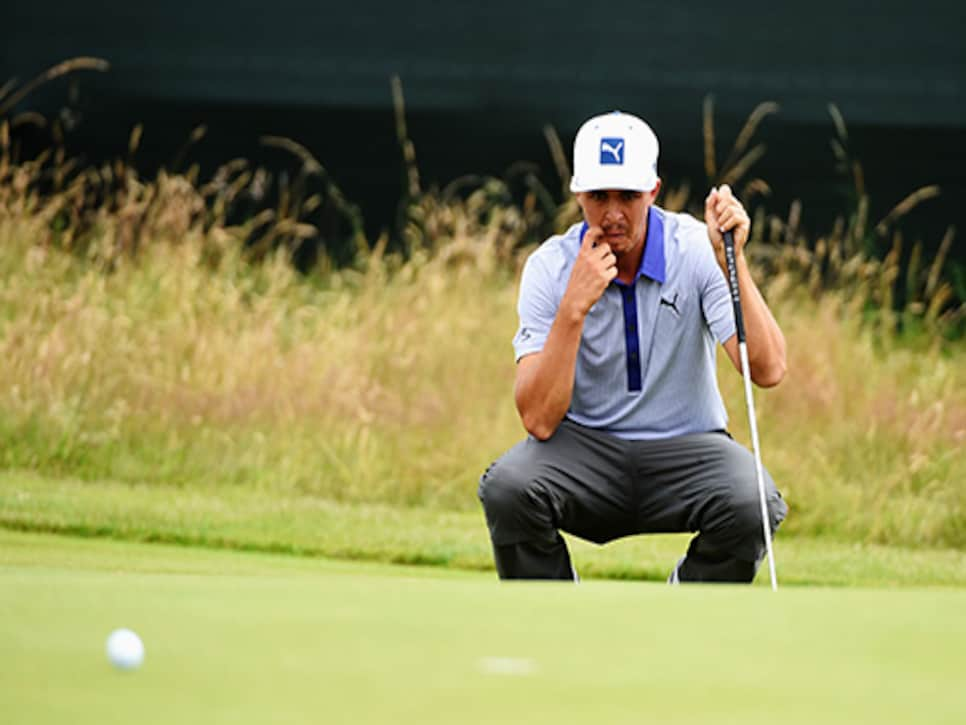 Everyone knows when you're the slow player in your group. Even guys on tour get called out for it – Rickie Fowler's been known to poke some fun at Jordan Spieth for taking too long. A lot of average golfers end up burning time on the green, looking at putts from all angles, grinding over three-footers. One thing everyone needs to understand is that spending a long time over a putt doesn't make you more likely to make the putt. In fact, you can do more damage than good by looking at it for too long.
Fowler has a few tips on how to putt quickly, but also well.
1. Spend your time wisely.
You should never be surprised when it's your turn on the green. Instead of waiting until then to start reading your putt, begin looking at your line while the other guys in your group are putting. That way when it's your turn, you're ready to roll. "After I replace my ball," Rickie says, "I take about five seconds to confirm my read."
2. Don't waste time second-guessing yourself.
Rickie thinks that a lot of last-minute second-guessing has to do with speed. If you know what your normal speed is before you're standing over the putt, you'll never question it. "I play all putts as if the ball were going to roll two feet past," Rickie says. "Find a speed you like and stick with it."
3. Stay confident over the ball.
Putts look different when you're standing over them than when you're reading them from behind the ball. But don't let it freak you out. "I make a practice stroke or two with my eyes focused on exactly where the ball is going to enter the cup," Rickie says. "For example, a straight putt goes in at 6 o'clock, but a sharp left-to-right breaker might go in at 9 o'clock. I then work backward to match up the speed and line. This helps me settle once more on my read, quickly and with confidence."