News
There's a familiar theme among the USGA's newest Four-Ball champs—for better or worse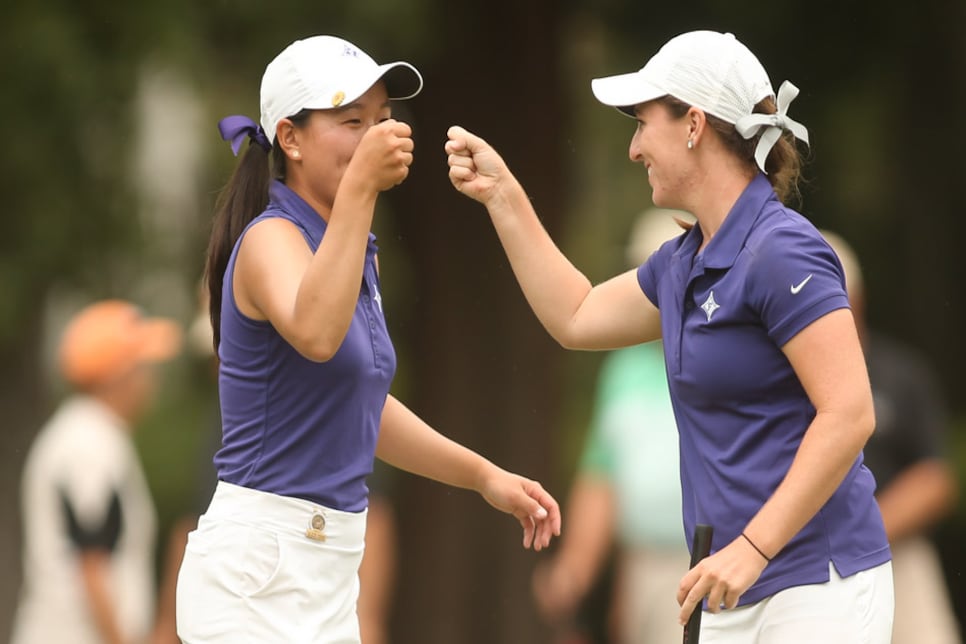 Collegiate golfers weren't just the center of attention at Rich Harvest Farms the few last week, the Chicago-area course that hosted the NCAA Women's and Men's Championship. The winning teams at the men's and women's U.S. Amateur Four-Ball championships on Wednesday also had ties to the college game—for better or worse.
At the Dunes Golf & Beach Club in Myrtle Beach, S.C., Furman teammates Taylor Totland and Alice Chen won the third U.S. Women's Four-Ball title, defeating Georgia teammates Sammi Lee and Mary Ellen Shuman, 4 and 3, in the 18-hole final. Totland, 22, had just finished her senior season for the Lady Paladins while Chen, 21, has one more year left in school.
No doubt, comfortability with one another, and familiarity with each other's style of play, proved a winning formula for Totland and Chen. Of course, it doesn't hurt to get off to quick leads in your matches and force your opponents to play catch up. On the first three holes of the Dunes, Totland and Chen combined for a remarkable 8-0 mark in their five matches after sharing medalist honors with two other teams in stroke-play qualifying.
The scenario was key in the championship match, with Chen hitting her approach on the first hole to three feet for a birdie, then made a 13-footer for birdie on the second hole for a quick 2-up advantage on Lee and Shuman. Chen then won the third hole with a nifty up-and-down par from a greenside bunker.
"I'm just sitting here thinking about all the little details," Chen said afterward. "We get to represent Furman together in the home state. So I don't think you could have written up a better story. And to be co-medalists and then fight it out to win, that's pretty much as good as it gets. It's definitely not by my own doing, so I'm kind of mind blown."
Not all that far away at Pinehurst (N.C.) Resort, 17-year-olds Frankie Capan and Shuai Ming (Ben) Wong, both with college golf on the horizon, took the title at the men's U.S. Four-Ball Championship, defeating Kyle Hudelson and Clark Collier, 2 and 1, on the famed No. 2 course.
Unlike Totland and Chen, it was a late rally that proved the difference for Capan and Wong, who made five birdies over the final eight holes to knock off their mid-amateur challengers who were alternates in the field and playing in their first USGA championship.
"We have no history," said Hudelson, 29, a NAIA golfer in college. "You could Google us and the only thing that would pop up is this championship. You'd have to search deep into Google."
By comparison Capan and Wong are veterans of the Four-Ball event, having played the previous year at Winged Foot only to lose in the Round of 16. Their victorious opponent was a team that include SMU men's golf coach Jason Enloe, who it turns out will be Wong's college coach starting in the fall of 2018 when the high schooler from Hong Kong who lives in The Woodlands, Texas, goes to college. (Coincidentally, last year's Four-Ball winners were also SMU golfers.)
Capan, meanwhile, has committed to play at Alabama in 2018.
"Right now it's just kind of sinking in that we won the whole thing," Wong said. "We obviously played our best golf this week, and [I am] just really, really just overwhelmed right now."
"Those kids, oh my goodness," said the 27-year-old Collier. "Those guys are going to be pros. They are really, really good."
The young age of the winners, however, belies a continued sore spots for the nascent events. While mid-ams have advanced to the finals each of the first three years of the men's Four-Ball, they've only won the title once. As for the Women's Four-Ball, this was actually the first time the winners (or any finalist) was older than 18, albeit only by a few years.
If the hope with either of these championships was to reach a different—read older—demographic, than the Amateur Public Links events that they replaced on the USGA calendar, it seems more changes are in order. Next year's championship moves to April 28-May 2, and USGA officials think they'll see more mid-amateurs and seniors compete, because younger players will still be in school.
If that doesn't happen, USGA officials will have some decisions to make if they don't necessarily want to run a de facto second junior championship.