The Loop
The word that shall go unmentioned by Johnny Miller
NBC's Johnny Miller, renowned for his liberal use of the word "choke," sidestepped it when opportunities presented themselves late in the Ryder Cup proceedings on Saturday.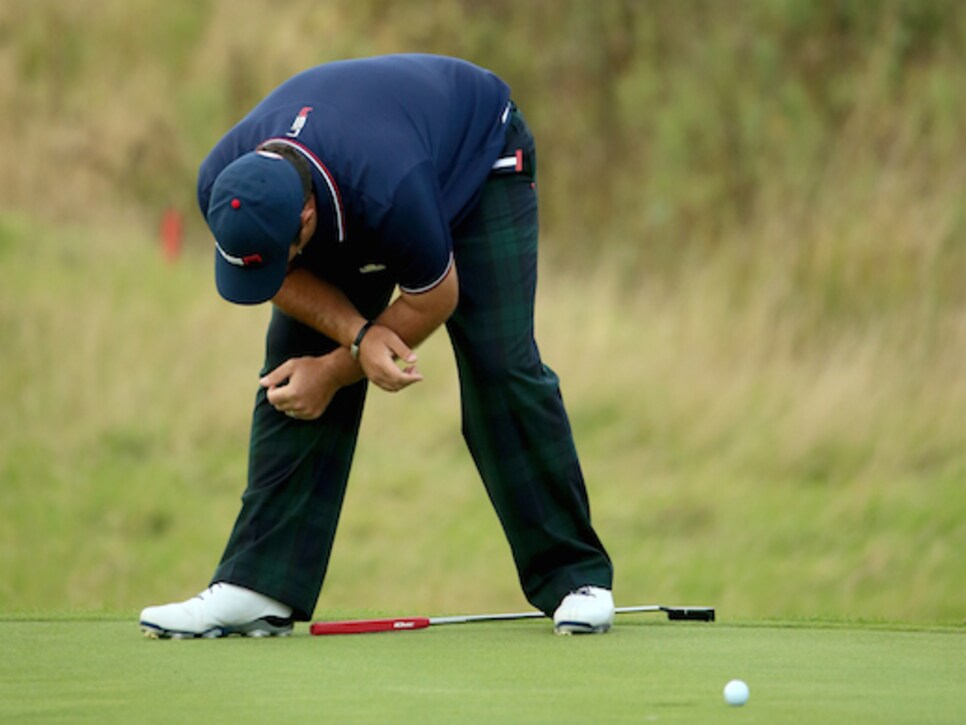 Patrick Reed after missing a two-footer (Getty Images photo)
Patrick Reed of the U.S. missed what Gary Koch called "virtually a straight-in two-foot putt" on the 16th green to give him and Jordan Spieth a 1-up lead over Martin Kaymer and Justin Rose with two holes to play.
"Johnny, you've said it often," Koch said. "Ryder Cup pressure."
"That was amazing," Miller replied. "I'll bet he hasn't missed a putt like that since he was using a pacifier. That's classic-under-pressure leaving the face open. I'm like in shock with the Patrick Reed putt. That was the gift of all time. Europe makes a six on that hole and the U.S. can't take advantage of it."
Reed and Spieth held a 2-up lead through 11 holes, then made four bogeys in a five-hole stretch and settled for a halve and a half point.
"The rookies are just staggering in," Miller said.
A few minutes later, Jim Furyk of the U.S. ripped what ought to have been a routine pitch for an accomplished short-game player well past the pin at the 16th hole, effectively ending his and Hunter Mahan's match with Rory McIlroy and Sergio Garcia, who won 3 and 2.
"It's all nerves at this point," Miller said. "All these people around and the importance of getting, maybe, somehow another half a point for the U.S., just melted. He's had trouble finishing all year even though he's played great."