The Loop
The USA Ryder Cup team surprised Tiger Woods with "Make Tiger Great Again" t-shirts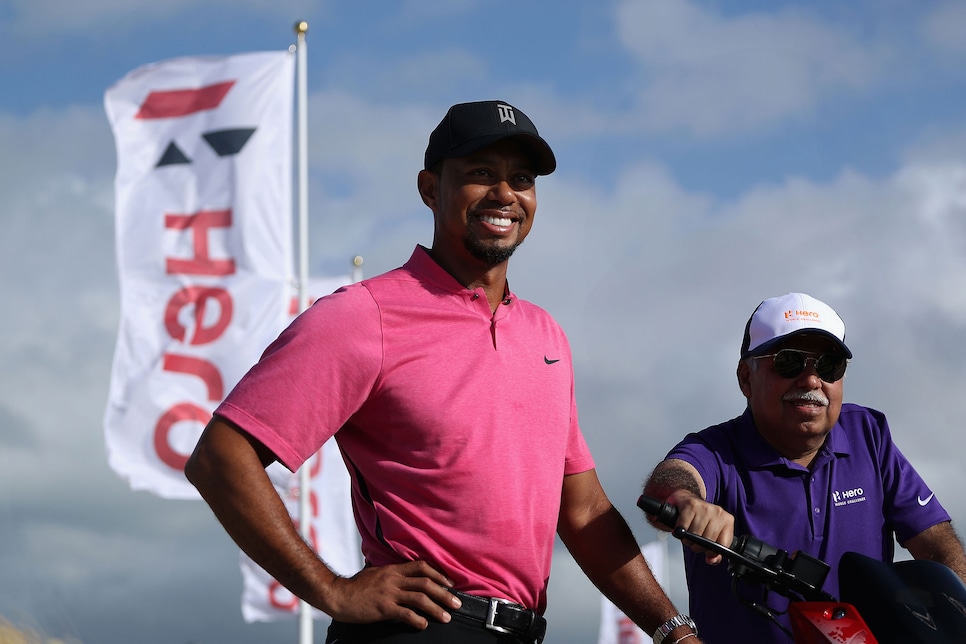 Tiger Woods returns to golf after a 15-month absence, and the forecasts are all over the spectrum. Some believe -- with the extended sabbatical, combined with the injuries and iffy performances before surgeries -- that the 14-time major winner will struggle mightily. Others contend that the time off was imperative to Woods regaining his mojo, and he still has a long, prosperous career ahead. No matter the conviction, everyone is hoping Tiger can stay healthy and instill the fire and excitement displayed the past two decades. As you'll see in this story, that includes the players as well.
According to ESPN's Jason Sobel, the USA Ryder Cup squad surprised the 40 year old at Hazeltine with "Make Tiger Great Again" t-shirts. In the team room on Friday evening of the event, all 12 players were wearing red, white and blue "onesies," courtesy of Rickie Fowler. At one point, Zach Johnson got up in front of the group.
"I just want to pay tribute to one of our assistant captains," Johnson told the room. "A man who has done so much for this game."
The club then turned to Woods, unzipped their onesies and revealed red t-shirts emblazoned with the MTGA message.
"I thought it was awesome," Woods said. "It goes to show you the team bonding that we had, the team unity. I've been out of the game. I've been hurt. For them to come together and do something like that, it unified all of us. It was great."
It's certainly a thoughtful and comical gesture by the Americans, and further illustrates the unity that spurred them to victory. Conversely, good luck getting the image of Phil Mickelson in a onesie out of your head.