The Loop
The ugliest breakups in sports history (inspired by Lebron James...again)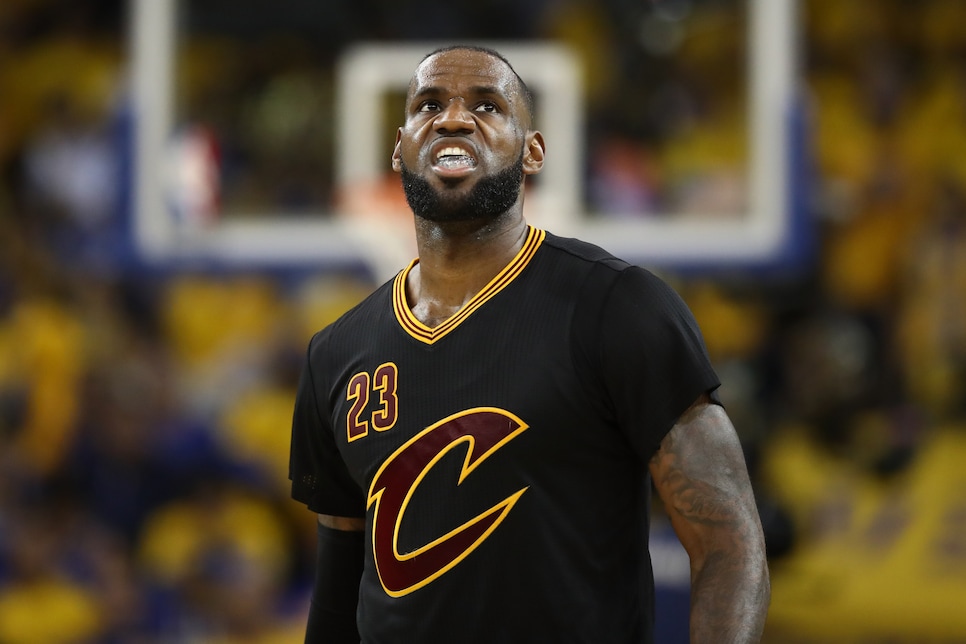 Lebron James had barely stepped out of the shower after Tuesday night's Finals defeat to the Golden State Warriors when rumors began to swirl. He was leaving Cleveland…in a year…again. The destination? According to The Ringer's Kevin O'Connor and Yahoo's Adrian Wojnarowski, La La Land—the City of Angels, A-listers, and, of course, the Lakers. There's a lot of Gatorade Mountain Rush left to go under this bridge—The Decision: Redux won't take place until the summer of 2018—but we all remember the first time Lebron bid farewell to Cleveland: Jerseys were burned in the streets, billboards were torn from their scaffolding, and a Fortune 500 CEO penned a scorned lover's letter fit for the Brontës. The only reason the LBJ's statue wasn't toppled by the pitchfork-wielding proletariat in the square was because it hadn't been erected yet.
Will round two be any different? Has Lebron earned his amnesty by bringing a championship back to Cleveland? Will the streets run with crimson (and gold) once again? Only time and some complicated NBA politics will tell, but the long, ugly history of sports break ups may also hold the key. So join us as we take a trip to Splitsville, U.S.A., where the stars are backstabbers and fandom is not a hobby, but a bloody, bitter way of life.
Baltimore wakes up to find The Colts' side of the bed empty
While slipping out the backdoor in the middle of the night and never coming back sounds like a yarn from some whiskey-soaked country ballad, Rob Irsay and the Baltimore Colts did exactly in 1984, eloping to Indianapolis in one of the most shocking—and cold-hearted—moves in sports history. Baltimore would later pay that bad juju back, swiping the Browns from Cleveland, but things will always be a little awkward when the Colts come to town.
Johnny Damon becomes Boston's Brutus
In November of 2004, Johnny Damon had just become a Boston folk hero, leading the Red Sox to their first World Series since 1918. A year later, he was public enemy number one, signing with the Yankees (the mortal enemy, for those of you who can't even spell "sports") for 52 million blood-stained dollars. "There's no way I can go play for the Yankees," the prophetic, long-haired shaman said in May 2005, "but I know they're going to come after me hard."
Brett Favre "packs" it in
Brett Favre is the NFL's greatest gunslinger, but the less said about the last three years of his career, the better. There was a retirement, an unretirement, a year with the Jets, a messy dick pic scandal, another retirement, another unretirement, and then the ultimate betrayal: Going to play for the Vikings (if you're from Wisconsin, you probably just instinctively spit on your own shoe). Favre was never a saint and never claimed to be, but his "chuck first, ask questions later" approach caught up to him in the end.
Lebron James takes his talents to South Beach
We mostly covered this one above, but hoo boy, did things get bad. Like, raging-fires-in-the-streets bad. This felt more like a political coup than a sports milestone, and all because one man decided to take a new job in a city far from home. Come on, Cleveland, who are you, my mom?
Leicester City sack their miracle man
5,000 to 1. Those were the odds little Leicester City would win the Premier League when Claudio Ranieri took over as manager in July 2015. 10 months later, that's exactly what happened, with Ranieri leading the Foxes to the most improbable championship in professional sports history. But then the law of averages kicked into merciless gear, and with Leicester plummeting toward relegation, Leicester sacked their very own messiah in February, effectively cracking the city in two. But Leicester managed to stay up and Ranieri now coaches in the lovely French village of Nantes, so I guess you could say this one had a happy ending after all.
Wayne Gretzky heads south for a very long winter
Edmonton and Los Angeles don't have a lot in common, except for one shared treasure: The Great One. But in 1989, as Wayne Gretzky, fresh off four Stanley Cups with the Oilers, packed his suitcases and hopped a bus headed to Hollywood like some innocent Midwest girl in a Poison music video, you would have hard-pressed to find too many who shared that sentiment. Whether you believe Oilers owner Peter Pocklington pushed the trade through as a means to raise capital for his struggling business ventures or that Gretzky wanted to move to LA to help his wife's acting career probably says a lot about your worldview, but there's no denying that this one was as big—and as messy—as they come.
Joe Montana gets traded in for the newer model
The subtext to Favre's Green Bay exit was that the Packers front office was not-so-secretly angling to start the Rodgers era as soon as they optically could. Where Green Bay succeeded by pinning most of the blame of Favre, however, is precisely where San Francisco failed 25 years earlier, unceremoniously booting the greatest pre-Brady quarterback to ever walk the earth all the way to Kansas City to make way for another future HoFer in Steve Young. From a business standpoint, it proved to be the right decision. From a human one, it was as coldblooded as an Arctic crocodile (relax, that's not an animal that actually exists).
Nick Saban ditches the Dolphins
"I'm not going to be the Alabama coach," Nick Saban told members of the press on December 21st, 2006. Days later he was the Alabama coach. Since then, Saban has racked up five national champions at the crest of the Crimson Tide while the Dolphins have limped to two wildcard appearances in 11 years. As one of like 10 die-hard Dol-fans on earth, I can tell you this one still stings like a flipper slap to the face.
Shaq and Kobe leave it all on the table
After four Finals appearances and three NBA Championships for the Kobe- and Shaq-led Lakers between 1999 and 2004, the cracks in their dynamic duo began to show. In 2004, Shaq was traded to Miami, and the dynasty—which many believe could have become the NBA's greatest—was over. After each had won a championship of their own (and once Shaq's infamous "Kobe couldn't do it without me rap" died down), they eventually reconciled, but this is perhaps the most gut-wrenching case of "what could have been" in sports.
The MLB bans Pete Rose until the sun burns out
If the Pete Rose saga taught us anything, it's that betting is the only mortal sin in sports. You can come back from just about anything else (just ask Ray Lewis), but when you are accused of gambling on the game you play—as the MLB's all-time hit leader Pete Rose was in 1989—the hammer falls and falls hard. To this day, Rose—a man who should be up there with Ruth, Robinson, and Aaron in the literal and figurative baseball pantheon—remains barred from all things MLB in the longest, ugliest feud this side of the Hatfields and McCoys.