The Loop
The two holes that sealed the Masters' fates of Bubba Watson and Jordan Spieth
AUGUSTA, Ga. -- Bubba Watson and Jordan Spieth agreed. The complexion of the 2014 Masters changed at the eighth and ninth holes, when Watson's birdies and Spieth's bogey led to a four-stroke swing.
Still, anyone watching Sunday knows Spieth was still very much in the hunt until the series of events played out the 12th and 13th holes. First it was Spieth dunking his tee shot into Rae's Creek on the former. Then it was Watson laying into his drive on the 13th. These two holes were the true turning point of the final round.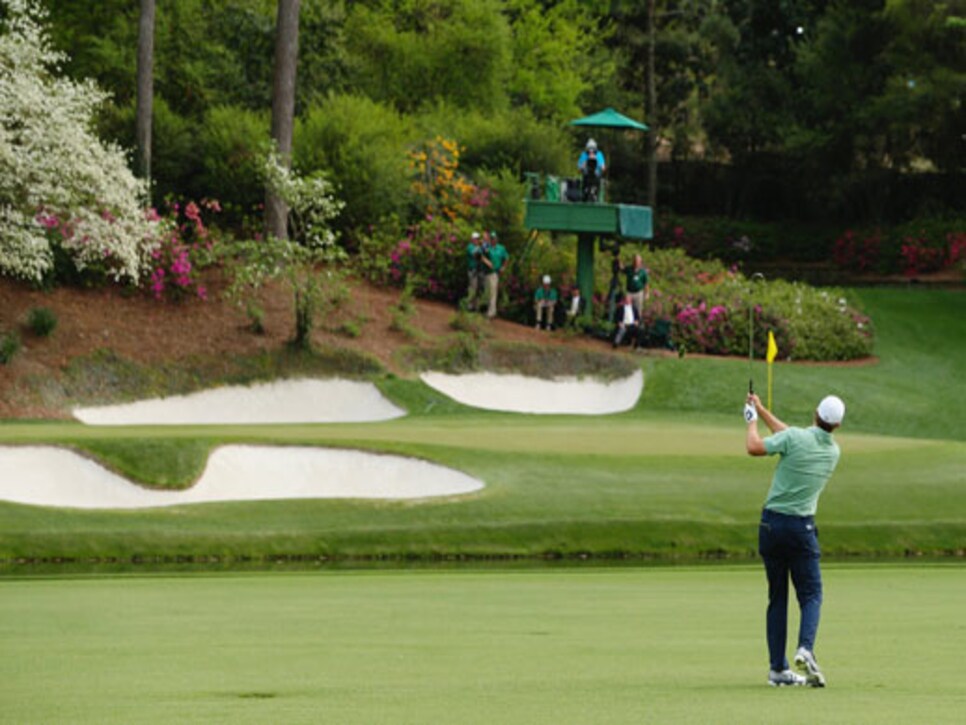 After hitting his first shot into the water on No. 12, Jordan Spieth was forced to take a drop and play his third shot from the fairway, eventually making a bogey 4. (Photo: Getty Images)
Spieth seemed annoyed that the notorious unpredictable winds were not as forecast while standing on the 12th tee, instead playing downwind. "It's supposed to be out of the left, but it's a little down," he could be overheard saying.
He reiterated his peculiar faith in forecasters following the round. "It should have been a touch into us," he noted.
An older golfer would have remembered growing up hearing Ken Venturi's annual admonitions to always hit the tee shot into the middle of the green, no matter what. Nothing good could come from playing at the far-right hole location, so the legend goes.
Spieth liked the way he hit his 9-iron at the right edge of the bunker, where caddie Michael Greller said to play it. The number to clear the water: 143 yards.‿"I guess I just got a little too aggressive over the ball, played a little bit of a fade instead of just hitting that straight one over the bunker and it caught whatever, couple‑mile‑an‑hour breeze was up there, and made a big difference. When it was in the air, I thought that it was still there."
Actually, Spieth hit a 150-yard shot to the top of the green plateau, where his Titleist peered at the putting surface, then rolled back into Rae's Creek. Watson also played a direct path to the hole off the tee but took plenty of club and appeared to be playing intentionally long.
The duo made the short walk to the 13th tee with Watson leading by two after Spieth made a strong up and down from his drop. That's when Watson pulled out his pink Ping driver.
"I knew it … when it took off … it was cutting a little too much," Watson said of the tee shot around the tributary of Rae's Creek. "I knew I hit it really hard. Obviously, when you get a roar on your tee shot, you know it's pretty good. I could start breathing again once I heard them clapping and roaring."‿‿
That's the response one gets when they hit a tee shot more than 360 yards. Bubba's remaining yardage into 510-yard 13th? Just 140 yards, which left him with a 56-degree sand wedge.‿‿
Watson went on to two-putt for birdie and expand his lead to three. If the drive wasn't enough of a dagger, the press telling Spieth afterwords that it clipped a tree came as a surprise.
"Well, that's his day, I guess," Spieth lamented.‿
And those two shots were the 2014 Masters for Bubba Watson.