Book Excerpt
The Inside Story of Greg Norman's Masters Collapse
What Greg Norman—and all of us—can learn from his stunning failure at the 1996 Masters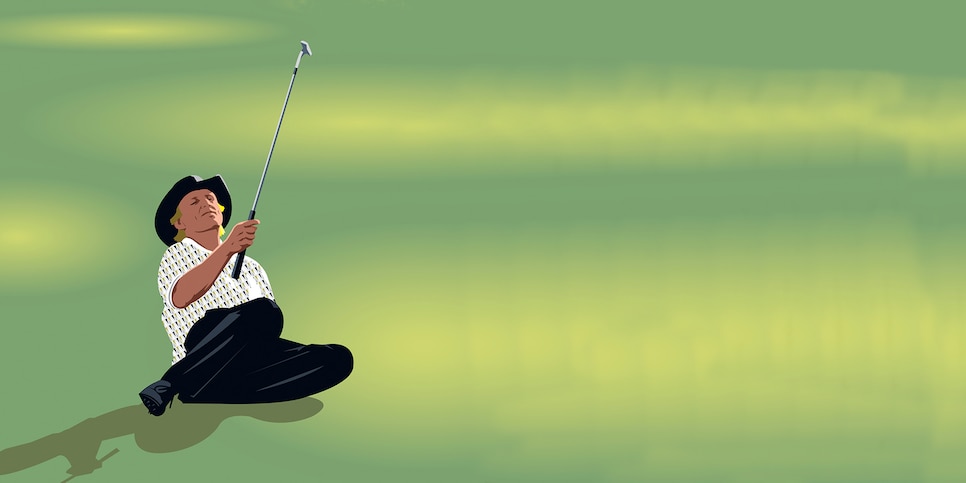 I work at Golf Digest, a detail that tends to elicit questions about how I got started in the game. Unlike most of my colleagues, mine was not really a golf family. My dad played when he was younger, but he quit when he developed a debilitating case of the shanks. My older brother played a little. The most avid golfer was my grandfather, and he had the misfortune of being awful. After he died, my mother, as mourners are prone to do, reflected glowingly on her father's golf.
"Your grandfather was a wonderful golfer," she said to me.
My dad, who had played the most with Grandpa, remembered differently.
"He was terrible," he whispered. "He could never get the ball in the air."
It was only in college that I started to dabble in the game, occasionally stealing off with my roommates with one set of clubs among us. We would drive 20 minutes off campus in New Hampshire to play a dinky nine-hole course named Rockingham, where no hole back then measured more than 300 yards, there were only a handful of trees, and where even in my earliest tear-up-the-turf days as a golfer, it was hard not to break 50. You could get around Rockingham in little more than an hour, so one April afternoon in our senior year, still groggy from whatever damage we had incurred the night before, we agreed we'd sneak in a round before dark. Until then the Masters was on TV, and Greg Norman had a six-shot lead, so we settled into the couches of our grungy apartment, nursed our hangovers, and prepared to watch the man nicknamed the Great White Shark cruise to his first green jacket.
I had no particular attachment to Greg Norman, or really any golfer at that point. But Norman was an inviting figure—chiseled and confident, with an unabashed swagger—and I had paid enough attention to golf to know that the Masters was something that had narrowly eluded him for years. I was looking forward to watching him finally break through—right up until the point it was apparent he wouldn't. It's probably strange to admit that the moment that truly sold me on golf was one defined by someone else's misery. We all have a dark side. But the enjoyment for me was not so much derived from Norman's collapse. In fact, if at one point we thought we were going to wait until after the CBS telecast to head to the golf course, we eventually deemed his public writhing too painful to witness. When Norman splashed his tee shot in the water on the par-3 16th, all but assuring the Masters title for Nick Faldo, we decided we'd had enough; my roommate Sully clicked the TV off in disgust, and four of us filed out the door and headed to Rockingham. I was disappointed for Norman, but I remained fascinated, my head spinning like it is when you walk out of a movie filled with so many plot twists you need to confirm with others everything that happened.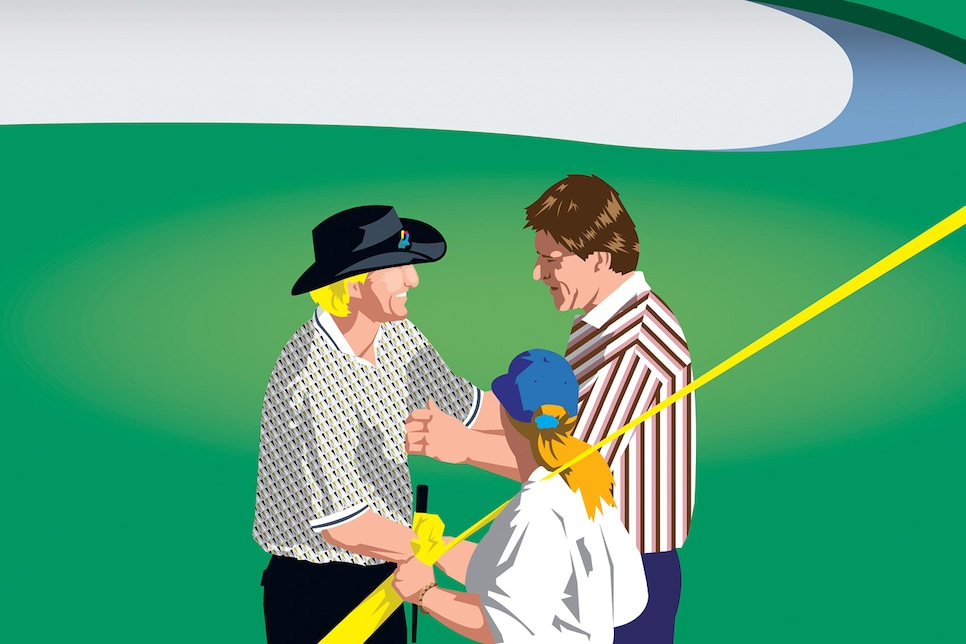 Until then I was unaware golf could do that. It hadn't occurred to me that the golf swing was essentially a living organism that could get up and leave you at a time of its choosing, or that someone who had navigated a course so skillfully one moment could flail helplessly the next.
But that, I learned later, was Greg Norman. There were times when he appeared unflappable, looking, as Dan Jenkins wrote in Golf Digest, "like the guy you send out to kill James Bond." You wouldn't cast a character like Norman, broad-shouldered and blond, with that Australian accent, to play the victim. And yet on so many occasions even before that Sunday, he was.
To say no golfer lost more than Norman is imprecise, because there are scores of professional golfers who don't even sniff a chance to win major tournaments. And besides, Norman won plenty—90 times around the world, including two Open Championships. Before Tiger Woods, Norman's 331 weeks atop the world ranking was a record. We should all be such losers.
Still, if you define losing as standing alluringly close to a prize and failing to capture it, then Norman lost. If losing is when the prevailing emotion afterward is regret, then Norman was in a class of his own.
In 1986, Norman led all four majors heading into the final round, but he won only one, the Open at Turnberry. In the Masters that year he had a chance to force a playoff with Jack Nicklaus, but he flared a 4-iron into the crowd on the 18th hole, made bogey and lost by one. In the PGA Championship, Norman floundered to a 40 on the back nine, then watched as Bob Tway holed out from a bunker for a birdie and the win. The cruel blows continued. Larry Mize miraculously holed out a pitch to beat him in a playoff at the 1987 Masters. Norman lipped out a short putt to lose the 1993 PGA. In 1995, he shot 73 in the final round of the U.S. Open at Shinnecock when an even-par 70 would have won.
How could one golfer be so dominant in some spots and so vulnerable in others? The two forces would appear to be diametrically opposed, but there's actually a strong and logical connection. Consider the heights Norman reached with his best golf. He set a record at the Players Championship when he won at 24 under par. In the final round of the 1993 Open at Royal St. George's, he shot 64 in blustery conditions. His former instructor Butch Harmon has called that "the best round of golf I've ever seen in my life," and this was said after Harmon coached Tiger Woods to eight majors from 1997-2002.
In reaching such a rarefied level, however, you risk believing you belong nowhere else. Remember the proverb "Pride goes before a fall"? Norman could have had this engraved on his wedges. Both of his children describe their father's unwavering confidence, even against the backdrop of disappointment. "Stubbornness runs in our family," his daughter, Morgan-Leigh, says. "He's a Type-A person who believes he's going to succeed more than anyone else."
Says Peter Kostis, a golf analyst for CBS and a leading instructor: "Sometimes that stubbornness gives you the commitment to hit a brilliant shot under pressure. Sometimes it makes you go for a shot you shouldn't try. I saw Greg as having that."
At the far end of confidence is hubris, and as the game's premier player, Norman was arguably ill-prepared for those occasions when things went awry. In recent years Norman has acknowledged he could have benefited from working with a sport psychologist to better deal with those stressful Sundays.
"During my career, when I first started playing the game, sport psychologists weren't part of your team," he says. "But if I had the ability to trust someone to give me advice or help me with my attitude, damn right I would have been a better player."
What Norman needed help with most was his "contingency management"—knowing how to react when your first plan falls apart. The sport psychologist Jonathan Fader's analogy was knowing to take a different route to work when your usual route is blocked.
"The idea is, you've got to have a plan for when things go wrong and you're faced with challenges," Fader says. "The way I work with people is, I say we're preparing for excellence. But you're always going to have unwanted outcomes, so if you're prepared for them, you're going to arrive at the quickest path to recovery."
Norman's agent was so convinced his client would cruise to victory, he had bet $10,000 on Norman to win at 14-to-1 odds. Offered a $100,000 buyout on Saturday night, he declined.
By the time Norman entered his 40s, it was apparent contingency management was a skill he needed. Although the '96 Masters was his most dramatic collapse, he has always maintained that the loss to Mize in '87 was more devastating. It's the major that had him weeping on the beach outside his Florida home at 3 a.m., the one he has said took four full years to get over. The climactic sequence came on the second playoff hole, the 11th, with Norman's ball safely on the green, and Mize off near the 12th tee after missing his approach right. One hundred and 40 feet away, Mize thought he had to get down in two to have any chance of extending the playoff. Norman was pretty sure he wouldn't. Instead, Mize holed the chip to win outright.
"That's the one that gutted me most because I thought I was in total control," Norman says some three decades later. "And that's something I talked to my kids about. I explained to them if you think you're in total control, expect the unexpected. When everything looks great, look for trouble."
Nine years later in the Masters, Norman shot 63 the first day, then opened up a six-shot lead through three rounds. On Saturday night, Norman bumped into the esteemed British golf writer Peter Dobereiner, then a Golf Digest contributor, in the bathroom at Augusta National.
"Well, Greg," Dobereiner said, "not even you can f--- this up now."
But of course he did. If nine years earlier Norman was a helpless observer to Mize's improbable chip-in, his fingerprints were all over the events of April 14, 1996, when he shot 78 to Faldo's 67 and lost by five. To classify it properly, the outcome against Mize was a loss, and this was a failure. From a distance heading into that round, Norman again appeared in total control. He was six strokes clear of his nearest pursuers, and many of the Australian writers were busy writing their "Norman wins" stories before he had even teed off. Frank Williams, Norman's agent at the time, was so convinced his client would cruise to victory, he had bet $10,000 on Norman to win at 14-to-1 odds. Offered a $100,000 buyout on Saturday night, Williams declined.
"It shows you what great judgment I had," he says.
To one observer, the Sunday implosion wasn't a surprise at all. At the beginning of the week, CBS' Kostis noticed that Norman was experimenting with a stronger grip on the practice range. A grip change to a golfer is like learning a new language. The day after Norman's opening 63, Kostis noticed Norman's grip on the club had slightly weakened, and he didn't hit the ball as precisely but still shot 69 to increase his lead to four. The trend continued in the third round. By Kostis' accounting, Norman's grip was back to where it was before the week began, and he was missing shots to both sides of the fairway. Thanks to his chipping and putting, he still shot 71.
"Were it not for some phenomenal short-game work he could have shot 78 or 80, but as it was, he left the golf course with a six-shot lead," Kostis says. "Everybody thought he was playing better, and I saw someone reverting to form who was in trouble. You can't play any golf course with a two-way miss, and especially not Augusta National."
"Frank yells at me, 'Did you tell the whole world that Greg was going to choke and not win the Masters? Greg wants to put his hands on your throat!' " - Peter Kostis
On Saturday night, when walking back to the TV compound, Kostis bumped into a Golf Channel reporter who asked him what he thought of Norman's chances in claiming his first Masters. It was a casual exchange that Kostis thought was off the record, so he said he feared Norman was in for a long day based on his erratic ballstriking in the third round. He didn't think anything of the conversation until he showed up Sunday morning and was accosted by Frank Chirkinian, then the executive producer of CBS' golf coverage and a good friend of Norman's.
"Frank yells at me, 'Did you tell the whole world that Greg was going to choke and not win the Masters? Greg wants to put his hands on your throat!' " Kostis recalls. Only then did Kostis realize that his remarks about Norman's swing made their way onto the air. That the Masters leader got wind of it and called Chirkinian to complain hours before his tee time spoke to Norman's fragile state of mind.
"I said to Frank, 'If all he's got to do on the most important golf day of his life is call you, he's not in a good place,' " Kostis says.
Twenty years later, Norman doesn't disagree.
"I knew deep down Sunday morning I wasn't feeling great," Norman says. "I was completely off."
The reasons had to do with more than a grip change. In subsequent years, Norman has said he woke up that morning with a stiff back, which he tried to loosen by going for a long walk. But that, too, was only part of the problem. In the hours before his tee time, Norman tells me he was also grappling with a personal issue that had been pushed to the fore. The golfer's life, with three marriages (the first of which ended in a reported $103-million divorce settlement) and a wide-ranging business, has always been complicated. Whatever it was, it was percolating enough that he sensed the day was going to be a struggle, six-shot lead or not.
"Things happen that create what you call 'white noise,' and you need to work to eliminate the white noise from the moment you wake up in the morning," he says. "I wasn't able to do that."
As recently as the night before, he had said all the right things about not getting ahead of himself. But then he was still pressed by reporters on what a win would mean. And there was Dobereiner saying there was no way he could lose. And then Kostis saying he still could . . .
"I imagine he was thinking about the times that he had been beaten that he shouldn't have," Williams says. "If it was me, I'd be thinking, I can't f--- this up again." In sports, our relationship with goals can be complicated. Because as much as we're told to identify specific benchmarks and pursue them, the focus on the end result can be paralyzing. Born from this conflict is the golf cliché "Take it one shot at a time," which as vapid as it sounds, is a means of steering attention away from a result and toward a process. As Dr. Michael Lardon says, the alternative to taking it one shot at a time "is you're just trying as hard as you can to win a tournament, which can get a little overwhelming."
"I wasn't 100 percent prepared for the responsibility of what I had in front of me," Norman says. "And I said to my kids after, whenever you're in an important situation like that, you have to be so strong that you can compartmentalize all the shit that goes on in your mind. That was one moment I didn't do it, and I paid the price deeply."
It turns out that Harmon had given an interview that morning in which he talked about his student finally being "at peace with himself on this golf course." Yet when Norman arrived for his warm-up session, he was a mess.
"I could feel it," Norman says. "My swing wasn't there, and I said to Butch I was off. And Butch said, 'No, everything looks great.' And I said, 'No, Butch, it's not great. I can feel it.' "
Although Harmon could immediately detect a difference, he says his objective at that point was to try to soothe the player's nerves. When I mention the "personal issue" that Norman says he was consumed with, Harmon nods knowingly. The two men have never spoken about it, but Harmon says one day he'll get around to asking.
"I've always said one night he and I were going to get drunk somewhere and I was going to say, 'OK, what the f--- happened Sunday?' " Harmon says. "He's never told [caddie Tony Navarro] and I what it was, but we knew something was wrong because we were both standing there saying, 'Who is this guy? This is not the guy who left last night.' "
Norman says the day could have been salvaged had he been honest with Harmon and Navarro about what was really going on. But he never did, and by time he missed the first fairway en route to an opening bogey, there was no turning back.
"I should have turned to them both and just purged," he says. "It would have taken 10 minutes, and it would have been over with. But I didn't do it. So the lesson there is, don't harbor things internally. Don't push the elephant under the rug. Anxiety and happiness both come from within. And so you have to ask, which one do you prefer?"
The collapse was swift and painstaking. Norman's six-shot lead was down to five by the time he walked off the first green. By the time he walked off the eighth, it was three. Then came perhaps the afternoon's most dispiriting sequence, an approach shot to the uphill ninth that landed on the green, then began trickling back down the hill like a pebble off a roof. Another bogey, and the lead was just two. Norman looked glassy-eyed and ashen as he traversed the back nine. On the 15th hole, after Norman saw a last-gasp eagle chip spin out of the hole, he toppled over in anguish. On 18, after Faldo holed out for the win and his third Masters title, he wrapped his longtime rival in the type of sympathetic embrace you normally see at wakes. It was all over, and Norman was left to somehow make sense of everything that just happened.
In this way, he summoned his best performance of the week.
For three years before I began working at Golf Digest, I worked two beats at a newspaper, the New York Rangers and golf, and I was always struck by the contrast in how players in the two sports had to account for losing. In hockey, losing is a given, even on good teams. Teams lose games, and with those losses comes an expectation that you explain yourself—who blew an assignment, what you need to do better.
Where golf is different is that the gravitational pull is almost always toward the players playing well, to the extent that you often hear golfers end interviews by saying they hope they get to talk to the press again tomorrow; in other words, they hope to shoot a low enough score to still be deemed interesting. The typical player who posts a couple of 75s, meanwhile, can go through the tournament unnoticed, head home on Friday, and only has to answer to his caddie and his wife.
The exception has always been the players at the top of the food chain: Jack Nicklaus and Arnold Palmer, Norman and Tiger Woods. They all reached that esteemed level, of course, because they worked their way into contention more often than not. But even when they didn't, there were enough microphones in their face that they had to put words to their disappointment quicker than their peers. The standard for this has always been Nicklaus, who won 18 professional majors and finished second in 19 more, and had a knack for handling both with the same level of grace.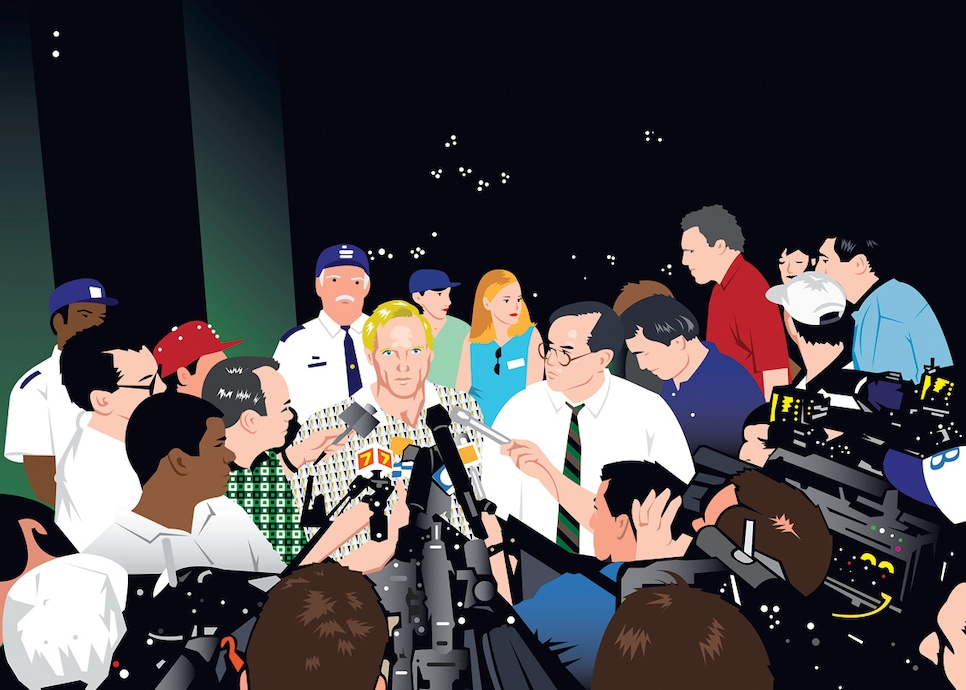 "Sometimes you just get beat even when you play good. You've got no control over that," Harmon says. "With Greg, a lot of times things just happened to him. But a lot he brought on, too."
What made Norman's media appearances Sunday night after his Masters loss so resonant is that he never hid from this reality. There was no talk of a stiff back, or a personal issue. He blamed no one but himself. "I screwed up," Norman told the media. "It's all on me. I know that, but losing the Masters is not the end of the world. I let this one get away, but I still have a pretty good life. I'll wake up tomorrow still breathing, I hope. All these hiccups I have, they must be for a reason. All this is just a test; I just don't know what the test is yet."
The media session was interminable. Norman was asked about his loss in every imaginable way. Lost in all this could have been the fact that his opponent, Faldo, shot five under par to win his sixth major. "Even if I had played half-decent, it would have been a good tussle with Nick," Norman said. "Nick played great golf. There's no two ways about it. He played great, and I played poor."
As cathartic a moment as it was for Norman, it was enlightening to everyone else. Watching at home was 15-year-old Adam Scott, who would succeed Norman as Australian golf's most prominent star. At the time, Scott thought he was merely watching his hero lose a tournament.
What he wouldn't realize until later was how instructive the episode would be when he experienced his own major meltdown at the 2012 Open at Royal Lytham, where he bogeyed the last four holes to lose by one.
"You could say it was a very similar situation to me at Lytham," Scott tells me. "You know, it's maybe not what you want to do, walk into the media center and face questions about why you didn't execute and why you failed. But I definitely drew on that experience of watching Greg go through it and take it on the chin. I came away with a better understanding of what the game is about, and one thing is that you can't be afraid to lose. You have to put yourself in that position because it's the only way you'll ever win."
Confrontations with the media
What's easy to forget now is the distance Norman traveled to get to that point. Unlike his hero Nicklaus, Norman had long had a strained relationship with the media. He was arrogant, but also defensive.
"I tell you what we're going to do: We're going to stay on this plane and drink it dry." - Greg Norman, on the night of the loss.
"With the press before that tournament I would say he was very confrontational," says Williams, Norman's former agent. "If anyone said anything he didn't like, he'd come straight back at them in an aggressive way."
In '96, however, the result of being exposed in such a cruel light was that Norman for once dropped the pretense.
"I thought he handled it beautifully," Kostis says. "I think Greg became a better person because of it. He was humbled by it and learned from it, and as a result he became more human to his fans."
After finishing with the media, Norman had to tend to the fragile emotions of his traveling party. Everyone was in tears: his daughter, Morgan-Leigh; his then-wife, Laura; even his agent, Williams, who had seen the $140,000 payday disappear. Morgan was 13 at the time, and she remembers "watching the emotion circulate through our family. It was really tough, and yet no matter how hard it was, he was still just our dad trying to make us laugh. I don't remember it from a golf perspective. I just remember looking at him and thinking at the end of the day, he was going to be OK."
If there was an opportunity for Norman to drop his guard, it would have been upon boarding his plane for the ride back to Florida. Instead, seeing the assortment of red eyes staring back at him, he held firm that he would be just fine.
Williams recalls, "He came on, and he said, 'Oh, come on, it's just a game. Think about all the money I've made from hitting a little white ball from A to B. Think about all the guys who work their tails off in factories. I tell you what we're going to do: We're going to stay on this plane and drink it dry.'
"And so we did," Williams continues. "I'm sure underneath it all he really wanted to lock himself in a room and mourn, but he wanted to make everyone feel better."
Adam Scott's breakthrough
For the first 79 years of the Masters, no Australian had won a green jacket. That looked to change on a misty Sunday in 2013, when Adam Scott entered the fourth round a shot off the lead. Greg Norman was home in Florida, watching a player he had mentored through the early years of his career. As Scott entered the final holes of his battle with Angel Cabrera, Norman called his son, Gregory, who lived down the road.
"He said, 'Holy shit, he's going to pull this off,' " Gregory recalls. "So I drove over. It was a very intense ending, and when Adam made the final putt to win, we were both in tears."
I ask Gregory if he thinks a piece of his father was wistful that the breakthrough moment belonged to someone else.
"It's a good question," Gregory says. "I think a lesser man would be resentful that someone got what he wanted so badly. But my dad wasn't that way in the slightest. He was overcome with pride and joy."
Norman's happiness appears genuine these days. He is 61, but a remarkably young 61, based not only on his still-impressive physique, but also his teenager-like sharing habits on social media. He plays competitive golf only sparingly, and instead remains immersed in his business, Great White Shark Enterprises, which has divisions for clothing, golf-course design and wine, among others.
In his post-golf life, Norman has endured his share of setbacks. He cites the 2008 financial crisis, when he had to lay off a portion of his staff, as the "most stressful thing I've ever done." More recently, he had an abbreviated run as the lead analyst for Fox in its coverage of the U.S. Open, lasting just the 2015 season before the network opted to replace him.
Nonetheless, it's hard to feel too bad for him. According to Golf Digest's annual ranking of the top earners in golf, on and off the course, he made $12 million in 2015, putting him behind only Nicklaus, Palmer and Gary Player among former players. It's worth noting that those three each had vastly more successful major championship careers, which might lead to the conclusion that Norman would be an even richer man today had he gotten the job done better on Sundays. Maybe. But I also think Norman's appeal was wrapped up in the entirety of his biography, the losses included. Like I said, I'm not sure I'd have thought much of Norman had he shot two under par that Sunday at Augusta and won by three. But in losing the way that he did, I was drawn to his vulnerability as much as his talent. And I wasn't alone in thinking this.
In the lead-up to Norman's return to Augusta for the 1997 Masters, Golf Digest colleague Mike Stachura visited the player's office in Jupiter, Fla., to sift through the more than 8,000 pieces of mail Norman received after his collapse against Faldo. The letters came from world leaders (President George H.W. Bush: "You did more for the game of golf in defeat than you have done in victory"), from fellow tour players (Scott Hoch, who missed his own short putt that would have won the 1989 Masters: "We know what you are going through"), and from kids (10-year-old David Tiffenberg: "We can't always have our heart's desire, but failing can make us stronger"). Even the mother of Larry Mize wrote to pass on her condolences. In the years since, the letters have kept coming. Norman says he has "tens of thousands" in boxes in his home, and though the messages vary, they're all born from the same connection.
"It's very simple," Norman tells me. "I stood up and embraced the failure of it all. I accepted the fact that one of the most precious things in my whole life, I didn't get. And in that situation, it really hit home with people."