The Loop
The Sam Snead connections with The Greenbrier never end
Any week -- any day, really -- is likely to be an anniversary of something special the great Sam Snead achieved in golf. Exhibit A: July 4 marks the 50th anniversary of a Snead double repeat. In both February 1964 and 1965, Snead won the Senior PGA Championship, which allowed him to go up against the English senior champion in July each year in a 36-hole International World Senior match, sponsored beginning in 1955 by Teacher's Scotch. In 1964, Snead beat Syd Scott, 7 and 6, at Wentworth in England (Snead is getting the winning trophy below). Then on July 4, 1965, he beat Charles Ward in 37 holes at England's Formby Golf Club. After 1968, Teacher's dropped sponsorship of the match.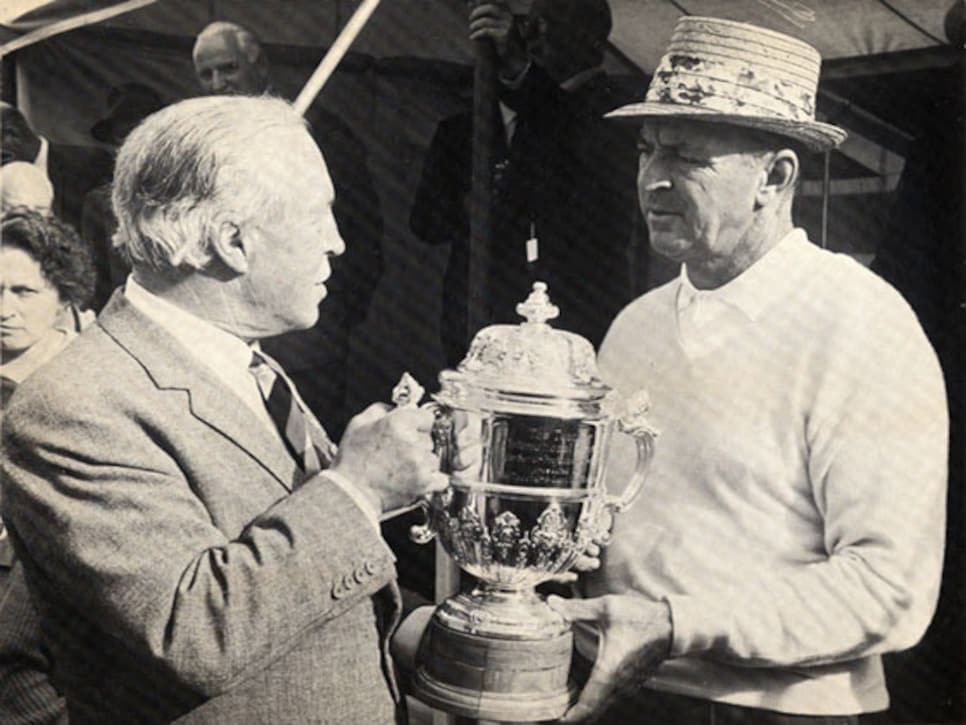 With this being the Greenbrier Classic week, it's only appropriate to also look back at Sam's remarkable association with "America's Resort." Almost 80 years ago in 1936, Snead made his first visit to The Greenbrier and the two were nearly always associated until Snead's death in 2002. Snead memorabilia populates the West Virginia resort, including at two restaurants, Sam Snead's at the Golf Club and Slammin' Sammy's.
Snead was The Greenbrier's golf pro from 1946 until the end of 1974 when the two parted ways because the ageless wonder Snead, at age 62, "wanted more time to play tournament golf and [The Greenbrier] wants a full-time club pro," according to Golf World coverage. He rejoined as The Greenbrier's Golf Pro Emeritus from 1993-2002 (Tom Watson followed from 2005-2015 and Lee Trevino was named GPE earlier this year).
In October 1970, Snead aced the 18th hole of the Old White House Course (now Old White TPC), with a 7-iron covering the 163 yards. At the time it was his 18th career ace and the fourth on that hole, but he had another on it -- his final one -- in 1995. Snead also shot 60 six times on the Old White Course, and he had an easy-to-remember 59 in 1959 on the Greenbrier Course.
An elegant fixture of The Greenbrier is the Spring Festival, which began in 1948 and was later renamed the Sam Snead Festival. It was a star-studded event at its origin, held in late spring. Forty pros played 18 holes Thursday through Sunday, and three amateurs joined each pro on Saturday and Sunday in a pro-am format. Bob Hope, the Duke of Windsor and assorted U.S. senators were amateurs in the early days; Ben Hogan, Peter Thomson, Jack Burke Jr., Dow Finsterwald, Doug Ford, Claude Harmon, Henry Picard and Jimmy Demaret some of the pros.
Snead won the event multiple times (and gave clinics at the event like in the photo above), but in February 1968 the resort announced it was dropping festival. The announcement said, "Following a thorough study of current and future spring activity schedules at The Greenbrier, we have reluctantly decided to cancel future Sam Snead Festival golf tournaments."
But in a beautiful example of how life and common sense can come full circle, the Sam Snead Festival is back on The Greenbrier schedule as a 36-hole pro-am to honor his legacy. It was restarted in 1994 and he hosted it until 2001. This year it was held June 7-9 and hosted by Nick Faldo, who has a learning center at the resort and an affinity for The Slammer.