The Loop
You'll have a tough time not including these holes-in-one on the year's best-shots list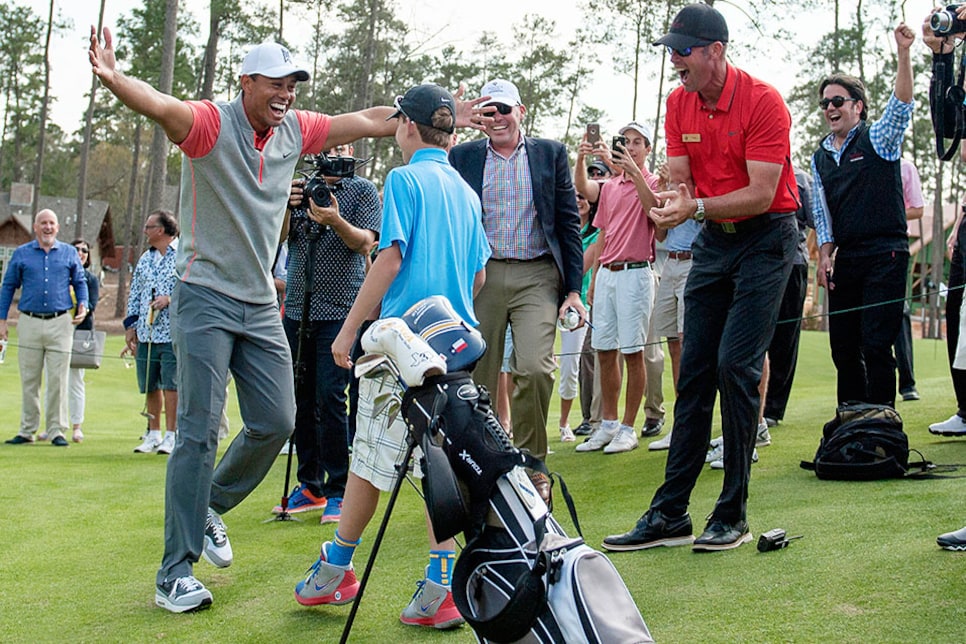 Within five days last week there were two holes-in-one that went viral on social media, one by an 11-year-old in the presence of Tiger Woods and one by a golfer who is the idol of junior golfers everywhere, Rickie Fowler. The shots were literally heard and seen throughout the world within minutes of arriving at their destinations.
Taylor Crozier's moment of fame occurred March 2 at the opening of a short course Woods designed called The Playground at Bluejack National near Houston. The sixth grader from Bishop, Texas, shook off his nervousness and holed an 82-yard pitching wedge with the 14-time major winner standing next to him.
Woods reacted by spreading his arms and hugging the shocked Crozier. ABC's "World News Tonight" ran a segment that featured Crozier saying, "All of a sudden I could feel my feet coming up off the ground." Rich Barcelo, one of the Bluejack's head professionals, described "raw, genuine emotion coming out of Tiger."
Woods shared the video with his 5.6 million Twitter followers. Back at his office in Jupiter, Fla., Woods was still talking about Crozier's shot a week later. "You couldn't ask for anything better than Taylor's hole-in-one," Woods said in response to an email question. "It's a moment anyone that was there won't forget."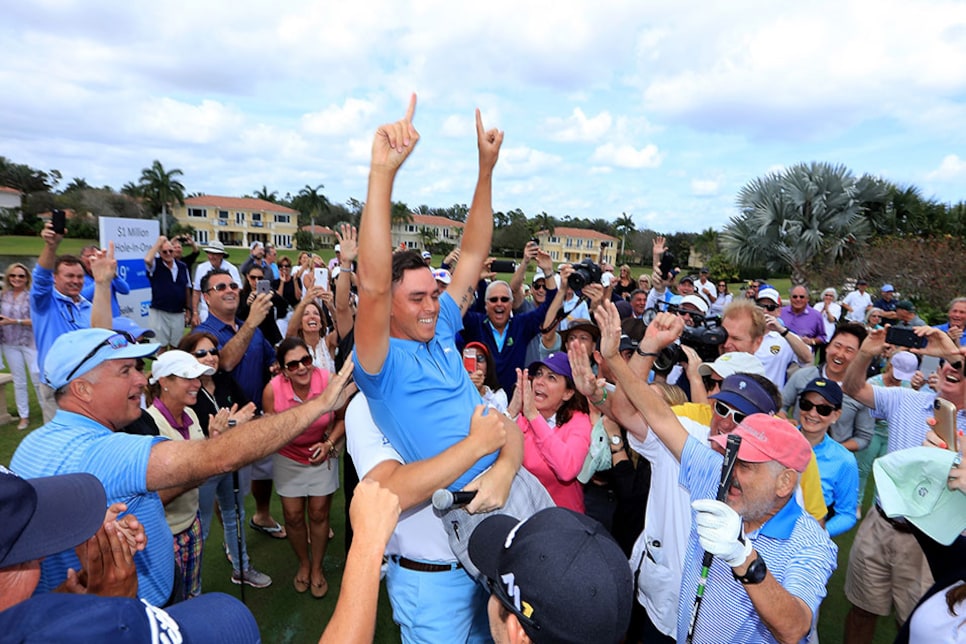 Fowler's ace five days later on the Bye Hole at Old Palm Golf Club in Palm Beach Gardens, Fla., was just as unforgettable, and had even more star power. When the ball one-hopped into the hole from 111 yards, it was worth $1 million to the Els For Autism Foundation created by Ernie and Liezl Els. Like Woods with Crozier, Ernie lifted Rickie off his feet in a joyous celebration that included Jack Nicklaus, Rory McIlroy, Adam Scott and Nick Price among other golfing luminaries supporting the event.
Fowler called it an "Epic Monday" on his Instagram feed that has 764,000 followers, and "one of the coolest moments in my life." All the cooler because Rickie had changed into his street shoes, borrowed Luke Donald's wedge and used a ball from Thomas Aiken. So inspired by the shot was South African businessman Johann Rupert that a few days later he matched it with a $1 million donation.
Making it possible was Marvin Shanken, the Cigar Aficionado founder who joined Els in starting the pro-am eight years ago, just after Ernie announced his son, Ben, had autism. Shanken is the man in the red hat and gray beard reaching out for a Fowler high-five.
Shanken recruited SAP and Ketel One to co-sponsor the $35,000 insurance policy. He also helped convince the Els For Autism board a day after Rickie's hole-in-one to go forward with plans for the Upper School, a new building on the 26-acre Els Center of Excellence in Jupiter that will accommodate 150 more students ages 14 to 22. The vote was unanimous. "Karma tells me to go for it now," Shanken said.
As for Crozier, the boy known for perfect attendance at school is now known for hitting the perfect shot. His uncle, James Nolen, tells me that Fowler more than Woods has been his nephew's idol. Taylor was only 3 the last time Tiger won a major and hadn't fully appreciated Woods' former dominance. "But now he understands who Tiger Woods is," Nolen said, "and what an honor it is to hit a shot in front of him."
Editor's Note: This story first appeared in the March 14 issue of Golf World.