The Loop
The risky gamble that paid off in a big way for Darren Clarke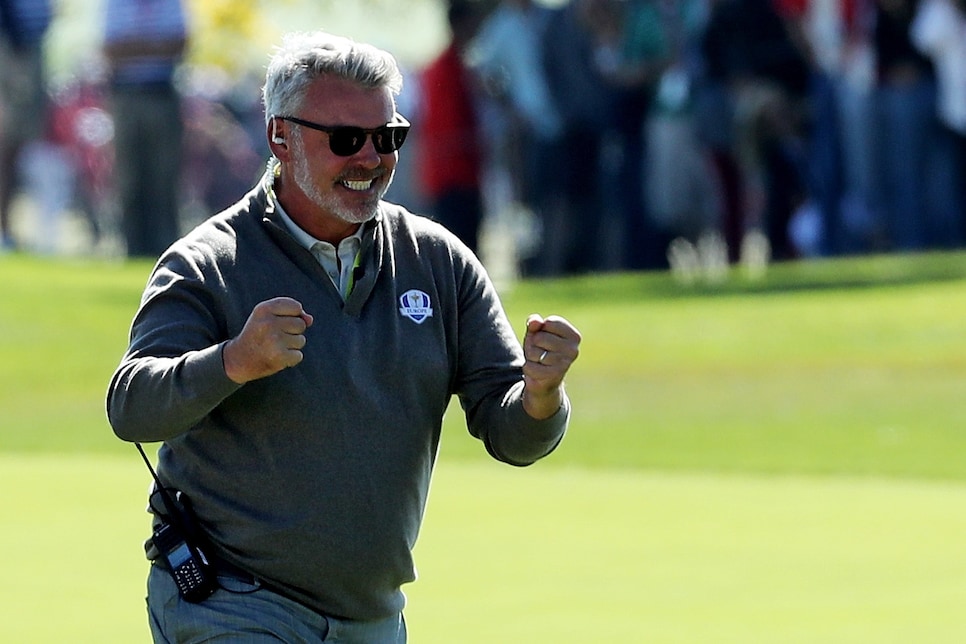 After Friday's matches, Darren Clarke had a tricky problem on his hands. He had elected not to play Matthew Fitzpatrick or Chris Wood in the day's two sessions, which left him several unsavory options for Saturday morning:
Option One: Continue to bench them in the morning foursomes session, since the conventional wisdom says that alternate shot is a difficult format for a rookie's debut (even though Paul McGinley executed it to perfection with Victor Dubuisson and Jamie Donaldson in 2014). This choice would carry big risk, in that almost regardless of what happened on Saturday morning, there's no way Clarke could have justified playing either Fitzpatrick or Wood for the first time in the all-important afternoon session, when Europe would have to dig its way out of a hole.
If that scenario played out and both players sat for a second straight day, they would be entering the Sunday session without a single hole under their belts, representing two very important points. Mark James tried that in Brookline, holstering Jean Van de Velde, Jarmo Sandelin, and Andrew Coltart in all four pairs sessions. All three lost in their singles match, sparking one of the most famous Ryder Cup comebacks ever.
To analyze this option to death, there was also the further risk that Wood or Fitzpatrick would actually play very well if given the chance, and that by sitting them out for both days, Clarke would miss out on a potential hot hand that he never he had.
Option Two: "Blood" them (a wonderful bit of British slang derived from fox hunting, meaning "give them their first ever start") in the morning as a pair, hoping they'll play well together together and understanding that even if they lose, only one point is sacrificed. This option would allow him to put McIlroy/Pieters, Rose/Stenson, and Garcia/Bello in the other three pairs, and at least have three strong teams ready to face the Americans. It would also give Fitzpatrick and Wood the small bit of experience needed so that the singles matches on Sunday wouldn't be a total shock to the system.
The downside is obvious—what chance do two rookies have to enter a tight Ryder Cup on foreign soil? And if they lost, it's doubtful that throwing them to the wolves would have any positive effect on Sunday.
Option Three: Blood them in the morning, but send them out with Martin Kaymer and Lee Westwood as shepherds, there to guide them and provide a stabilizing influence. Again, McGinley used this to great effect in Gleneagles with Westwood and Graeme McDowell. It's a good idea in theory, but the problem at Hazeltine is two-fold: first, it would use up two spots and prevent Clarke from sending his three best teams out, and second, Kaymer and Westwood were both awful on Friday.
Option Four: Blood them in the morning, but split up the Rose/Stenson juggernaut and use them as shepherds. This was possibly the most clever strategy, because it would keep the six best European golfers on the course, give Fitzpatrick and Wood their critical experience, and also allow them to play with a strong stabilizer instead of going out blind in an all-rookie pair.
The risk—and it was a potentially overwhelming one—was that splitting up Rose and Stenson takes away one of Europe's dominant teams (and a probable point, judging by history), for the uncertain proposition of two wins. The phrase "a bird in hand is worth two in the bush" applied almost perfectly—throw away your bird in hand, and you risk losing two matches and seeing no overall benefit.
With no perfect option at his disposal, Clarke chose option four. The results on the course were mixed, with Stenson and Fitzpatrick losing to the hot pair of Brooks Koepka and Brandt Snedeker, while Rose and Wood pulled off the win against Jimmy Walker and Zach Johnson. If you make the assumption that Rose and Stenson had a good chance of winning together, while Wood and Fitzpatrick would have been in trouble, then this was a wash—Europe went 1-1 anyway. That's a win for Clarke, who wanted to get his rookies their first taste of action while avoiding a total disaster. On the other hand, you can't call it an overwhelming success, because neither player impressed him enough to make the Saturday afternoon four-ball session.
On the whole, though, when you consider the benefit of Wood having a win under his belt, and Fitzpatrick experiencing Ryder Cup tension firsthand before a Sunday conclusion that promises to be extremely loud and incredibly close, it's clear that Clarke's big gamble paid off.