The Loop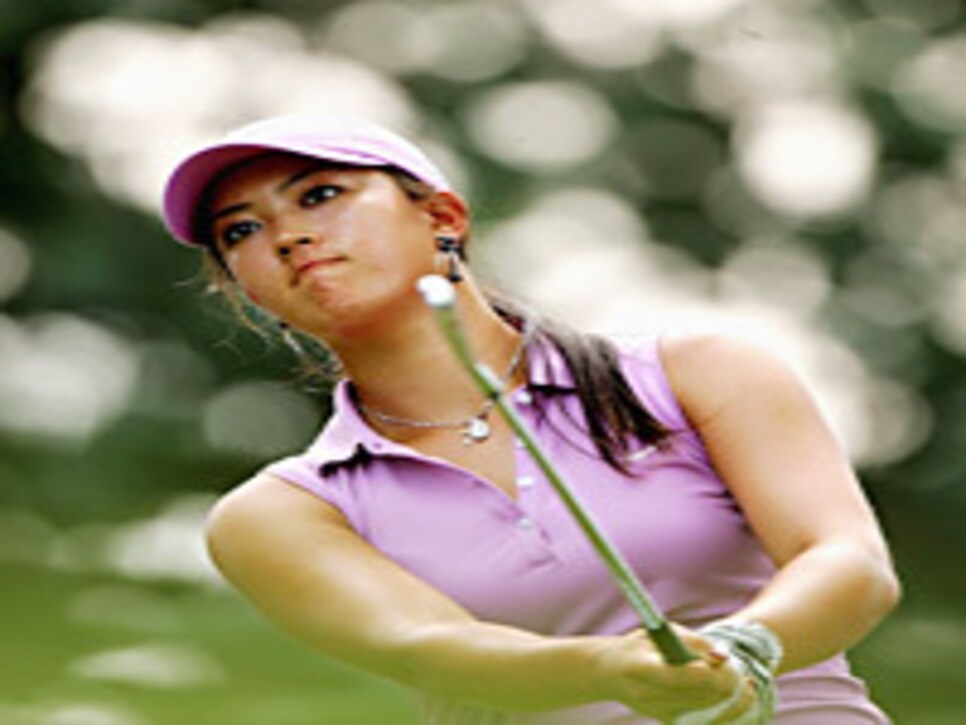 EVIAN-LES-BAINS, France - There are worse places to spend eight hours than on the night flight from Newark to Geneva, but aside from forced captivity at 36,000 feet wiithout a baseball game to watch there is that slight problem of arriving in Switzerland at 7:45 in the morning or, according to my body's clock, 1:45 a.m. the previous night. To sleep or not to sleep, that is the question. The game plan that works best on these sojourns to Europe is to try to stay awake until it's time for an early dinner then wakeup the next morning in blissful harmony with the host time zone.
The first thing I see as I emerge from customs is a shuttle driver holding a sign that reads "Sirak." That's a good start. I won't have to hitchhike to Evian-les-Bains, the stunning French resort town that is home of the Evian Masters, easily the most luxurious stop on the LPGA Tour. The second thing I notice is another placard that reads: "Kim/Lee." Oops, rookie mistake by someone. This is the LPGA come to town, you gotta be more specific than that. There are, after all, 11 Kims and seven Lees on tour. I had on my flight former U.S. Women's Open champion Birdie Kim, two-time LPGA winner Meena Lee and Seon-Hwa Lee, who won the HSBC Women's world Match Play Championship on Sunday. The suspense is ended when I find Meena is the Lee to join me in the car with Birdie.
The sleep-or-not-to-sleep decision is made slightly easier by the fact it is raining like a shower without a water-conserving showerhead. The car ride in which Korean, French and English is spoken with varying degrees of success by our international gathering is occupied mostly by Birdie and I trying to figure out exactly what we had to do to dial out on our European cell phones as they bounced between Swiss and French service providers.
That sleep decision is mercifully (or not) taken out of my hands when I get to the Hotel Alize (air conditioning, high-speed internet and walking distance to restaurants) only to find out my room is not ready yet. Oh well, might as well go to the course and get checked in. That turns out to be a good decision when the rain stops and players show up at the Evian Masters Golf Club to practice and shake off the cobwebs of jet lag.
Annika is there, as well as Paula, Karrie, Morgan, Brittany, Cristie, Birdie and, oh yeah, Michelle. The last time we saw the rapidly-closing-in-on-18 soon-to-college-freshman she was pulling out of the U.S. Women's Open after playing the first 27 holes 17 over par. In three disastrous starts on the LPGA this year Wie has quit twice and finished last the other time. A lot of folks thought she might skip the Evian Masters and next week's Ricoh Women's British Open. A lot of people suggested she skip them -- me, for example. But here she was back for more.
With caddie David Clarke at her side, mother Bo standing across from her holding a club straight out so that the grip rested on Michelle's head while she swing and father B.J. sitting behind her staring intently, Wie hit ball after ball and appeared to be swing better than she did at either of her three previous LPGA events. The question, of course, is how the swing will hold up under pressure when tournament play starts Thursday.
It's been a while since Wie has had a positive experience on the golf course. In fact, she has not broken par in a competition since the final round at this tournament last year when she tied for second with Laura Davies, one stroke behind Karrie Webb. She sure could use something positive to happen this week.
Speaking of positive things, I wonder if that room is made up yet.