AUGUSTA, Ga. -- Fifteen minutes after Alyssa Montgomery watched her 30-foot putt on Augusta National's 18th hole roll its final inch before disappearing in the cup, the 15-year-old from Knoxville, Tenn., still could not believe her eyes. The theatrics of holing a putt that eventually won her the Girls 14-15 age group at the Drive, Chip and Putt National Finals weren't something Montgomery had let herself dream about as she practiced the past few month back at her home course, Willow Creek.
"I came here to have fun," said the high school freshman. "To win, that's just icing on the cake."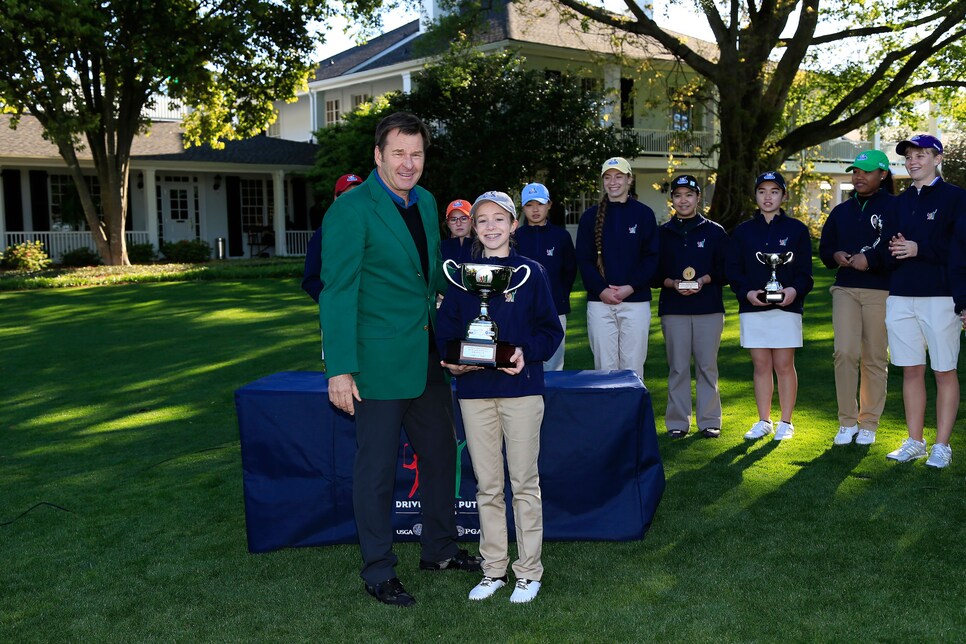 That icing sure tasted sweet Sunday for Montgomery and the nine other winners in the third annual competition that brought together 80 girls and boys ages 7 to 15 from 30 states in what has become a popular kick off to Masters week.
"I couldn't really hear it, my mind was just in total shock," said Kayla Sam, a 13-year-old from Anaheim Hills, Calif., who has never watched the Masters but got one of the patented Augusta National crowd roars when her 15-foot try on the 18th fell in to clinch the Girls 12-13 overall title. "I was the last one to putt and I was really nervous because they were all doing well."
Stephen Robert Hernandez, a 9-year-old from Houston, could hardly contain his excitement after picking up awards for winning the Drive and Chip portions of the Boys 7-9 competition, along with the age group's overall title. Upon picking up the trophy handed to him by 1998 Masters champion Mark O'Meara, Hernandez raised it high over his head and kissed it repeatedly.
"This is all just way too cool," Hernandez said. "A champion. I like the sound of that."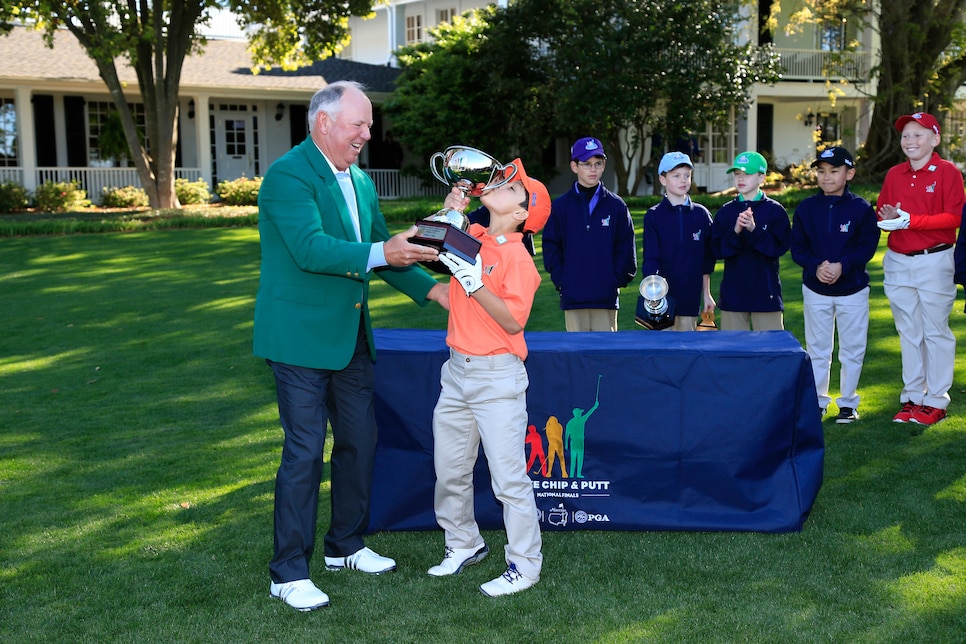 It wasn't just the participants who got caught up in the excitement, but the families as well. Watching Stephen claim his victory were his parents, Doug and Sonya-Lisa, his two sisters and his grandfather, Joe.
"This is the culmination of just wanting to play with his pop," said Doug Hernandez, who works as a high-voltage lineman and got his son started playing golf about five year ago. "I never thought it would bring us here."
While most competitors merely satisfied soaking up the experience of competing at Augusta National, Alexa Pano had something else on her mind: revenge. The 11-year-old from Lake Worth, Fla., was among three participants in this year's field who had competed at the DCP National Finals previously, finishing third in her age group in 2014 after failing to post a score in the Drive portion of the competition because of wayward shots.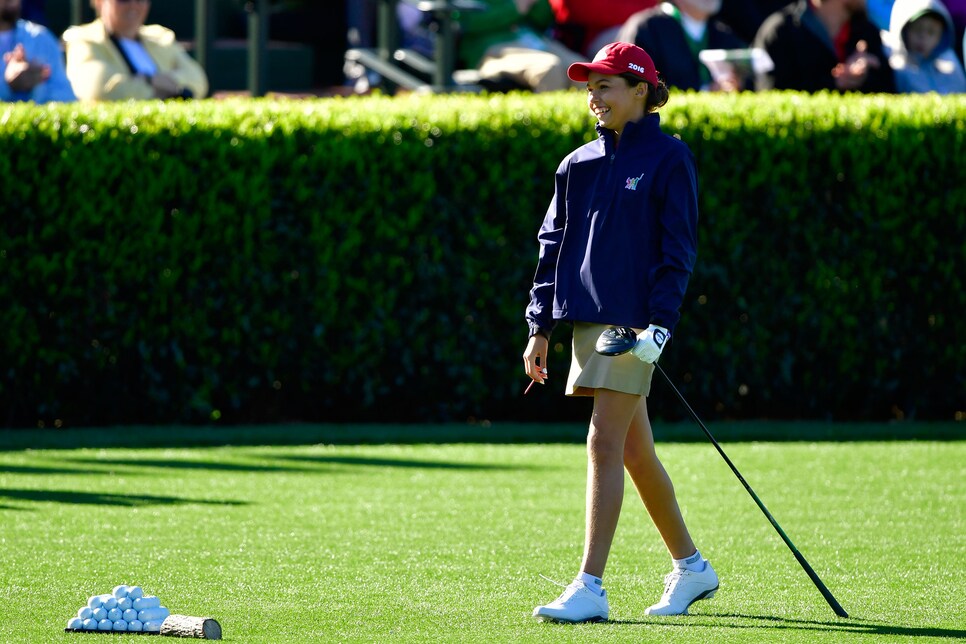 "It's haunted me hitting those two drives out of bounds," said Pano, who has become a minor celebrity in the world of junior golf after being one of the youngsters profiled in the popular 2012 golf documentary "The Short Game." "I was so excited two years ago just to be here, and I'm even more excited now to win."
Ty Griggs isn't sure whether winning the Boys 12-13 group will make him any cooler among his classmates back home Manteca, Calif. But he knows getting the chance to talk with pop star Niall Horan, who greeted the competitors in a surprise visit along with Justin Timberlake and Justin Rose while they were practicing on Saturday, will have its advantages.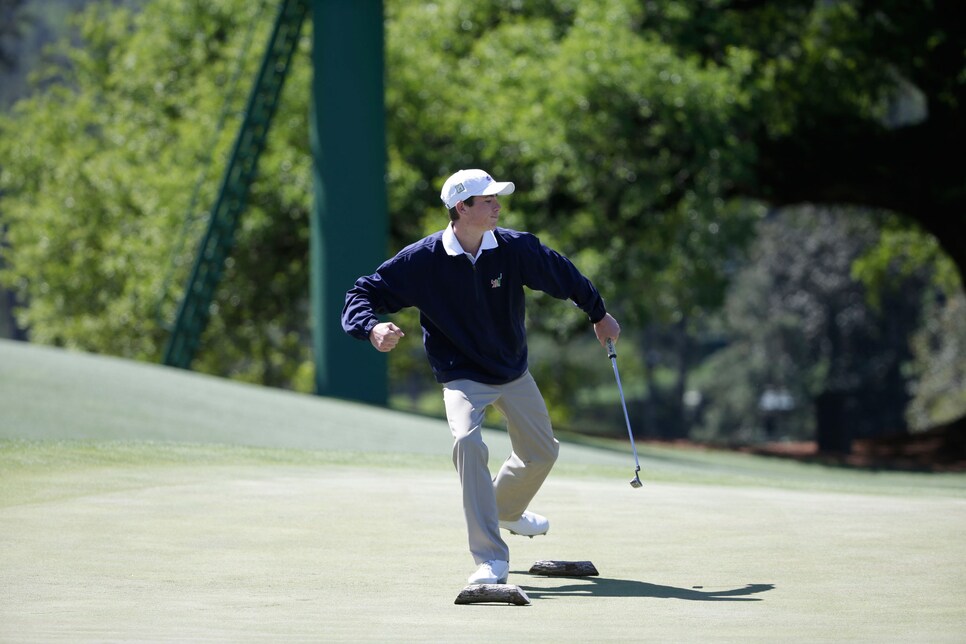 "I don't listen to his music much, but a bunch of girls back at my school do," Griggs said beside the Augusta National clubhouse. Spotting Griggs, Horan waved to him and gave him a thumbs up sign of approval, a moment Griggs could only wished he could have gotten a picture of.
"How these [finalists] have the nerve at 7 to 15 years of age to just step up there and do this is just incredible," Horan said. "These kids are an inspiration, and it's a great thing that Augusta, the USGA and the PGA [of America] have got together and done this."
With their victories came much the same treatment that the golfer who wins the green jacket a week from now will receive, including a public prize ceremony and a visit to the media center for interviews. On this Sunday, however, it's kids who were having the experience of a lifetime.