The Loop
The PGA Tour goes back to the future with its round-robin format at the Match Play
Much has been made of the round-robin approach put into play this week at the WGC-Cadillac Match Play at TPC Harding Park. It's certainly a fan-friendly format with the guarantee that the entire field of 64 will be around for three days rather than the one-and-done elimination that sent half the group home after a single day of the traditional match-play format. However, it's not new to pro golf.
Round robins, both stroke-play and match-play varieties, were a familiar format during the first few decades of the PGA Tour, albeit usually with a smaller field than 64. It wasn't until around 1960 that they were eventually phased out by the predominant four-round, stroke-play tournament. Yet the tour's all-time winningest player, Sam Snead, has round-robin wins among his 82 career titles, including five at the Palm Beach Round Robin (also Goodall Round Robin), named after the clothing company.
Snead won the Palm Beach RR four times in the 1950s, including the one pictured here, the 1954 event held May 12-16 at Meadow Brook Club in Westbury, N.Y. The invitation event had 16 elite golfers -- presumably the tour's best 16 at the time -- play five rounds in groups of four. One round was played on Thursday, Saturday and Sunday and two rounds on Friday. You accumulated or lost points depending on how you fared in stroke differential against the other players in your group. Snead shot 67-72-68-66-65 and had a plus 62 to easily win over runner-up Bob Toski, who had plus 26.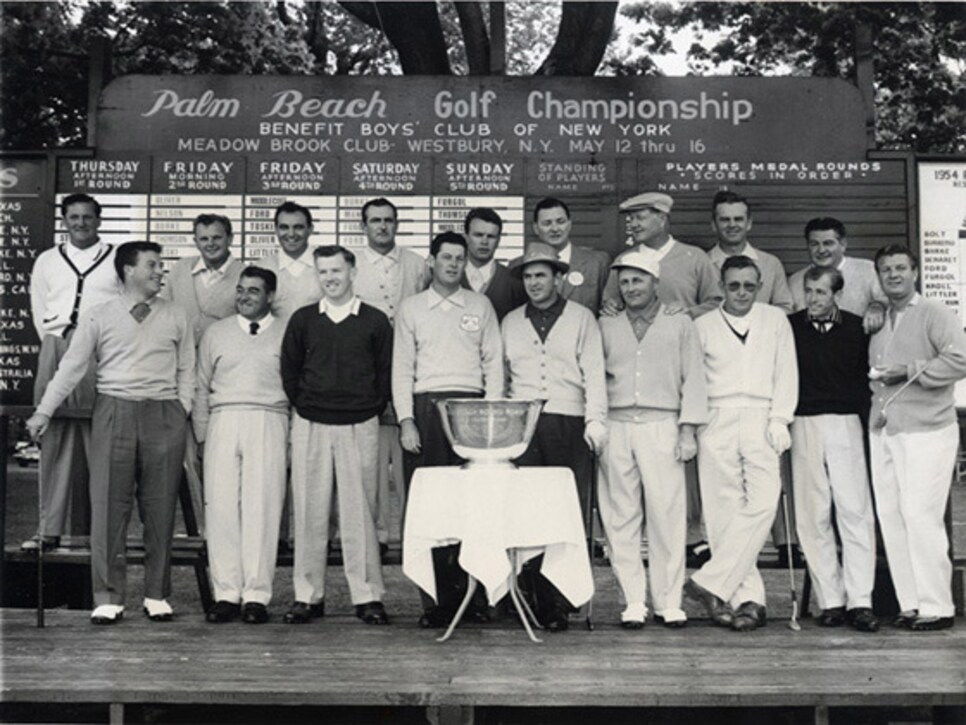 *The full field: Front row from left, Peter Thomson, Jim Turnesa, Gene Littler, Cary Middlecoff, Sam Snead, Ted Kroll, Earl Stewart, Bob Toski and Jimmy Demaret; back row from left, Tommy Bolt, Walter Burkemo, Doug Ford, Lloyd Mangrum, Jackie Burke, Harold (Jug) McSpaden, Byron Nelson, Marty Furgol and Ed (Porky) Oliver. *
The Palm Beach RR was taken off the tour schedule after the 1957 event, which Snead also won. The reason: Since the majority of tour pros were left out of the tour event the week of the round-robin, with no alternative place to play, there were complaints the event idled the rank and file and only benefited only the elite.