The Loop
The PGA Championship Long Drive contest separates players who get it from those who don't
LOUISVILLE -- The PGA of America really, really tried to help make it as painless as possible. When it brought back the Long Drive contest as a fun way to liven up an otherwise boring major championship Tuesday, the organization structured the event to be uber-convenient.
PGA officials set up shop at the 10th hole so players would likely be warmed up. They picked a driver hole. They picked Tuesday, removed enough from the actual start of the championship so as not to interfere with any final practice preparations. They gave everyone just one shot, in order to not hold up play. They threw in a charitable component in lieu of prize money. And they didn't sell the rights to television, making this strictly a fun thing for fans and players.
At least, players with a sense of fun.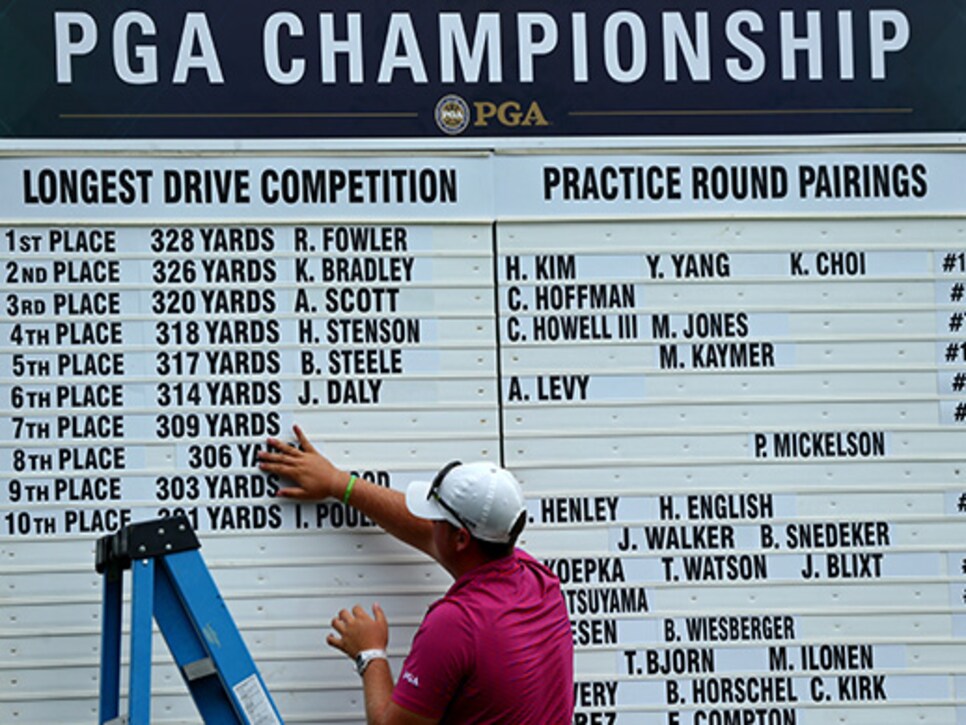 Then Fowler got up, took a harder-than-normal swing and edged Bradley by two yards. Fowler played it cool until his leading 328-yard drive was posted, then gave the crowd a tasteful Muscle Beach pose. He led until Gary Woodland knocked one 330.
Tom Watson's playing partners Brandt Snedeker, Russell Henley and Jimmy Walker each hit their drives, then started walking before their 64-year-old playing partner had hit. Watson looked incredulously at the crowd as if to say, "these kids have no respect." More fun for the folks on hand.
Then there were the point missers. Bubba Watson, who complained about the Long Drive last week, hit an iron off the tee as his name was being announced. Pat Perez, one of the last in the field and a long bomber when he wants to be, walked up to the tee and whispered to his playing partners, looking like he was not excited about the Long Drive. Perez then took a normal swing and never acknowledged the assembled crowd.
And then there was the Mechanic. Miguel Angel Jimenez, the most interesting 50-year-old in the world, hit a nice 284-yarder with a harder-than-normal swing. He turned to the crowd and with his trademark stogie in hand, pronounced, "You may not have seen the longest drive today, but you saw the best drive today." And let out a hearty giggle as the crowd ate it up.
Some guys get it, some do not. That's the beauty of the Long Drive's return to the PGA Championship.