News
Winning a major championship helps define a golfer's legacy. So too, though, can winning just one
Twenty-five summers ago, Tom Kite endured a four-club wind and the weight of his dreams to win the U.S. Open, his first major. The resilient Texan in the red Hogan sweater nipped Jeff Sluman at gusty Pebble Beach and, just like that, the man considered at that time the best player to have never won a major shook that title, only to assume one more.
Kite and 133 other golfers in the history of the men's game have won one and only one Masters, U.S. Open, Open Championship or PGA. The roster for the "One-Major Club" is fluid—2017 Masters champion Sergio Garcia, its newest member, is but 37 years old, after all. The list begins with George Archer, ends with Y.E. Yang and includes the names of some enshrined in the World Golf Hall of Fame as well as others lost to obscurity: Walter Burkemo, Arnaud Massy, Alf Perry. Among the group is Lloyd Mangrum, for example. He won 34 times on the PGA Tour, including the the 1946 U.S. Open. Then there's Shaun Micheel, whose 2003 PGA Championship remains the only tour start he has ever won.
Their distinction comes with uncommon nuance. Everyone covets a major. But no one wants just one.
Players in the one-major club regard their achievement in vastly different ways. There's pride, of course, but also an odd hollowness, and even regret. There are wishes for another chance, especially at dealing with post-major fame, pressure, popularity and the expectation (internal and external) to win another.
Above all, there is gratitude for rising to the moment, if only once.
Kite waited two decades for his, rebuilding faith after so many close calls. There was the 1989 U.S. Open, when he led by three strokes after 14 holes at Oak Hill but lost to Curtis Strange, and the 1984 Masters, where he started the final round with the lead, shot 75 and watched his friend and University of Texas teammate Ben Crenshaw slip on the green jacket. Kite also shared second with Crenshaw at the '78 Open and the '83 Masters. And he missed a putt to tie Jack Nicklaus at Augusta in the unforgettable April of 1986.
Then came June 23, 1992. Kite assembled a disciplined even-par round in debilitating conditions on the Monterey Peninsula. Bunker sand blew sideways. Pebble Beach's greens faded to pale brown. Kite played the last hole flawlessly, marching to the green with arms overhead. With his Sunday 72, he beat Sluman by two.
Since then, "the way people perceive me is entirely different," Kite said on a recent morning before playing with friends at Austin Country Club.
The one-major club defies simple explanation. Everyone aspires to join it. Once there, no one wants to remain.
He's a fit 67, a member of the World Golf Hall of Fame and still competing on the PGA Tour Champions, where he has won 10 times to go with his 19 regular tour titles. He thinks about his U.S. Open as often as people remind him of it, which is less often than it used to be. The junior players at his club, Kite said, often don't know what he accomplished at Pebble Beach unless their parents make a point of pointing it out.
"It's history," Kite said. "It's a long time ago."
But he can still see in his mind every shot on the back nine that Sunday 25 years ago. The 40-foot birdie putt at No. 12. The pitch to five feet at No. 14 to set up another birdie. The missed putts, short and harassed by the wind, at the 16th and the 17th, keeping things interesting. The steady arc of his drive on No. 18.
Kite said the victory affirmed his belief in himself. It has since validated his career in ways his other 41 worldwide titles, a 15-9-4 record in seven Ryder Cup appearances and his captaincy of the 1997 U.S. team could not. "It might've made me a little better player," Kite said.
It also gave him a story.
They all have stories. Some of them end better than others. Kite had won 16 times times before his U.S. Open, so he was more prepared for the attention, expectations and obligations. Other players struggled. Their sudden celebrity left them unsure about how to prioritize their time or uneasy about what to expect of themselves as champions. The one-major club brings only one opportunity to handle everything that comes with it.
Rich Beem won the 2002 PGA Championship in his third season on tour. It was his third title, four years removed from when he was earning $14,000 a year as an assistant at El Paso Country Club. "I go from copy boy to writing a Pulitzer Prize-winning novel," he said.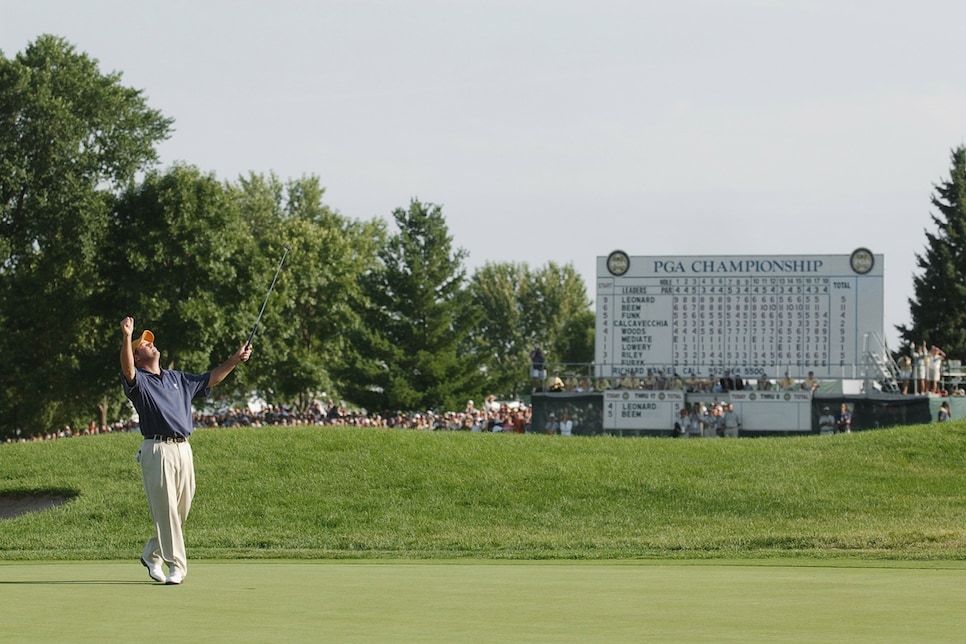 There was no time for adjustment. A book published in 2001 about Beem's unconventional rise, Bud, Sweat & Tees: Rich Beem's Walk on the Wild Side of the PGA Tour, portrayed him as a free-wheeling, late-night-loving bachelor (he married his wife after the book was published) who reveled in big-money side bets at El Paso C.C. and alcohol-infused laughs at the 19th hole. Now that became the starting point for every rollicking story about the new PGA champion.
It seemed like everyone wanted a piece of him. The press. Purveyors of business opportunities. People who barely knew him wanted to be his dearest friend. "I was naïve about everything," said Beem, now a golf broadcaster for Sky Sports. "I didn't know what to expect from everybody around me. And it was no fun at times."
He quit working as hard as he used to. He never won again.
But Beem regards his one major as the time he beat the best, including a hard-charging Tiger Woods, who finished second. Beem's spontaneous gyrations on the final green at Hazeltine National endeared him to golf fans who saw a little bit of themselves in him. Spectators mention it at the tournaments Beem works in Europe. Strangers approach in airports. They remember and remind.
"In so many ways, yes, it was the biggest thing that could've ever happened to me," he said. "There are so many things that change in your world if you win a major."
Hal Sutton understands that as well as anyone. He was 25 when he beat Nicklaus by a shot at Riviera, a wire-to-wire victory at the 1983 PGA Championship. He wasn't ready for the acclaim. He wasn't ready for the scrutiny. In the same way critics look past a win and six top-10s for Spieth in 2017, instead pondering his consecutive missed cuts, observers seemed to pay more attention to Sutton's poor play in Las Vegas and Pine Mountain, Ga., than his top-10 finishes in Abilene or Akron.
"Expectations get in there," said Morris Pickens, a sports psychologist in Sea Island, Ga., who works with one-time major winners Lucas Glover (U.S. Open, 2009) and Stewart Cink (Open Championship, same year). Winning a major can even cause players to set standards that are impossibly high. "They think every time you show up you've got to play great."
Sutton never got the chance to validate his PGA Championship. He won 11 more times in his PGA Tour career. He was a star at the 1999 Ryder Cup at Brookline. He's nearly retired from competition now, devoting most of his time to a new golf academy in Columbus, Texas, and he wishes his single major championship could be more of a perfect memory than one freighted with pain and frustration.
"You fulfill a dream," Sutton said, "and then you don't even get to enjoy it before the world casts their expectations for the next."
There was no next for Micheel, either. Ranked 169th in the world when he won the 2003 PGA at Oak Hill, the 48-year-old from Memphis sees his trophy every day, thinks often about his week in Rochester and wonders why it's been so hard to accept his place in golf history. He sometimes questions whether he's earned it.
Micheel won on the Asian and Web.com tours before his PGA. But he never contended much in major championships before 2003, so he missed the experience of building into a pattern of playing late on Sundays at those four tournaments a year. "It was a career I was looking for," Micheel said, not a one-off moment of glory.
But that moment is what he has. Micheel finished second to Woods at the 2006 PGA, but he's otherwise struggled through injuries, a heart surgery and missed cuts on the Web.com Tour, where he's introduced on the first tee as the champion of a major that haunts him to the point that, at times, he would've traded it for three or four regular tour titles to validate his profession.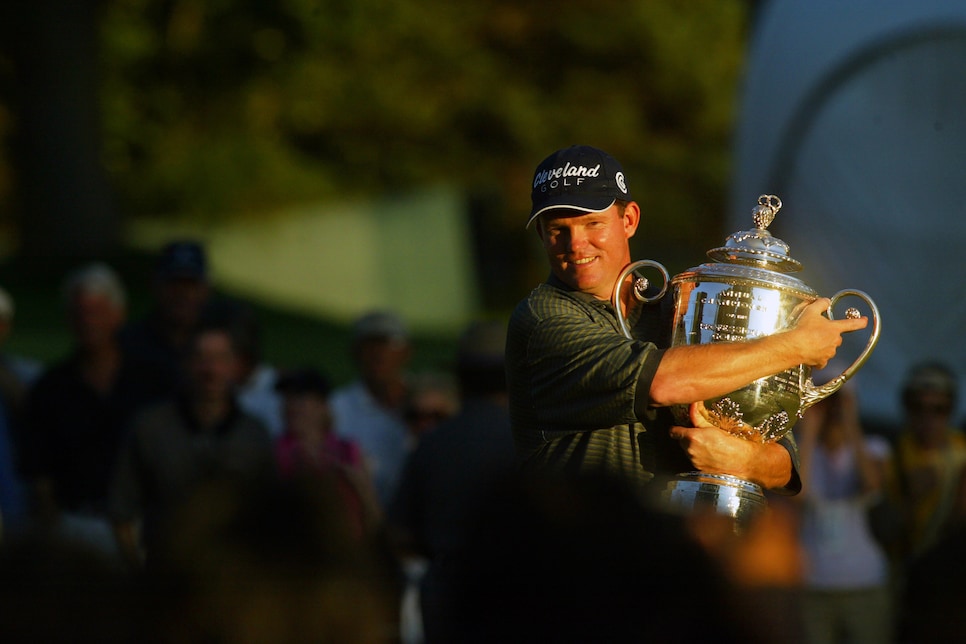 "Unfortunately, I think my career's been judged on that one victory," he said. "It's been a long road the last 14 years."
The one-major club defies simple explanation. Everyone aspires to join it. Once there, no one wants to remain. But many do, and as their playing time comes to an end, they're forced to embrace that what happened once is remarkable in its own right.
That, said Texas-based sports psychologist Deborah Graham, is the healthiest way to take stock of a one-major career. "They're at peace," she said.
Justin Leonard found peace. So did Bill Rogers. The two Texans won Open Championships early in their careers and lean toward perspective and reflection now that time has passed and families have been raised. What seemed vitally important then doesn't now. Leonard and Rogers cherish their moments but no longer define themselves by them.
"That time, I got everybody," said Leonard, who won the 1997 Open Championship at Royal Troon, "and beat the best in the world."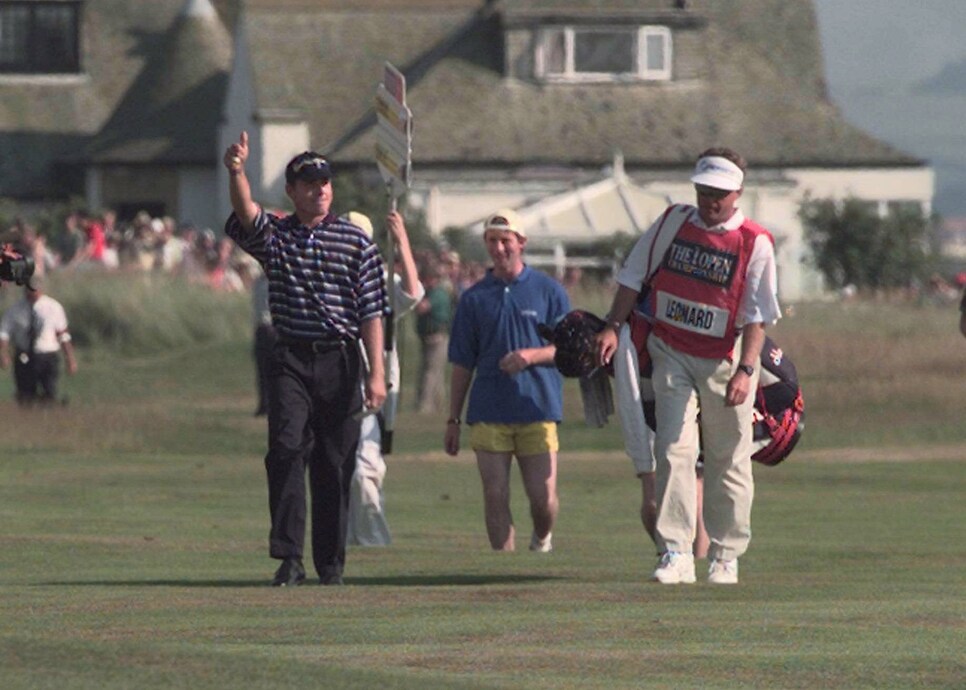 From Rogers, who beat Bernhard Langer at the 1981 Open at Royal St George's: "I'm so grateful that I had my little moment."
Long retired from competitive golf and living a quiet existence doting on grandchildren in San Antonio, Rogers left the tour less than a decade after his one major. The man who won at Sandwich seems unfamiliar to him now. Rogers marvels at how long ago that was, just as Kite does.
"There's a lot more to this whole existence," he said, than winning a claret jug. "Success can be very empty."
Or it can drive you still. Kite made nine starts through the end of May on the PGA Tour Champions. He missed the cut in the first major, the Senior PGA. But the U.S. Senior Open looms later this month at Salem Country Club in Peabody, Mass. Kite is preparing.
Twenty-five years after his moment at Pebble Beach, he hopes to rally the same magic that denied Sluman a championship he never won.
Sluman had his moment, too. He'd won the PGA Championship in 1988. It was his first and last major: He's one of the one-time 134.
Kevin Robbins teaches in the School of Journalism at the University of Texas at Austin. He is the author of Harvey Penick: The Life and Wisdom of the Man Who Wrote the Book on Golf.