The Loop
The once-volatile Pat Perez returns with a new attitude, wins the OHL Classic at Mayakoba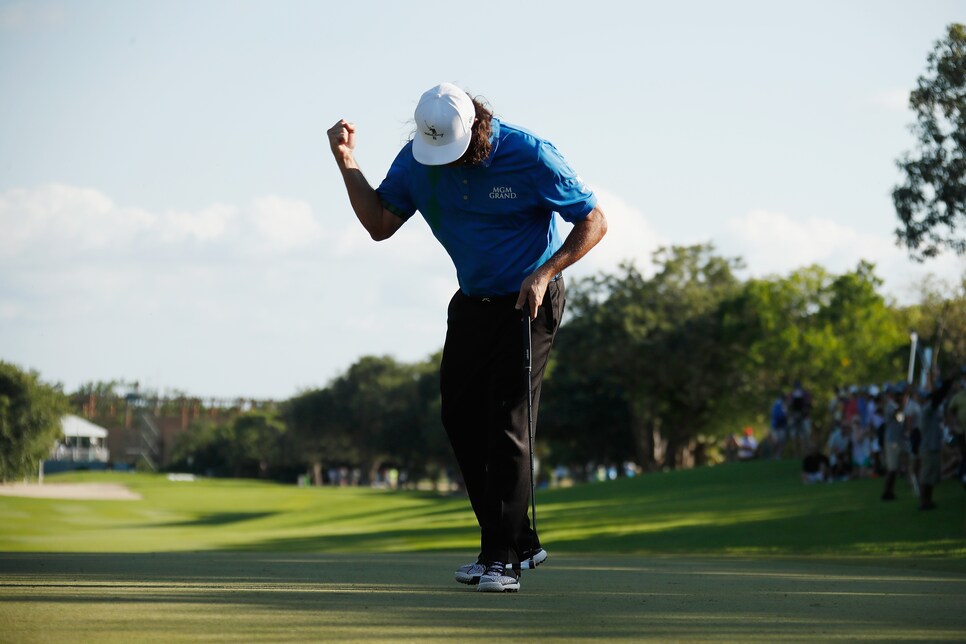 Eighteen years into his professional career, Pat Perez, once perpetually impatient and intemperate, finally might have discovered how to defuse that combustible combination that has defined his career.
An injury hiatus that gave him time to develop a new attitude was pivotal in his winning the OHL Classic at Mayakoba on Sunday, only the second victory of a PGA Tour career that has been lucrative, but lacking for a skilled player from whom more was expected.
It came in his third start in the wake of an eight-month layoff following shoulder surgery, and it was borderline flawless, only a single bogey in each of the four rounds. A four-under par 67 on Sunday, following a 62 in the third round on Saturday, gave him a two-stroke victory over 54-hole leader Gary Woodland at the El Camaleon GC in Playa del Carmen, Mexico.
Whether Perez has learned to temper his tantrums once and for all, who knows? Perez does play with observable emotion, to wit his memorable meltdown at the AT&T Pebble Beach National Pro-Am in 2002. The PGA Tour even recommended he seek anger management therapy.
He declined. But the time off this year allowed him to work on channeling his emotions into a more positive outlook intended to allay the outbursts of his past.
"The layoff was great," he said. "I think I needed it mentally and physically after 18 years of playing professionally. It was just kind of a nice break. I'm so stubborn I needed a forced break.
"I just felt comfortable. I've just been on this different attitude the last couple of weeks where I just try to stay aggressive and try to think of the right shot and a good shot and not worry about what happens. It's really worked. I've been working on it the last nine months, since I got hurt. Just trying to work on a new aggressive attitude."
Aside from a bogey at 12, his back nine was virtually stress free, albeit with an assist from those in pursuit, none of whom applied pressure.
"I was really calm all day," he said. "Like I've said, I've got this aggressive type attitude. I just had a lot of confidence when I came back. I started about 2 ½ months ago. I didn't think it was going to happen this fast, but I thought it was going to be pretty successful when I did come back."