The Loop
The new USGA mantra: We're not trying to humiliate the best players in the world. We're just trying to get them to finish before Wednesday.
FARMINGDALE, N.Y. -- There will be no lowering of flags to half-mast. No black patches. And those drops running down the cheeks of USGA brass? Just the dreaded rain turning vaunted Bethpage Black into a vulnerable mess.
Not long ago, a sea of U.S. Open leader board red would have prompted USGA committeemen to reach for a bottle...of Pepto.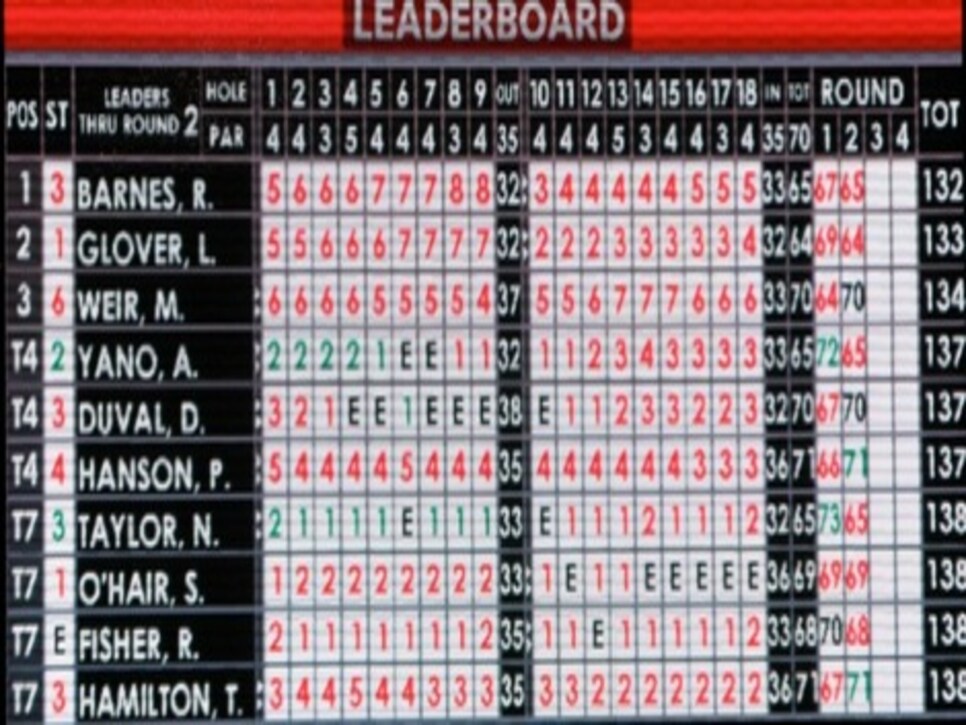 Of course there was never an admission that low scoring bothered the USGA. Just haughty jargon defiantly dished out about "preserving the integrity of par" and "identifying the best player."
What would an old-time USGA type make of Ricky Barnes breaking the 36-hole scoring record with an eight-under 132?
Turn down the lights, open up the casket and schedule a wake in USGA Hospitality.
Canadian Nick Taylor shooting a 5-under 65 to tie the all-time low round by an amateur?
Better plan on an Ave Maria singalong while we're at it.
The top five players 27-under after two rounds?
That's guaranteed permanent grudge status (a.k.a Olympia Fields Syndrome).
Not only is this not your grandfather's USGA, this isn't even the same USGA that in 2002 showcased Bethpage with silly par-protecting ploys.  That's when they still humiliated the best players to sometimes identify them.
Fast forward to 2009 and no one from the USGA is the least bit concerned with the scoring. Not even a little, Mike Davis?
"Not at all," said the director of rules and competitions as he finished up a meeting with superintendent Craig Currier when Saturday's storm approached.
"Look, it's soft from the rain, there is no wind and so it's easy to keep the ball in the fairway. That's means low scoring anywhere you go. I'm just happy we're playing."
Currier was offered a congratulations for the incredible efforts of his staff and volunteers.
"With these scores?" he laughed.
Davis hasn't received any complaints about the blood-red leaderboard, but his co-worker and front-nine setup man Jeff Hall has heard from New York fans. They've not-so-subtly reminded him that the leaders were well under par.
"There were some rumblings. Some boos. Some 'whaddya doings' when I moved up some tee markers."
Davis takes his marching orders from USGA Championship Committee chairman Jim Hyler, who reiterates that weather permitting, the USGA is sticking to its plan for the week. That typically includes five ideal hole locations selected in advance -- one for each day and a playoff -- along with a few back-ups in mind.
Tees are selected to correspond with the hole locations and to figure out how best to take advantage of the design. There have been, however, tees moving forward in response to soggy 7,425-yard Bethpage playing longer than ever.
The new seventh tee extending the par-4 to 525 yards, the longest in U.S. Open history and one that if used would make the already brutal hole even tougher?
It probably won't get used if the rain keeps falling.
Now what kind of USGA is that?
The one that celebrates when this tournament is completed, no matter what the players shoot.