The Loop
The NBA is the best professional sports league in America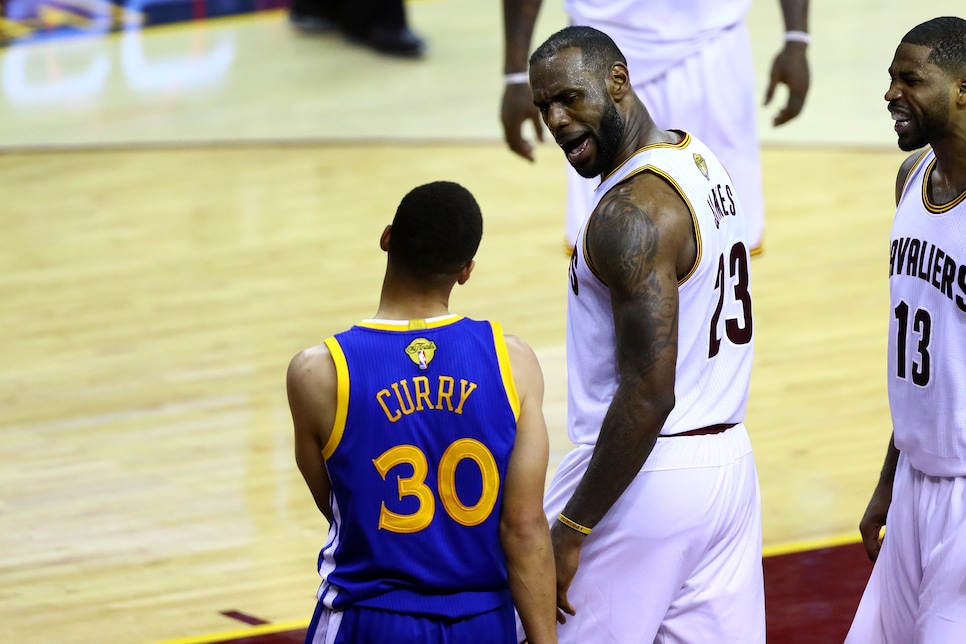 For the past 589 years (my perception), sports media has been obsessed with the NFL—the dumb transactions, the dumb controversies, the dumb politics. Not to mention the CTE nightmare, which has led thousands of parents across America to adopt the "I will continue to watch football, but there's no way in hell will I let my child play" stance. Even in the summer, with baseball in full swing, the vast majority of sports talk radio shows lead with breathless coverage about which third-string kicker the Chargers might sign. It's our most popular league, but as America has finally realized en masse this year, it's also incredibly depressing. It doesn't even matter which side of the political aisle you stand on—everyone who follows the NFL feels bad in 2017. And with the world's worst commissioner about to get a contract extension, I doubt it's ever going change.
Meanwhile, the NBA has been kicking ass for years—quietly, at first, but now more resoundingly. The last major football-style controversy was the time LeBron got fooled by his dumb agents and sinister TV people into playing a villain in front of the world, but in the seven years since, the league has managed to make it (mostly) about the product. And that product keeps getting better—even with much smaller rosters, the NBA has just as many recognizable superstars as the NFL, the quality of play is free-flowing and aesthetically gorgeous (take a look at any college basketball game to see how bad it could be), and their all-access package, NBA League Pass, is the best in sports. (The condensed games feature alone is worth the price...a juiced-up 15-minute highlight bundle that tells you everything you need to know.)
I'm a Steph Curry fanatic, and have been since he played for Davidson, so my focus tends to be on the Warriors. That said, there are at least 15 teams that are worthy follows (Zach Lowe's rankings are a great guide), and if you can't get behind a single team, there's good news—the NBA is a league that lets its individual stars shine. I'm slightly ashamed to admit that I'm enjoying the Lonzo Ball Spectacular this year, even though his father is basically Trump in sneakers.
The bottom line here is that the NBA doesn't just put out a great product—they put out a great product you can feel good about supporting. It's nice, in 2017, not to feel dirty for enjoying a simple game.
Time for an NBA-centric Superlatives!
Genius of the Week: Brad Stevens, Celtics
I know there are many different elements that go into the success of an NBA team—from the players to the GM to the owner to the groupie coordinator to the witch doctor hired to preserve the health of Steph Curry's ankle—and reducing an entire franchise's success down to one person is foolhardy. Even so, Brad Stevens is an insane basketball genius who has sacrificed something dear to the dark basketball gods to become a hoops wizard. Seventeen years ago, this man joined Butler as an unpaid volunteer. Ten years later, he led a mid-major to the Final Four, and came about ten inches from beating Duke for a national title. Now, still just 41, he's at the helm of the world's most famous NBA franchise (shut up, Lakers fans), and needed less than five years to make a truly terrible team into the league's best. The label "Boy Wonder" doesn't begin to describe this man.
This year's Celtics might actually win a championship, too. Stevens has always been a defense-first coach, and he's made his team into the best defensive squad in the league. Which is great, but there's always a question as to whether that approach can succeed against a squad like the Warriors—the kind of modern juggernaut that seems to have "defense-immunity," and whose blistering offenses tend to steamroll teams who can't keep up. Then, on Thursday, the Celtics beat them 92-88, holding the Warriors to their lowest output all season—the first time they failed to reach 90 points, and only the second time they failed to reach 100. Defense might actually work.
This team is legit. Stevens is legit. And Boston has another mysterious shaman-esque coach that has inevitably sold his soul to the devil, and will inevitably bring them lots of championships.
Player-Who-Didn't-Want-to-Go-to-Jail-in-China of the Week: Lonzo Ball, Lakers
Late in the Lakers-Suns game Friday night, Kentavious Caldwell-Pope and Tyler Ulis got in one of those prototypical NBA shoving matches that contain lots of mean-mugging and very little true violence. Lonzo ball walked right past them, gave a backward glance, and strolled to the bench in the most casual way possible as every other player on the court joined the scrum.
Apparently, he took a bit of private guff from his teammates for not defending his Caldwell-Pope, and head coach Luke Walton had to answer for him as the media and the Internet wondered aloud if he was a me-first sissy glory-boy. Ball's explanation was pretty hilarious and accurate:
"It's the NBA. People ain't really gonna fight, so I ain't trying to get no tech."
But we're all ignoring an obvious explanation: The dude's younger brother LiAngelo just got arrested for shoplifting in China, and was confined to his hotel room for a week with the threat of spending time in a Chinese prison. I know nothing about Chinese prison, thankfully, but the two words inspire a cold chill in me anyway.
Ball and his two teammates got out after a week, but that had to be a seriously ominous stretch. Is it any wonder that Lonzo had adopted a hard-line "don't get in trouble" attitude in response? Maybe shoving a few Phoenix Suns isn't the same as stealing sunglasses in China, but there's nothing like a wayward family member to emphasize the need to stay within the white lines. Thanks for the cautionary tale, LiAngelo.
Best Random Diss of a Brother: Brook Lopez, Lakers
Speaking of family...when asked to comment on Lonzo Ball's non-fight, Lopez did a nice job getting his teammate's back. But keep an eye out for the very end of this quote, and a reference to his twin brother Robin:
"I thought [Ball] was smart just staying away from it...he was staying out of trouble. I feel like I'm big enough where I can get in the middle of it. I'm not going to do anything crazy...I'll just try to get in the middle of it. If someone throws a punch, maybe it'll hit me. I can take it. Unlike Robin, probably."
(At this point, I begin running around the room, waving my arms and screaming)
YEAHHHHHHH! YA BURNT, ROBIN! YOU BIG GLASS-JAWED COWARD! LOOKS LIKE THE LOPEZ FAMILY WON'T NEED A TURKEY AT THANKSGIVING DINNER THIS YEAR. GET IT? GET IT, ROBIN?! IT'S BECAUSE YOU'RE THE TURKEY, ROBIN! YESSSSS!
The Worst (Best?) N.C. State S*** of the Week: N.C. State
As we depart from NBA content, I would like to introduce those Loop readers who live outside North Carolina's research triangle area to an ancient concept called "N.C. State S***." It's pretty simple: N.C. State has been enormously unlucky in athletic endeavors over the years, and it's not just that they lose important games. That would be too easy. No, the Wolfpack are so star-crossed that simply losing doesn't begin to cover it—they must lose in the most heartbreaking way possible, immediately after filling their fanbase with hope. When those gut-punch failures happen, that is N.C. State S***.
Now, let's head to Winston-Salem, NC, circa yesterday. Fourth quarter, 1:30 left. State is trailing Wake Forest by six, but they're on the verge of scoring what should be a go-ahead touchdown. Enter the S***:
Referee of the Week: Very Serious High School Wrestling Referee
I have tried to stop watching this clip, especially the end, and I have failed. I wish you the best of luck in your journey, because...how is this even possible? I must watch again...I cannot look away: