The Loop
The year's most talked about women's amateur is missing the year's biggest women's amateur event (Don't worry, it's a good thing)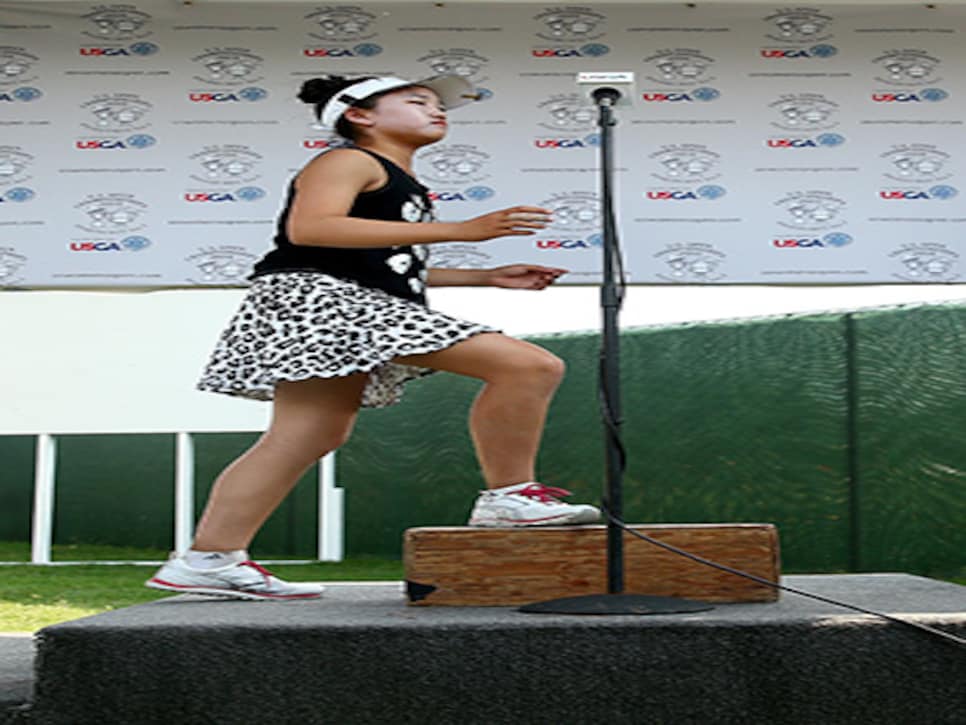 More notable perhaps than who is in the field this week who could win is a golfer who is not in the field and who, obviously, can't. Never mind that she might just be the most talked about female amateur of 2014: 11-year-old Lucy Li.
After winning her age group in the inaugural Drive, Chip and Putt Championship at Augusta National in April, Li made even bigger news in May when she became the youngest player to ever qualify to compete in the U.S. Women's Open. The Redwood Shores, Calif., resident failed to make the cut at Pinehurst No. 2, but won over many fans with her game (she did manage a pair of 78s, not bad for an 11-year-old) and carefree personality.
Unlike with the men's U.S. Open, where amateurs who simply qualify for the championship receive automatic exemptions into any other USGA amateur championship for which they are eligible, female amateurs who qualify for the Women's Open must play 72 holes to earn additional exemptions. So it was that if Li wanted to play other USGA events this summer she had to attempt to qualify for them.
And here is where it gets kind of interesting. Li, surprisingly, decided to give it a go in just one other USGA event: the Women's Amateur Public Links in July, where she advanced to match play but lost in the first round to Alice Chen. That meant choosing to skip last month's U.S. Girls' Junior, an event Li has never competed in. It also meant bypassing the Women's Amateur, the tournament in which her name first surfaced a year ago when she became the youngest player qualify for the championship in its 119-year history.
According to USGA officials, Li and her parents (Warren and Amy), didn't want to overload the Lucy's schedule after her Pinehurst appearance, instead having her play in local and regional events in Northern California and then giving her time to be, well, an 11-year-old. What a refreshing concept.
Indeed while many pre-teen phenoms -- not to mention their folks -- seem to run toward the spotlight when it shines, Li appears to be doing the opposite. The family has turned down the majority of interview requests since she qualified to play in the Women's Open, preferring to maintain some privacy.
That included my request to ask about her less-than-packed summer schedule. So if Lucy is reading this post, here's what I would have said directly: Congratulations on not getting wrapped up in celebrity just yet.