The Killing of Augusta National's Chef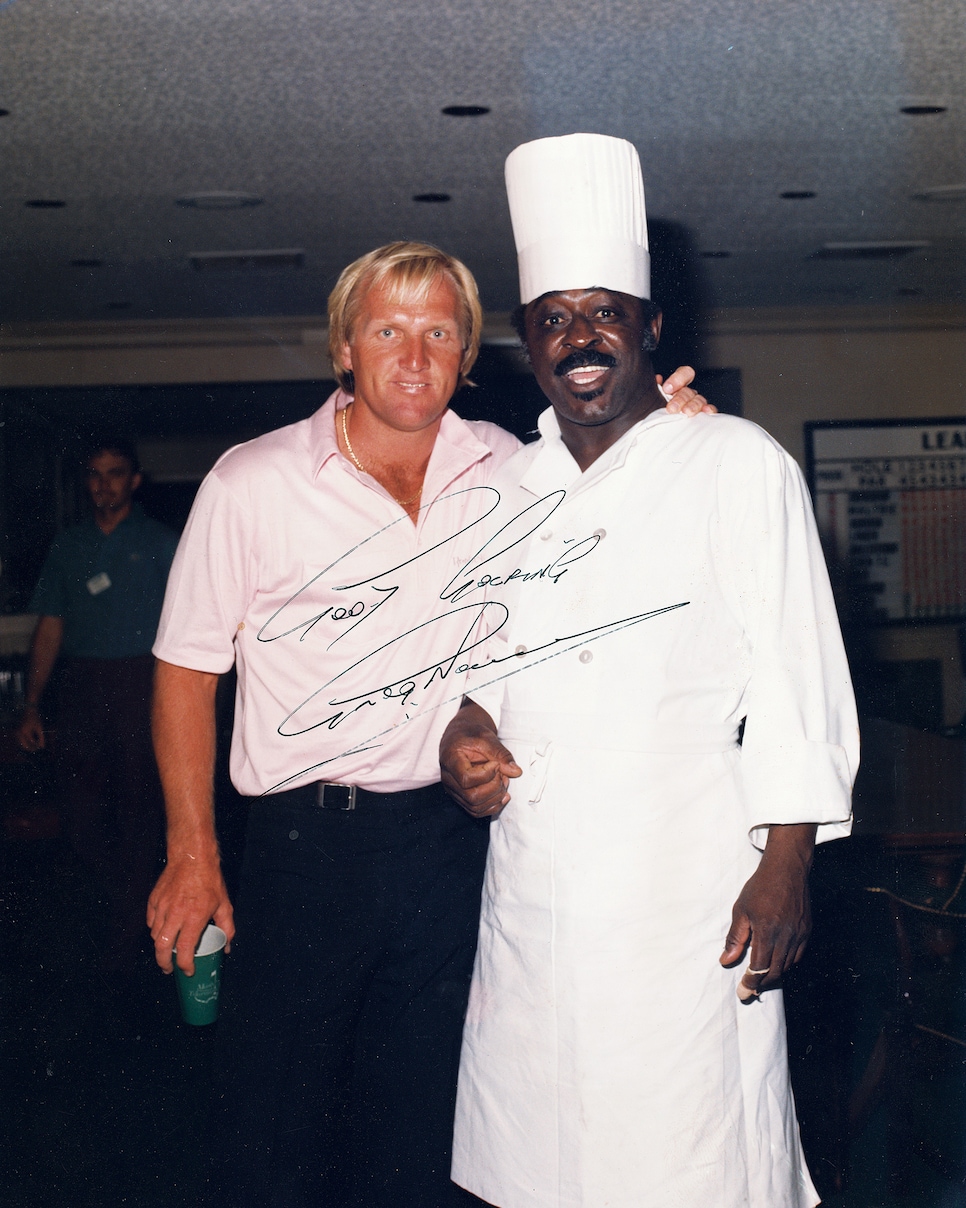 They'd sit side by side in church, James Clark Jr. and Charlie Heyward would, and there'd come a time, if the preacher went on too much, when one man would cut his eyes to the other, and he'd catch a nod back, and up at the pulpit the preacher would notice Clark and Heyward getting antsy, which the preacher took as a signal, he later told the men, "Time for me to wind this up."
Almost nobody spoke of James Clark Jr. by his formal name, because they knew him as Chef, the way Charlie Heyward puts it in saying, "Chef, the best person ever was," those words sad and happy, from a man who knew Chef forever, boys swimming in creeks 50 years ago, walking to school and church, best friends.
They'd be in church, the Greater Target AME, in their little South Carolina town of Holly Hill, down toward Charleston, grown men now, filled with God's word delivered by the going-on reverend, when between them would pass the silent message that it was time to go play golf.
Every summer Sunday afternoon, however boiling hot it might be, Chef would tee it up. His daughter, Terra, says, "Somebody'd go, 'Chef, that sun's going to make you black,' and he'd laugh and say loud like he did, 'Can't get no blacker.' "
"Dynamite putter and sneaky long," Heyward says about Chef, maybe a 6-handicapper in his prime, a self-made short-game wizard who'd put air under a flop shot that landed softer than a butterfly and then say, "Yep, Raymond Floyd gave me that one."
Slowed some by a heart condition and an aching shoulder, he yet bought a weight-lifting machine so he and Heyward could work out, secret-like, "getting longer and stronger" while their decrepit rivals idled along.
The day the terrible thing happened to Chef, he and Heyward had a golf date, but they couldn't make it for some reason that doesn't matter now. All that matters now is that Chef's family and friends wish everybody could have known him the way they did.
"His life's pleasure was in making people happy," his son Greg says. "Everybody loves to eat good food, so Chef, by cooking, tried to make everybody happy."
They say he had a smile you could see shining 100 miles away. A Christian-hearted man, a dream father. No big I's and little you's. Loyal, generous, made everybody feel like somebody. Shortstop-size, 5-feet-10, 180, iron forearms, a handshake to make your knuckles scream.
A working chef, they call him, his face in the oven, hands in the water. Ran a disciplined kitchen. "Broom's not gonna hurt you -- use it," he told many a youngster. For all the good culinary school does, Chef did better because he had the passion, the talent, a gift.
Grown men wept at his funeral, and a golf buddy from Alabama said, "I want to go where he is," and Hootie Johnson, chairman of Augusta National Golf Club and the Masters Tournament, said at the wake, "I don't know what we'll do, because Chef Clark was Augusta National."
Chef's first dinner at Augusta, prepared for Clifford Roberts, everything piping hot and rushed to the dining room for the club's founding chairman, consisted of roast leg of lamb, little oven-browned potatoes and carrots half-cooked to stay crunchy.
"He didn't like anything very well done," Chef once told David Owen, a Golf Digest contributing editor. "So I fixed that. He comes into the dining room at 7 o'clock, right on time, and he sits down, and everybody's watching him. Theo [a waiter] is standing there all the time, never taking his eyes off him, because he might make a sign.
"Everybody on the grounds knew what Mr. Roberts was going to eat, and they wanted to see just the way the lamb was cooked, and what he said about it. They'd come into the kitchen and say, 'He's ready! He's ready!' And we rush it right out, put it right in front of him.
"So he ate all his food, and he didn't say a word to nobody. He ate everything on the plate. And back in the kitchen when he was finished, Mr. [Phil] Wahl [club manager] looked at the plate, and everybody studied the plate.
"But Mr. Roberts just went on back to his room. The next morning, he sent for Mr. Wahl. Mr. Wahl wondered what was wrong now. Oh, boy. I was in the kitchen, and I was nervous myself. I wondered what I did wrong.
"He told Mr. Wahl, 'Uhhh, Phil?' 'Yes sir.' 'Uhhhh, that new fellow we got there in the kitchen, uhhhhh, did a great job on that lamb we had last night. That's the best lamb I ever had in the history of the club.'
"And Mr. Roberts said, 'See what he wants. Let's keep him around for a while and see what else he can do.' And boy, the word got out: Mr. Roberts liked his dinner!"
That was 1973. A friend says Chef left Augusta, maybe that first week, rather than be forced to fire some kitchen help. "Chef didn't believe in treating people wrong," the friend says. "But it wasn't long before Mr. Roberts sent for him." Assured he could run the kitchen his way, Chef returned, stayed, loved the place and its people.
He had a bungalow on Augusta's Par-3 Course. During Masters weeks, he'd sleep maybe three hours a night before starting over. One fall morning in 1977, walking by a pond, "the water was just so still," Chef told his son Greg. "That's when I found Mr. Roberts. The gun was in his hand."
Roberts, 83, in failing health, had killed himself.
James Bollie Clark Jr. became a cook (and golfer) in the late 1950s, starting at The Breakers resort in Palm Beach, Fla., and the Whiteface Inn in Lake Placid, N.Y. From winters at the beach to summers in the mountains, Clark moved from dishwasher to chef by age 28. Along the way he sent a telegram to Minnie Gilliard, another South Carolinian, a salad girl at the Whiteface Inn.
"The telegram was, 'You want to get married?' " that girl says now. She laughs remembering her telegraphing man. "We were so in love." She became Minnie Clark on March 28, 1962.
Wherever the job was, home was always Holly Hill. There the Clarks raised three sons and a daughter. At age 61 in the summer of 2002, Chef had decided to work another year or two, then build a house at nearby Lake Marion in Santee. He would play golf on days too nice for fishing and hunting.
He was home Sept. 5, 2002, working in a small backyard shed that was his office. From there he talked to a next-door neighbor, Dell Johnson, 75 years old. About 5:15 p.m., as Mrs. Johnson walked away, the Clarks' youngest son, Marvin Douglas Clark, 21, called to her, asking if she would braid his hair.
Fearful neighbors had told Chef he should keep the drug-addled young man out of the house. And yet, one rainy night, his son hungry and forlorn, crying in the street, the father let him in.
Perhaps Chef hoped that what had worked for his three other children would work for the lost one. Greg Clark had earned two university degrees; in July 2002, the father had driven to Atlanta for a celebration with another son, Stanley, who'd made it through a year off drugs, and Chef's daughter, Terra, intends to build a beauty shop.
"If a doctor'd told Chef, 'Pay me $10,000 and I'll cure Doug,' " says Huck Martin, a lifelong friend, "he'd have done it."
But on Sept. 5, no cure was possible. When Dell Johnson told the young man she wouldn't braid his hair, he persisted in demanding she do it. Chef came out of the shed and fell into an argument with his son.
"They got real loud," Mrs. Johnson says, "and Chef got on Doug for disrespecting me and him. He told Doug, 'I told you, if you act up, you will have to leave. So, come on and get your things and get out.' "
There they were, tangling about respect and manners, the basis of Chef's life.
"Then," Mrs. Johnson says, "Chef swung at Doug, and Doug ducked under it, and took off running, like a wild man, to the garage. I won't say it was minutes, it was seconds, before he came back. That's when he said to Chef, 'I got something for you.' "
It was a long-barreled handgun, .22-caliber. The son shot the father in the face, the chest and the back, the mother seeing it from her kitchen, the father crying out, "I've been hit, I need help," Chef dying as Mrs. Johnson knelt over him, bathing his face with cold water, touching his chest in hopes of feeling a heartbeat.
Orangeburg County sheriff's deputies arrested Doug Clark within an hour and reported that he led them to the gun. Clark faces a murder charge carrying a sentence of 30 years to life in prison.
'I don't know what we'll do, because Chef Clark was Augusta National.'
"Chef's one of the ones who can't be replaced," says the woman who 40 years ago answered a telegram by getting herself, with all deliberate speed, from Holly Hill to Palm Beach.
Since that happy day, Minnie Clark stayed in Holly Hill with the children while her man worked. Wednesdays, his day off, Chef made the 115-mile drive home from Augusta. Summers, when Augusta was closed, she had him to herself.
"He loved everything about Augusta," she says. "He loved the hard work, especially during Masters. He wouldn't have traded it for anything. That man loved cooking."
He cooked at home, sometimes. "No ladies in the kitchen then," Mrs. Clark says. Her favorites were Chef's omelets (with peppers), salmon patties and pancakes.
As to what she liked about those, Mrs. Clark explains it with the sweetest sound a chef, or a Chef, could ever hear. Her voice falls to a hum delicious and she says, "Mmmmm, mmmm."