News
The intern diaries: How did I get here?
My name is Katie Stafford and I am the Golf Digest summer intern. There, I said it. It's all right. I can humbly admit to what I truly am.
Every few days this summer, I'll be posting behind-the-scenes glimpses into life at the No. 1 golf magazine in the world.
I might have had some illusions about this place through all my years of reading Golf Digest and dreaming of what it would be like to work here. But it's not nearly as cutthroat or elitist as I had imagined. I have yet to see anyone in suits or stilettos; flip-flops and golf shirts are more the summer exception. Make a fashion mistake, though, and you might hear about it from Mr. Style.
Did I mention the four-hole putting green, with some serious break, that sits in the middle of the office? It's right next to a Golden Tee video game. Strictly tools for writer's block.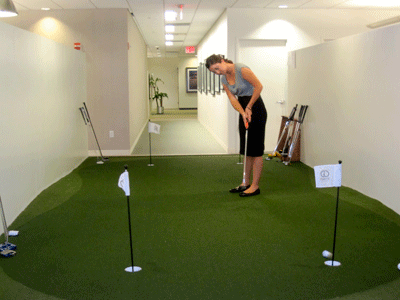 So, how did I get here? I ask myself that pretty frequently. Why was a struggling freelancer from Phoenix selected to be an intern at the premier golf magazine? Did someone have a lapse in judgment or an empathetic epiphany? And who in their right mind would travel to the opposite corner of the country (that would be Wilton, Conn.) for a pittance of monetary compensation?
No one who isn't playing with a full deck or completely desperate, right? For the sake of this blog, my reputation and the integrity of the magazine, I'll pretend for a moment that I'm neither. But if you were here, you'd understand.
While I have to rely on sponsors for extra funds (Thanks Mom and Dad!), the difference is made up tenfold in being surrounded by people with experience, talent, passion and a love of the game.
Before I divulge too much behind-the-scenes info, here's a little bit about me: I'm 25 and I grew up in Phoenix. I graduated from Ohio University where I received a degree in magazine journalism and also competed on the women's golf team, serving as team captain my senior year. And now that I get to combine my passion for writing and love of golf, it's safe to say I'm elated.
What's on tomorrow's agenda? I've been recruited to take part in some top-secret testing for an upcoming Hot List on grips. Apparently it will involve hitting excessive amounts of golf balls. Note to self: Stock up on Band-aids!