News
The Horschels' memorable day and Alvaro Quiros reverses course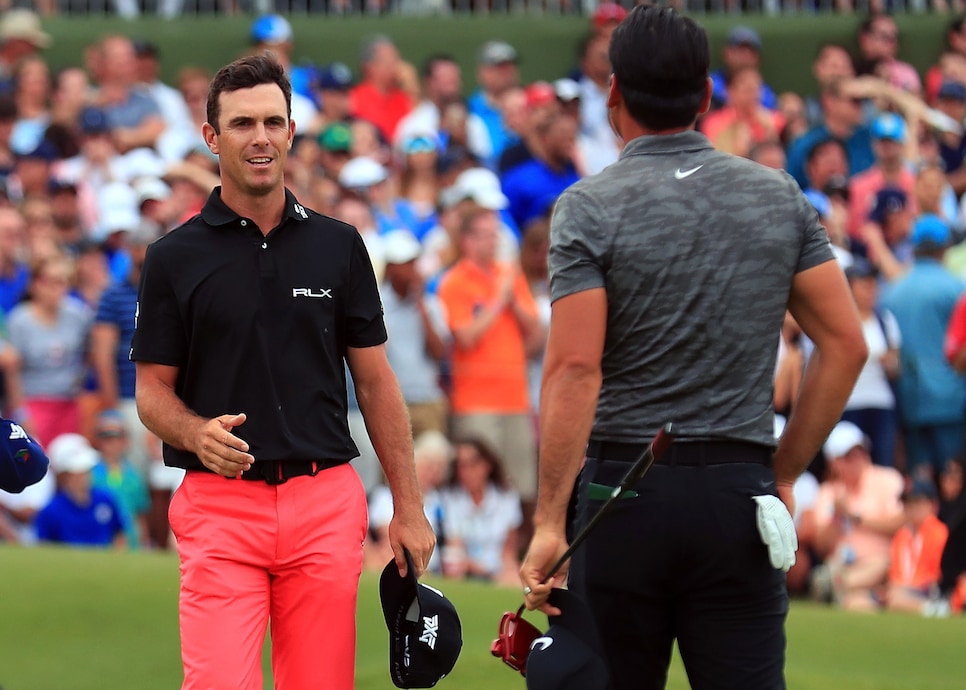 It's easy to forget athletes aren't robots with their often animatronic performances, maybe no more so than in golf.
Billy Horschel certainly isn't a robot. His emotions are very visible. You always know what he's thinking, where he stands.
"You really never know what is going on in someone's lives, and that has certainly been true this last year for me," he said Tuesday, a day after his wife, Brittany, went public with her struggles with alcoholism.
"It can be a very lonely disease, and there is a stigma out there that leads many not to ask or accept the help they need," Billy continued. "My wife and I hope that sharing our story will help other people who are either struggling with addiction or are their loved ones."
Horschel didn't blame his struggles over the past year—nine missed cuts in his previous 24 starts before Sunday's playoff victory at the AT&T Byron Nelson—on anything going on at home.
But when things aren't going well off the course (Jason Day's mother battling cancer, Dustin Johnson's self-imposed exile in 2014), it's rare that things will go well on it.
"That's not a reason at all," Horschel said. "But it's something that's on my mind, something I think about on a constant basis.
"The last year has been one of the most enjoyable years of my life. My wife and I have been six years [of marriage], going on seven years in November, and this last year has been one of the most enjoyable years of our marriage. But it's out there now. I think it's unbelievable what my wife did—I honestly didn't know she was going to do it. I was playing in Ryan Palmer's charity event [Monday]. I was on a text message with my manager, Sherry, and Brittany says, 'Hey, can you guys look at a statement I just wrote and let me know what you think.' "
Billy called his wife and told her they didn't need to put it out there. Brittany said she was ready.
Sober for a little more than a year, Brittany said she wants to help others facing the same struggle she did when she spent May to July of last year in a rehab facility in South Florida.
"The journey is not over," Billy Horschel said. "It'll never be over. But we're on the right path, and every day we have challenges, just like everyone else in the world. We're no different."
Alvaro Quiros stops the bleeding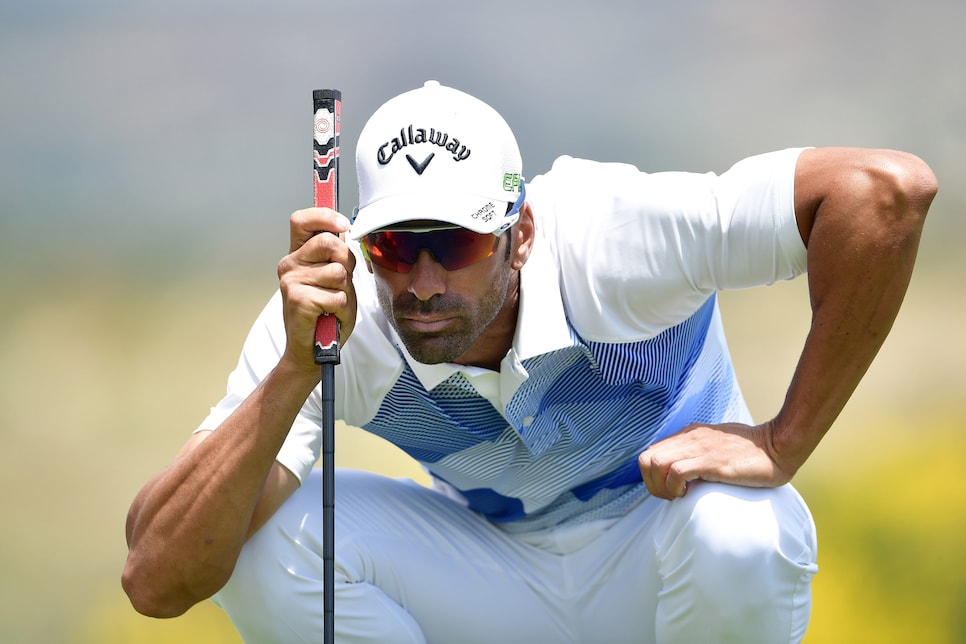 It was 2010 at the then WGC-Cadillac Championship at Doral Resort, and one player after another was stopping to watch as a fellow competitor was sailing balls onto the roof of the Jim McLean Golf Center—or sometimes over it—at the back of the driving range.
It's rare that players pause to do anything more than chat or crack a joke with one another on the driving range of a tour event. But the lanky 6-foot-3 athletic freak was putting on a show as usual.
No, it wasn't Dustin Johnson or Bubba Watson that everybody was in awe of. It was Alvaro Quiros.
Seven arduous years later—after having at one point reached No. 21 in the world and then eventually plummeting to 703rd—the long-hitting Spaniard with the big personality is pointed in the right direction again, winning last week at the European Tour's Rocco Forte Open in Italy and showing signs of the promise he flashed in his early days.
"It didn't matter what the lead was," his longtime agent Johan Elliott said via cell phone. "It was always going to struggle. But in the end he's a winner."
Indeed. The title is the seventh Euro Tour win of Quiros' career, but the first since 2011. "Relief" is how he described it when reached via cell phone this week, a little more than a year after hitting what he called rock bottom last March.
"I didn't have the faith I could turn it around," Quiros said. "I was working so hard the last five years so it was difficult to understand."
The precipitous fall had taken its toll.
At the end of 2008 and beginning of 2009, Quiros burst onto the scene with two wins in three months, including one at the Qatar Masters, where he won by three strokes over a loaded field that featured, among others, Adam Scott, Ernie Els, Justin Rose, Sergio Garcia, Henrik Stenson and Lee Westwood, all ranked in the top 20 in the world at the time.
More than just a bomber, Quiros, also a gifted ballstirker, wasn't far behind, moving from 78th to 28th with the victory. In December 2011 he climbed as high as 21 with his win at the Dubai World Championship.
Then he tried to change his golf swing, going from a fade to a draw, much the way good friend Martin Kaymer did after winning the 2010 PGA Championship. Just as Kaymer tried to do it so his game would be better suited for Augusta National and the Masters, Quiros made the move in his perfectionist attempt to get even better.
While Kaymer eventually recovered and won a second major in 2014 at the U.S. Open at Pinehurst, Quiros saw his game continue to spiral the wrong direction. Always a feel player with a positive personality, he soon turned technical and pessimistic. It didn't help that he couldn't keep up with Kaymer, either, and he churned through coaches and sport psychologists alike.
Quiros also battled three separate wrist issues along the way. By the end of last season he'd lost his card and had tumbled down the world rankings.
"He had became someone he was not," says Hernan Rey, a fellow Spaniard and former European Tour player who began coaching Quiros last fall. "Alvaro was a different guy, complaining and analytical. We had a talk and as a friend I told him what I thought. He said, 'Do you think you can help?' "
The first step was fixing his swing.
In trying to hit draws Quiros had developed bad habits and often found himself stuck on the downswing, his hips clearing too soon, shoulders misaligned to the target and hands trying to play catch up.
Rey's goal was to return his fellow Spaniard to his free-flowing self, both in technique and thinking.
There were glimpses the week before last in Portugal, and for the first three rounds in Italy it was all working. But under the glare of the final day, even with a massive lead, old habits crept in.
"It always starts technical then becomes mental," Rey says of his student's struggles. "Once we untied the technical then he started trusting his feel again. But there was also luggage of mental and confidence issues. There's still work to do."
It's at least headed the right direction.
"Sometimes you have to hit bottom," Rey says. "Maybe losing his card, it wasn't the worst thing."
Jordan Spieth missed his third individual cut in his last four starts last week, something he hasn't done, well, ever. But in his last 35 worldwide starts he has four wins, two runner-up finishes and three thirds. That's still pretty good. It's not 2015, but no player is going to consistently match his best year in golf. Even Tiger Woods had (relatively) down periods during his prime. Spieth will be just fine. …
We're still a ways away from any definitive word but don't be surprised to see Padraig Harrington captain the European Ryder Cup team in Wisconsin in 2020, or in Rome in 2022. "I guess you'd think in terms of myself and Lee [Westwood] for the next one and maybe the one after that," Harrington told reporters in Europe this week. "Of course, we don't have the right to share it between us but it would seem to make sense for me to do it in America, and maybe Lee when it comes back to Europe. One thing's for sure, I'd love to do the job one day." …
From the more dumb golf rules files: Two players were penalized two strokes each for taking unauthorized cart rides to the bathroom during last weekend's NCAA Women's Championship. Yes it's a rule, and one (almost) every player is aware of, but something about it stinks.
I'm off the Spieth train for now, even if he is the defending champion at Colonial and has a terrific scoring average there. Instead I'm going with someone who actually is in form at the moment: Pat Perez. He has finished in the top 20 in four of his last six starts, and Hogan's Alley suits his ball-striking ways. He also tied for fifth there in 2015.