The Loop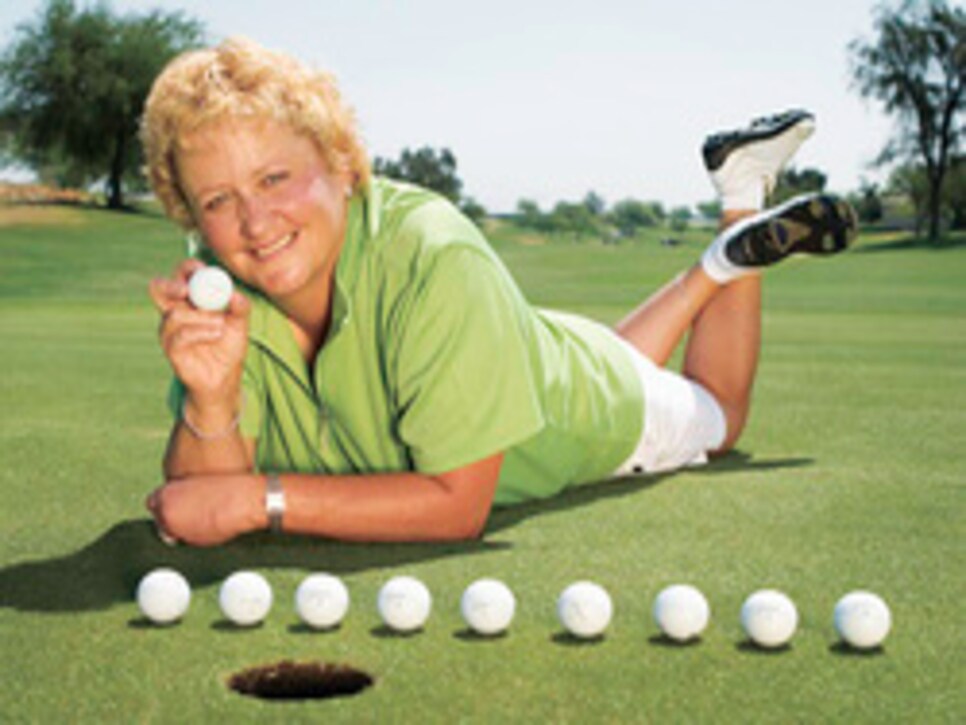 Fundamentally, the marksman aims at himself.
-- Zen in the Art of Archery
Eyebrows are raised and eyes are rolling over John Strege's story in Golf World this week about Jacqueline Gagne, the lady who has made fourteen (her latest count) holes-in-one this year! Can't be, right?  It'll be a Rorschach test in grillrooms across the country this week. The hard-nosed will say: "Not a chance. No way. Can't be." The lottery-lovers will say, "Hey, you never know...."
Her playing companions (not always the same people, by the way) seem to believe her. The reporters for local paper the Desert Sun certainly seem to: Here's assistant sports editor, Shad Powers',  statement:
__Editor's note: Believe me, to say that we didn't believe Jacqueline Gagne's hole in one claims is an understatement. I believe the phrase "That crazy woman just e-mailed again with another hole in one" was uttered more than a couple times around the office.But after golf writer Larry Bohannan talked to her and started to believe, so did we.Every one of her aces was witnessed and her character appears unassailable. We tried to poke holes in her story, and we couldn't. So in short, we believe in miracles.
I'm having fun reading the numbers blogs on the chances of such a thing happening. After citing a mathematician quoted by the Desert Sun, who placed the odds for 10 holes-in-one in 75 rounds at 113,500,000,000,000,000 to one, the Wall Street Journal's "Numbers Guy", Carl Bialik put the odds at 12 septillion to one. Then he quoted another math expert who turned the whole problem around:
Meanwhile, Berkeley mathematician George M. Bergman warned of a "subtle fallacy": We focus on the unlikely events that do happen, but there are many other events that would be equally impressive but don't happen. We don't hear about the millions of golfers who play 75 rounds without a hole in one. (I made a similar point about improbable sports events in a column last fall.) And since Ms. Gagne did accomplish her feat -- corroborated by witnesses -- the only justifiable probability is 100%, "since the event happened," Stanford's Keith Devlin told me.